We've updated our Privacy Policy.
By continuing to use this site, you are agreeing to the new Privacy Policy.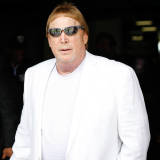 Front Five: The top stories that shaped both sports & politics this week "Many have asked me whether I think OAK should be required to comply w/Rooney Rule or whether OAK should be given leeway b/c of Al's legacy. If OAK opts to comply, it should do so honestly and in good faith. If OAK does not wish to do that, it should be forthright and choose to pay a fine. But I don't believe...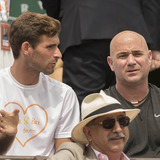 Andre Agassi is one of a kind.Agassi recently took on a role as a part-time coach for Novak Djokovic and the retired 8-time grand slam winner says he is not even charging the Serbian star any money. Instead, Agassi is coaching on his own dime as a way to give back to the sport of tennis in general.Agassi spoke with Boris Becker, a former player who previously coached Djokovic, for...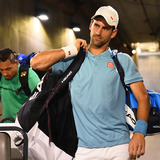 Novak Djokovic announced major changes to his coaching staff last week, and he has implied a big name will be joining his team. One report says that person could be Andre Agassi.The Daily Telegraph reported on Monday that Agassi is a candidate to join Djokovic's team. Djokovic's agent told the outlet that the group is just in the early stages of discussions with interested candidates...
LIKE WHAT YOU SEE?
GET THE DAILY NEWSLETTER:
  Boris Becker says he enjoys living in Wimbledon so much that he's going to apply for British citizenship at some point in the future. Interviewed on BBC television, the German six-time Grand Slam champion said Wednesday that he and his family ''love Wimbledon a lot; people treat us with respect.'' He described the west London district and home of the tennis championships as his...
Boris Becker showed up at a U.S. Open practice court with what appeared to be an extraordinarily nasty case of tennis elbow.The former number-one ranked tennis player, who won the Grand Slam event in 1989 and is at the tournament as Novak Djokovic's coach, was seen sporting the golf ball-sized bump on his left arm.But the former German star's injury might not be tennis related at...
Boris Becker is backing a new tennis league in Asia featuring former and current players. The three-time Wimbledon champion is joining ex-players Justin Gimelstob and Mahesh Bhupathi in founding the International Premier Tennis League. Plans for the league were announced Friday. It will consist of mixed teams in various Asian cities, with a player draft held in January 2014 in...
Australian tennis star Bernard Tomic is claiming police harassment after being pulled over for allegedly driving dangerously in his $150,000 luxury sports car, the Courier-Mail reported. Police say the 19-year-old Tomic, who this year became the youngest Wimbledon quarterfinalist since Boris Becker in 1986, is under investigation for "a number of alleged traffic breaches" and also...
Tennis great Boris Becker's sprawling estate in Majorca was impounded by the Spanish authorities because he refuses to pay a €300,000 ($425,378) gardening bill. The German, 43, booked a company to tend his orange trees, 15-meter pool and tennis and basketball courts at the 265,000 square-meter (290 square-yard) property in the northeastern region of the island. But after putting...
MORE STORIES >>
Poker News

Delivered to your inbox

You'll also receive Yardbarker's daily Top 10, featuring the best sports stories from around the web. Customize your newsletter to get articles on your favorite sports and teams. And the best part? It's free!