The Laver Cup was a hit last year, and now Roger Federer is hoping it proves popular on U.S. soil.
CHICAGO (AP) — The Laver Cup was a hit last year, and now Roger Federer is hoping it proves popular on U.S. soil. The 20-time Grand Slam champion made his first-ever visit to Chicago on Monday to promote the second Laver Cup, a team competition that debuted last year in Prague. Federer, shaking off a three-set loss to Juan Martin del Potro on Sunday in the final at Indian Wells that...
When Rafael Nadal withdrew from Indian Wells, it was almost a forgone conclusion that Roger Federer would take home the crown once more. After Novak Djokovic, the one serious threat to Roger in the tournament, bowed out in his first match, Federer's triumph seemed a certainty. Against Juan Martin Del Potro in the final, it would be no easy match for the Swiss, but definitely one...
Juan Martin del Potro rallied from three match points down in the third set and beat top-ranked Roger Federer 6-4, 6-7 (8), 7-6 (2) to win the BNP Paribas Open and hand the Swiss superstar his first loss of the year.
You know him as graceful and eloquent, but Saturday Roger Federer was nothing short of gritty in clawing his way to the Indian Wells final.
Roger Federer makes his best start to a season and reaches the BNP Paribas Open final with a win over Borna Coric.
World No. 1 Roger Federer looks to continue his stellar form against Borna Coric in the Indian Wells semifinals. (Watch on ESPN & The ESPN App, 2 p.m. ET.) Later, Juan Martin del Potro squares off against Milos Raonic.
At the conclusion of the first Sunday of play at Indian Wells 2017, only Roger Federer remains of the Big Four. Two members did not compete at the tournament, leaving us with just Federer and Novak Djokovic. After rehabbing his injuries, Novak Djokovic made his return at the tournament amidst some optimism as one of a few players that can challenge Federer at this time. That did...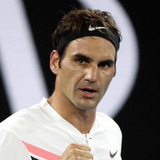 Roger Federer is the No. 1 men's tennis player in the world again for the first time since 2012.Not only that, but the Swiss icon's ascent to the top makes him the oldest No. 1 in history, as the 36-year-old surpassed Andre Agassi, who was No. 1 in the world in 2003 at the age of 33.That fact prompted Federer to offer up a funny tweet about his achievement. Way to embrace it, Roger...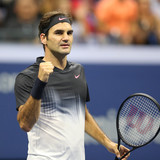 As a tennis player, finding comfortable sneakers for his feet is extremely important to Roger Federer, and understandably so.Federer had some time off on Tuesday as he prepares for his upcoming quarterfinal match in the U.S. Open, so he decided to buy some shoes — eight pairs, to be exact.One of the eight pairs happened to be LeBron James' "LeBron 8 South Beach." The signature shoe...
MORE STORIES >>
Tennis News

Delivered to your inbox

You'll also receive Yardbarker's daily Top 10, featuring the best sports stories from around the web. Customize your newsletter to get articles on your favorite sports and teams. And the best part? It's free!