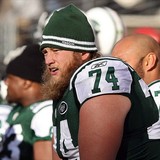 If you spend much time on the internet and like football than you have probably watched at least one or two NFL stars make a big box jump. Why are they so popular? Who knows. Is it because we get a kick out of seeing big people jump real high? Is it because it's the off-season and we are dying for some action. I don't know--but you have not seen the best box jump video till you watch...
Holley Mangold is not a woman to be messed with. One poor blogger found that out the hard way. Our friend Adam Smith aka "Smitty" of Barstool Philly (and one-time former LBS blogger), posted a few videos over the weekend that are now going viral. Smitty was at a wedding for Mangold's sister, with whom...Read More
As of late May, Nick Mangold had decided he was not going to leave the Jets in the middle of training camp to watch his sister Holley Mangold compete in the London Olympics. Rex Ryan gave Nick his blessing, but he felt bad about leaving his teammates right in the middle of the toughest part of the summer. However, the Jets center changed his mind and flew to London to watch Holley...
Nick Mangold has had a change of heart and will go to London and watch his younger sister, Holley Mangold, compete in the Olympics.  New York Jets head coach Rex Ryan urged his All-Pro center to go to the 2012 Games to see his sibling in person rather than watch her shining moment on television. Mangold had said he would not go to London because it would interfere with the team...
MORE STORIES >>
Weightlifting News

Delivered to your inbox

You'll also receive Yardbarker's daily Top 10, featuring the best sports stories from around the web. Customize your newsletter to get articles on your favorite sports and teams. And the best part? It's free!