Found May 10, 2012 on isportsweb.com:
I don't spend a lot of my time complaining about the Detroit Tigers and their current tribulations. In fact, I spend much of my free time reminding those that do complain why everything is going to be ok despite a sloppy 15-15 start to our season of hope.
But, after 30 games of this nonsense, it's time for me to vent a little.
a young Prince Fielder sporting a Tigers hat, Giants shirt, and Chicago Cubs Zubaz
Here are 16 things that irritate me about the current situation in Motown:
Miguel Cabrera pointing to the 1st base umpire to rule on his check swing was funny the first 5 times, amusing the next 20 times, and now it's just flat out irritating. Stop it. You're not doing yourself any favors.
The team and coaches belly aching over poor umpiring. From Jim Leyland to Justin Verlander on down the line, it is becoming infectious. Alex Avila and Jhonny Peralta are the latest to really buy into it. This reminds me of the last time I cared for the Detroit Pistons. They used to be a hard-working, in your face team, and then they took notice of the refs. Ben Wallace, Rip Hamilton, and Chauncey Billups compromised the entire roster. Tayshaun Prince went from a quiet, get-it-done kind of a player to King Crybaby. And that's the last time I watched the Pistons, some 5 years ago. I like baseball too much to throw in the towel. Quit crying and play baseball.
I hate walks and even if the Tigers are 10th in the AL in walks allowed it's still too high.
I shake my head daily at the fact that the Tigers are 10th out of 14 AL teams in runs scored. Seattle has scored more! Of course, that's due mainly to them winning the paternity case over who owns the Detroit Tigers.
My blood temperature rises rapidly with each swing and miss by Brennan Boesch on a hittable fastball. Dude, they're fastballs, you are good at hitting fastballs. Hit them!
It disturbs me on a deep level that I heard something recently about a Zubaz promotion.
I sort of admire that Ryan Raburn has taken to laughing off his wretched start. But I can't believe we have to do this each and every season with this guy. You're 10 for 77 (.130) on the season. Find your happy place.
If Delmon Young is going to hit .226 then I have no use for him. You are slow, a terrible defender, and you are mean to people on the streets when you're drunk. Hit soon or else you will make the "you're dead to me" list.
I've already written about it, but it's worth mentioning here: I can't stand Max Scherzer's mechanical issues. When will they strike? Nobody knows! Not even Max or the coaches. How long will it take to fix each flaw? Well, nobody knows that either.
Speaking of hating walks, if Jose Valverde could just throw a first pitch strike every once in a while he'd be really good again. If he can't, he is going to kill the Tigers all season long.
The Detroit Tigers employ 3 of the top 31 highest paid athletes from any sport in the entire world. They are 15-15. I hate this fact.
Phil Coke's spitting is so annoying it's almost endearing. It reminds me of Tony Phillips back in the day. Coke's is more of a dry spit though.
It really bothers me that only 2 other AL teams have drawn fewer walks than the Tigers' offense. 80 walks in 30 games. Take a pitch!
The Chicago Cubs' Bryan LaHair has 2 more hits than Miguel Cabrera in 32 less at-bats. LaHair just poked his head out of the Quadruple A hole for a look-see, Cabrera is the best right-handed hitter in the American League. It's an anomaly but I still don't like it.
Speaking again of hating walks, I hate that Joaquin Benoit walked 9 batters in April compared to just 11 in all of 2010 and 17 in 2011.
We knew the Tigers were chief among MLB's clodhoppers heading into the season but a major league worst 8 steals in 30 games is almost appalling.
And, just for the record, there isn't one thing I can think of about Prince Fielder, Duane Below, Drew Smyly or Doug Fister that bothers me in the least.
Things will get better, and now I feel better. Mission accomplished. On to Oakland.
Follow me on Twitter @isportsJoe or subscribe to our Detroit Tigers Feed
Original Story:
http://isportsweb.com/2012/05/10/16-i...
THE BACKYARD
BEST OF MAXIM
RELATED ARTICLES
For Tigers fans, even if the first six weeks of the season have been a bit of a disappointment, the short-term future is bright. While the team has some holes, they still have an offense built around Miguel Cabrera and Prince Fielder and one of the best young starting rotations in the game. Can they fill those holes from the minor-league system, either this season or next? Is the...
15-14, 2 games behind Cle. Boy, last night was fun. On a night when Verlander was far from his best (and apologetic for his on-field behavior), the offense came through and left just enough cushion for Valverde to load the bases on 3 walks (one intentional) before closing out the game. It's been hashed and rehashed, but the blowpen has become a serious concern. In case you haven't...
Drew Smyly keeps giving the Detroit Tigers great chances to win games. The offense keeps refusing to take them. Wednesday, Smyly continued the amazing start to his career - allowing one run in six innings - but the slumping offense managed just a single run in a 2-1 loss to the Seattle Mariners. Smyly now has a 1.59 ERA in six career starts, but has only one win to show for it...
Tigers skipper Jim Leyland is known to some as the "Wizard of Woodward" and known to others as the "Wretch of Wrongness" based on the decisions he makes on a nightly basis.  Baseball managers have to make countless decisions game-in and game-out – his batting order, who will be available out of the bullpen, when to bunt, when to hit and run, when to make a pitching change...
The first month of the MLB season has elapsed and the Tigers' typical slow start has once again reared its' ugly head. Tigers' bats erupted on Opening Weekend against the Red Sox. The Tigers roared out to a 9-3 record and have since gone cold, only winning 2 out of their last 10 games. A competitive docket of games in April along with possible off-field issues are possibly...
The Omir Santos game, from a fan in attendance
Yesterday we mentioned we would take a look at the Tiger DH performance.  Then again, you may want to avert your eyes. Currently the Tiger DH line (BA, OBP, SLG, OPS) looks like this: Tigers DH:  .192  .228  .283  .512 AL Avg DH:.263  .334  .454  .788 With those numbers we could have kept Brandon Inge, shifted him to DH, and come out ahead. Of course the league averages...
(Adds AP Photo.) By JIM ARMSTRONG AP Sports Writer American pitcher Brad Penny was released by the Softbank Hawks after appearing in just one game for the Pacific League team, becoming the latest in a long list of former major league players to struggle to adjust to Japan's unique brand of baseball. The Hawks cut Penny on Tuesday, granting the player's request to be released...
A .500 record and alternating wins with losses for nearly two weeks have the Detroit Tigers looking for a breakout series. The Oakland Athletics were relieved to avoid a break of a different kind. The underachieving Tigers face the A's on Thursday night in the opener of a four-game set at O.co Coliseum. Reigning AL Central champion Detroit (15-15) has split its last 10 games...
Once again another disappointing series for the Detroit Tigers. The Seattle Mariners have been a thorn in the Tigers side this year. Coming into the series the Tigers were win less against the Seattle ball club. In a series that had the pitching that was good enough to be a sweep but the offense that just couldn't get the job done. Game one Doug Fister made his much anticipated...
Every year in baseball there are surprises. If baseball followed a repeatable formula it wouldn't be nearly as exciting as it is. There is one theme that seems to be following this season and it's an alarming one for most fantasy players. The top ten players in most leagues (usually constituting the first round of most drafts) are not performing well as a group....
Tigers News

Delivered to your inbox

You'll also receive Yardbarker's daily Top 10, featuring the best sports stories from around the web. Customize your newsletter to get articles on your favorite sports and teams. And the best part? It's free!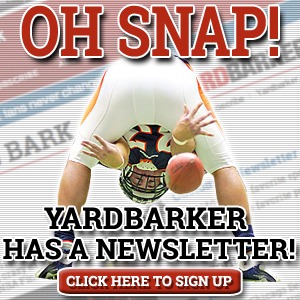 Latest Rumors
The Backyard

Today's Best Stuff

For Bloggers

Join the Yardbarker Network for more promotion, traffic, and money.

Company Info

Help

What is Yardbarker?

Yardbarker is the largest network of sports blogs and pro athlete blogs on the web. This site is the hub of the Yardbarker Network, where our editors and algorithms curate the best sports content from our network and beyond.