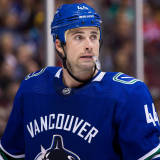 Though there has been trade speculation swirling around Vancouver Canucks defenseman Erik Gudbranson for much of the season, GM Jim Benning has also been clear that he would explore an extension with the pending unrestricted free agent. Rick Dhaliwal of News 1130 now reports that those negotiations are going well, stating that they are "getting closer" to signing an extension. Though...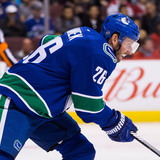 When the Vancouver Canucks signed a number of free agents last offseason, at least one of them seem destined to play less than a season with the club. Thomas Vanek, signed to a one-year $2MM deal at the beginning of September, would be suiting up for the seventh team of his career and could easily be flipped a few months later. As Vancouver heads towards the trade deadline, the case...
Following the unfortunate and early retirement of the Vancouver Canucks' Derek Dorsett, a big role has been left vacant in the Canucks lineup — physicality. Enter, Darren Archibald. Standing at 6-foot-3 and 210 pounds, Archibald is a big man and with his skating abilities, he's somebody who you want to be vigilant of every time you're on the ice. He hits, he fights and, wait, he...
To win a Stanley Cup in today's NHL requires a dynamic core of elite young players. In order to forecast an organization's future, it is important to examine the franchise's key players under the age of 25. The young talent in-house is a good place to start when determining where the team is trending. Go ahead and look back in recent memory to perennial cup contenders and see that...
The Vancouver Canucks selected Finnish defender Olli Juolevi fifth overall in the 2016 NHL entry draft. He's been hyped to be the future of the Canucks' blue line but the question is, should you believe the hype? He was the highest drafted defenceman in 2016, but so far, he's been outclassed by some fellow draft-mates. Charlie McAvoy and Mikhail Sergachev went later in the first...
The Vancouver Canucks signed GM Jim Benning to a multiyear contract extension Wednesday.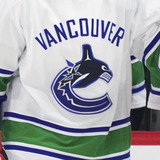 The Vancouver Canucks have announced a multi-year extension — expected to be three seasons — for GM Jim Benning, keeping the executive in charge for the foreseeable future. In a release, Canucks' President of Hockey Operations Trevor Linden explained his confidence in Benning:With Jim's guidance and leadership we have put the building blocks in place for a bright future. We have...
Dallas came into Sunday's game on a five-game winning streak. Vancouver came in on a four-game losing streak. Which team would give in? Surely not Johnny Canuck's team. Jacob Markstrom made 30 saves for his second career shutout as the Canucks blew out the Stars 6-0. After calling out the team for their recent sloppy play, they go out and look like a playoff team. Markstrom said...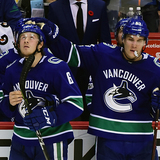 Even before Brock Boeser's hat trick, it was becoming clear that the Vancouver Canucks are headed in a different direction.This is a team that has spent the last few seasons scraping the bottom of the barrel. (Remember when they seemed like they could be competitive, but were really good at blowing leads in the third period?) Now, during a campaign largely viewed as the Sedin Brothers...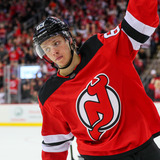 It's unlikely that anyone expected the New Jersey Devils to enter their 2017-18 campaign with a pair of three-game winning streaks. Or that anyone figured they would end atop the Metropolitan Division with the fourth best power play in the league. But here they are, entering a challenging November of hockey that starts with a road swing along the West Coast. But if Jesper Bratt's...
MORE STORIES >>
Canucks News

Delivered to your inbox

You'll also receive Yardbarker's daily Top 10, featuring the best sports stories from around the web. Customize your newsletter to get articles on your favorite sports and teams. And the best part? It's free!