Pewter Report debuted a new season-long weekend feature last season called Fifth Down that showcased some of the Bucs players each week to reveal what they are like off of the football field. We decided to bring it back for 2017 and this week in The Fifth Down we spoke with with safety Keith Tandy. The Fifth […] The post Fifth Down With Ryan Fitzpatrick: Honest Abe And Party In The...
The veteran defensive end appears to be fully recovered from his neck injury. The Tampa Bay Buccaneers will almost certainly have to play the Atlanta Falcons without veteran guard Evan Smith and veteran defensive end Robert Ayers, both of whom missed their second consecutive day of practice with a concussion. Smith is likely to be replaced by Kevin Pamphile, who's been sharing the...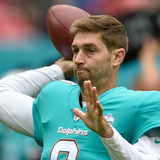 Jay Cutler appears to be taking steps towards playing this weekend.The Miami Dolphins quarterback was knocked out of the game during his team's loss to the Tampa Bay Buccaneers last weekend and was placed in concussion protocol. He did not practice early this week as he remained in concussion protocol.But the Palm Beach Post's Joe Schad reported Thursday that Cutler was throwing...
A look at Thursday's injury report.
William Gholston rejoined practice, though. The Tampa Bay Buccaneers added two new players to their did-not-practice list today: guard Robert Ayers (concussion) and defensive end Evan Smith (concussion) joined cornerback Vernon Hargreaves (hamstring) and quarterback Jameis Winston (shoulder) on the sidelines. Hargreaves missed the last game, while Winston missed the last two and...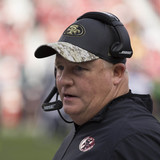 Chip Kelly has been weighing his coaching options, and all reports indicate he is choosing between UCLA and Florida. Now two reports are saying that it looks like Kelly is leaning towards picking UCLA over Florida.Bruin Report Online veteran UCLA reporter Tracy Pierson reported on Wednesday afternoon that all signs point to Kelly picking the Bruins. Pierson says "a large number of...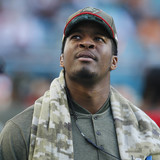 As the NFL investigates allegations made against Tampa Bay Buccaneers quarterback Jameis Winston that he groped an Uber driver in Arizona earlier last year, head coach Dirk Koetter won't comment on the situation."I can't talk about it. That is in the hands of the NFL right now. And we're cooperating with that investigation to whatever extent that is I don't even know," Koetter said...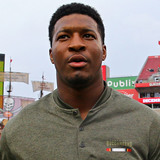 The attorney representing the woman who has accused Jameis Winston of sexually assaulting her during an Uber ride is quite familiar with the Tampa Bay Buccaneers quarterback, as he also represented the woman who says Winston raped her back in 2012 at Florida State. On Sunday, the lawyer came out firing.John Clune, who represented Erica Kinsman in her lawsuit against Winston, wrote...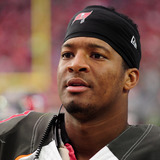 Allegations are surfacing against Jameis Winston. And now, the Buccaneers quarterback is under investigation by the NFL.But, the former FSU signal-caller has a familiar face in his corner. His former college teammate, Ronald Darby, is coming forward with his account of that night. "I am confident that nothing inappropriate in nature happened in the car that evening… The accusations...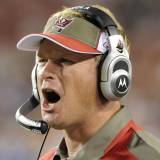 Could Jon Gruden make his return to coaching with the same team he last coached? According to one report, the Tampa Bay Buccaneers and Gruden have some mutual interest in a potential reunion.From Scott Reynolds of Pewter Report: "I just have my gut instinct and some information from other league sources that there is, in fact, interest on both sides for a reunion, especially from...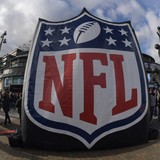 An NFL replay assistant used subterfuge to articulate his stance on the controversial national anthem protest issue. The unidentified individual, who was assisting a referee during a replay review, attached a note to the back of his hat that read, "I will always stand." The incident occurred during Sunday's New York Jets-Tampa Bay Buccaneers game. The replay assistant presumably...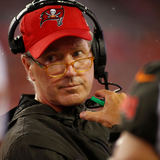 Two years after the Buccaneers tasked Lovie Smith with rebuilding a franchise buried in the rubble that was left behind by Greg Schiano, the team abruptly fired the head coach the week after the 2015 season ended and promoted offensive coordinator Dirk Koetter to the job.Koetter is now eight games away from equaling Lovie's stay as head coach. Barring a miraculous turnaround in the...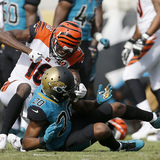 No one could have predicted the level of animosity that surrounded Week 9 of the NFL season.After a fairly quiet 2017 campaign, at least as far as physical altercations are concerned, the midseason mark of the season brought plenty of fireworks.It didn't take long for A.J. Green and Jalen Ramsey to get into a fight during Sunday's game, which included the Bengals receiver putting...
MORE STORIES >>
Buccaneers News

Delivered to your inbox

You'll also receive Yardbarker's daily Top 10, featuring the best sports stories from around the web. Customize your newsletter to get articles on your favorite sports and teams. And the best part? It's free!