(Kate Frese/SB Nation) By Chuck LaGrossa, Sports Talk Philly staff writer When the Flyers kept Nolan Patrick on the final roster back in October, he conceivably had a 10-game window where the Flyers could return him to juniors or choose to keep him around for the remainder of the season. The Flyers opted, as they have in the past with these kind of rookies, to keep him around for...
(Kate Frese/SB Nation) By Kevin Durso, Sports Talk Philly editor  The Flyers have managed to right the ship a bit with their stretch of three straight wins on a Western Canada trip over the last week. The play has been far from perfect, but it's produced the right results. Perhaps a little time away from home was exactly what the team needed. But now, they must take the results of...
Brayden Schenn had an awesome week. After scoring six goals and an assist, Schenn was named the NHL's first start of the week, narrowly beating out Jake Allen who earned the second star. Accolades aside, Schenn also picked up one hell of a confusing double minor against the Buffalo Sabres on Sunday. After Buffalo's Justin Falk hit Alexander Steen, Schenn stepped in and was essentially...
By Kevin Durso, Sports Talk Philly editor  The Flyers have spent the last few seasons adding pieces of their future to the NHL roster. There's Nolan Patrick and Travis Konecny at forward, Ivan Provorov, Robert Hagg and Travis Sanheim on defense and a host of prospects in the minors and juniors. The goaltender of the future is among them, and is currently playing putting up ridiculous...
If you don't yet know the name Carter Hart, you will soon. The 19-year-old goaltending prospect was drafted by the Philadelphia Flyers in the second-round of the 2016 NHL Draft and he's made it his mission to get better with each and every season. In his first year in the WHL, Hart posted a respectable […]
In today's Rumor Rundown, we look at trade options in different positions. From a top-six forward to a depth center, goaltenders and a defenseman, everyone and everything is needed around the NHL as the season progresses. Wayne Simmonds is a player multiple teams would have interest in. But, are the Flyers looking to move him […]
Let me get the formalities out of the way first, because I have a feeling that what I'm about to write isn't going to be popular. The Flyers have a three-game winning streak for the first time this season. The Flyers swept the Western Canada road trip, something that's not easy to do. Michael Raffl is on fire, having scored in each game. He now has five goals and two assists in...
The darkness is now over (temporarily) for the Philadelphia Flyers and their fans. With a plethora of talent highlighted by names like Giroux, Voracek, Gostisbehere, Provorov, and Simmonds, one has to ask: How did this team lose 10 straight games? Simply put, the Flyers were inconsistent, nonchalant, unlucky, and unable to hold a lead, all […]
VANCOUVER, British Columbia (AP) — Shayne Gostisbehere and Claude Giroux each had a goal and an assist, helping the Philadelphia Flyers beat the Vancouver Canucks 4-1 on Thursday night. Michael Raffl and Wayne Simmonds also scored for the Flyers, who have won three in a row after a 10-game losing streak. Jakub Voracek had three assists. Philadelphia's Brian Elliot made 36 saves for...
EDMONTON, Alberta (AP) — Wayne Simmonds had a goal and an assist and the Philadelphia Flyers beat the Edmonton Oilers 4-2 on Wednesday night for their second straight victory after losing 10 in a row. Jordan Weal, Dale Weise and Michael Raffl also scored, Claude Giroux added two assists, and Brian Elliott made 24 saves. Leon Draisaitl and Ryan Nugent-Hopkins scored for Edmonton....
The Philadelphia Flyers are stuck in the midst of an ugly nine-game losing streak. Despite five of those nine losses resulting in a charity point for the Flyers, the team is still sitting in the basement of the Metropolitan Division with a modest 8-10-7 record. Logically, confidence should not be high during this kind of losing streak. Apparently no one told that to team general...
Brayden Schenn continued his hot streak on Saturday night, scoring the OT winner against the Vancouver Canucks to push his recent run to 15 points in seven games. I've already talked about how Schenn is completely exceeding any expectations Blues fans had prior to the year, but it's worth talking about once again. With Schenn's goal on Saturday, he now has eight goals and 18 assists...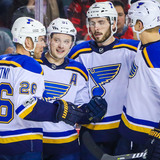 The time has come. It's halfway through November and we finally have to admit it. The St. Louis Blues are good.There was suspicion ahead of the 2017-18 campaign that this Central Division team may be a sleeper competitor in the West. Then some preseason injuries squashed any belief in that, and many turned back to focusing on other teams. But now, a month and a half into the season...
MORE STORIES >>
Flyers News

Delivered to your inbox

You'll also receive Yardbarker's daily Top 10, featuring the best sports stories from around the web. Customize your newsletter to get articles on your favorite sports and teams. And the best part? It's free!