The local kid hits the back of the net against Detroit One of the beauties of watching early NHL preseason games is seeing some of the guys who are likely to be assigned to the AHL working hard to make a splash and make a name for themselves. 2016-17 Boston College captain Ryan Fitzgerald did just that last night, scoring a goal in his first career preseason outing for the Boston...
Tim Schaller notched the eventual game-winning goal in the second period, as the Boston Bruins rallied from two goals down to defeat the Montreal Canadiens in their first preseason contest of 2017.
In an era where superstars get lucrative salaries, the Boston Bruins were able to sign star-forward David Pastrnak to a team friendly deal.  Pastrnak signed for six years with an average annual salary of $6.66 million. Pastrnak was second in scoring on the Bruins this past season, only behind winger Brad Marchand.  With the Czech forward signed for the long haul, he can finally...
As training camp for the Boston Bruins began on Thursday, general manager Don Sweeney was not shy about what is to come this season and what he expects from his team: "We want to continue to get better. The expectations are that we need to arrive every day and put in the work that's necessary to be successful." Success has been an uphill battle for the Bruins since losing in...
Hockey is back as the Bruins kick off the 2017-2018 season at Warrior Ice Arena.
Murph and Joe discuss the breaking news that David Pastrnak agreed to terms with the Bruins!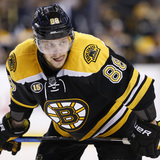 Despite numerous rumors to the contrary filling social media during the past few weeks, the Boston Bruins were able to agree to a contract with young forward David Pastrnak. Not only did the team and Pastrnak come to a consensus, but they worked out an extremely reasonable deal. Pastrnak signed a six-year, $40 million extension to his current contract that carries an average annual...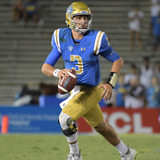 They were done. Buried. Everyone was calling for Jim Mora's head and saying Josh Rosen was overrated. And then the magic started to happen. Down 38-10 at the half and trailing 44-10 in the second half, UCLA rallied for 35 straight points to come back and beat Texas A&M in their season opener 45-44 on Sunday at the Rose Bowl in Pasadena. The Bruins scored four touchdowns in...
Murph and Joe are back this week chatting about the Bruins continued uncertainty with David Pastrnak and how New Jersey goes after a few former B's.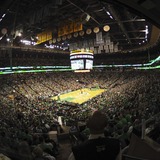 Three teenagers have discovered an important piece of information that had evaded Bostonians for over two decades. When Jeremy Jacobs reached a deal to develop the $160 million TD Garden facility 24 years ago, he agreed to host three fundraisers a year to benefit the agency that oversees the city's recreational facilities. Nobody seemed to notice those fundraisers never came...
Bruins Beat Podcast on CLNS Media rebrands with a big change just like the NHL and Adidas. This is no joke Jimmy Murphy and Joe gill are taking over. In this inaugural episode Joe and Jimmy talk the madness that is going to be the next three week. Trades and trades galore as the Vegas Golden Knights build the team ahead of the expansion draft. They also talk about the players that...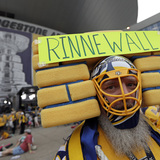 Want more news first thing in the day? Sign up for the Yardbarker Morning Bark newsletter here.Good morning and welcome to the YB Box Score, what we're reading while waiting on this sad dark day between NHL and NBA championship games. Oh, Nats-Dodgers is tonight? Well, if we must. Happy birthday today to Cam Neely, Björn Borg and Matt Belisle. On this date in in 1944, baseball...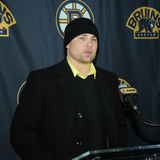 Marc Savard's career came to an abrupt end back in 2011 after suffering a series of concussions. Since that time, his life has been difficult ride as he struggled to deal with the lingering effects from those concussions while also coming to grips with the fact his career had ended.More recently, Savard has settled down, enjoyed his time with family and become an advocate for improved player...
MORE STORIES >>
Bruins News

Delivered to your inbox

You'll also receive Yardbarker's daily Top 10, featuring the best sports stories from around the web. Customize your newsletter to get articles on your favorite sports and teams. And the best part? It's free!