The Dolphins' receiver's trip took him to 10 cities.
Miami's offensive line is due for a shake up next season, but a familiar face is going to be fighting for a starting spot come training camp. The Miami Dolphins' offensive line has long been the source of woe for both the team and fans alike, and according to many reports, the front office will look to shake up the unit in the hopes of improving it for 2018. However, Adam Beasley...
The Miami Dolphins will be making a lot of changes to their roster in the next week. There is no way around it, Miami is $19 million over the projected $177 million cap and that means cuts are coming. There are some, o.k. one, in the South Florida mainstream media who will tell you...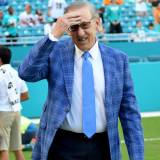 On Monday, Miami Dolphins owner Stephen Ross said all of his players would be standing during the national anthem."All of our players will be standing."But, why the change?"Initially, I totally supported the players in what they were doing. It's America and people should be able to really speak about their choices. … When that message changed, and everybody was interpreting it as...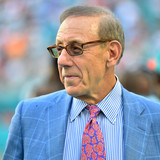 Miami Dolphins owner Stephen Ross is attempting to walk back statements made this week that certainly appeared to indicate a policy would be instituted requiring all team players to stand for the national anthem.Ross issued a statement Tuesday saying his comments were "misconstrued." "I have no intention of forcing our players to stand during the anthem and I regret that my comments...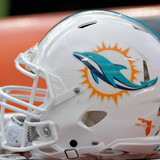 The Miami Dolphins may be running out of patience with Ryan Tannehill.According to Peter King of the MMQB, many at the NFL Combine believe the Dolphins will target a quarterback with the No. 11 pick in the draft. They will also dine with Baker Mayfield prior to his Pro Day, a further indication that they are serious about drafting a quarterback.Ryan Tannehill will not have played...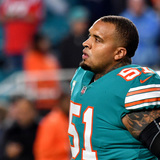 Jonathan Martin found his way back into the news last month when he was taken into custody over a disturbing social media post that was viewed as a threat toward some of his former teammates, but one of those teammates insists he is not worried.Miami Dolphins center Mike Pouncey was asked about Martin's Instagram story at a charity event over the weekend, and he was quick to downplay...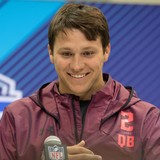 Dan Marino and John Elway are legendary quarterbacks who now hold an executive position with their former team, and they're both involved with trying to find a new signal-caller. Top prospect Josh Allen must've been a little starstruck.According to Peter King of the MMQB, Allen messed up the names during a meeting with the Miami Dolphins."Excited to meet a Hall of Fame quarterback...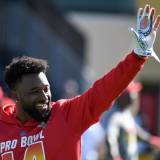 Jarvis Landry doesn't want to play under the franchise tag."The team decides to exercise the franchise tag. I'm considering not playing on it. The franchise tag is not a good deal for me. In my case, I've played four years. Then you get another year of basically not signing me to a long-term deal. In that year anything can happen. Look at guys like Ryan Shazier who may not have an...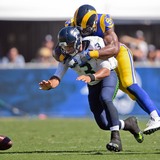 The Buccaneers looked into trading for defensive end Robert Quinn before the Rams dealt him to the Dolphins, according to Jeremy Fowler of ESPN.com (Twitter link). There's no word as to why Tampa Bay didn't press for a Quinn trade, but it's possible the club wasn't willing to meet Los Angeles' asking price. The Rams eventually landed a 2018 fourth- and sixth-round picks in exchange...
Jarvis Landry is looking at a big payday in the upcoming season.According to NFL Media's Ian Rapoport, Landry is accepting the franchise tag from the Miami Dolphins and will be signing his tender. The franchise tag for a wide receiver will likely pay Landry around $16 million.Landry reportedly received permission from the Dolphins to seek a trade. Any team that deals for him may...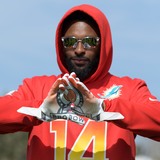 The Miami Dolphins franchised-tagged wide receiver Jarvis Landry and also gave him permission to seek out trade options. Now that these wheels are in motion, plenty of teams have reportedly shown interest in the 25-year-old receiver. Apparently, the New England Patriots are not one of those teams as Jeff Howe ofThe Boston Herald points out. But we do know from an earlier report that...
MORE STORIES >>
Dolphins News

Delivered to your inbox

You'll also receive Yardbarker's daily Top 10, featuring the best sports stories from around the web. Customize your newsletter to get articles on your favorite sports and teams. And the best part? It's free!