Track and field star Oscar Pistorius on Tuesday was sentenced by a South African judge to five years in prison for killing his girlfriend Reeva Steenkamp. Judge Thokozile Masipa cited "gross negligence" after the double-amputee shot Steenkamp multiple times through a bathroom door in the 2013 death. In September, Pistorius was found not guilty of murder but still faced these...
CHICAGO (AP) Eliud Kipchoge won the Chicago Marathon on Sunday to lead a 1-2-3 finish for Kenyan men. Kipchoge pulled away over the last two miles for his first major marathon victory, finishing in 2 hours, 4 minutes, 11 seconds. He was followed by Sammy Kitwara in 2:04:28 and Dickson Chumba in 2:04:32. Ideal conditions - sunny skies and 46-degree temperatures - greeted the runners...
Justin Gatlin is far more interested in winning races than popularity contests. Still, the American sprinter with a doping history doesn't quite understand the backlash over his nomination for track and field athlete of the year. Gatlin went undefeated in the 100 and 200 meters this season, a year that didn't include a major meet and one in which Usain Bolt chose to give...
I am so confused by this story on The Big Lead. Oklahoma State 1500m runner Vegard Olstad post an innocent IG about his mom sending him chocolate and Gatlin leaves this comment. I am not sure if Gatlin was high on drugs (he has been suspended a few times or what), but it was a pretty mean thing to say about the kid's mom who if from Norway by the way.
Lolo Jones hoped she had found something she could win in "Dancing With The Stars," but that was far from the case. The track star turned bobsledder struggled mightily in the first episode of the latest season of the celebrity dance competition, and she was the first competitor eliminated on Tuesday night. Jones knew she was in trouble after struggling through the first dance...
Oscar Pistorius was found not guilty of premeditated murder on Thursday morning. A South African judge ruled that the six-time Paralympic gold medalist did not intentionally shoot and kill his girlfriend Reeva Steenkamp last year but could still be convicted of culpable homicide. Pistorius shook and wept as Judge Thokozile Masipa delivered the verdict. "Clearly […]
Meb Keflezighi made history in becoming the first American man to win the Boston Marathon in 31 years. Now, he's looking to pull off another feat in the country's largest race. He will be the last runner to start Atlanta's Peachtree Road Race on July 4 and attempt to pass as many of the 60,000 participants as possible -- with a goal of 22,500 -- all to raise money for...
Lolo Jones' experience at the Olympics in Sochi are not off to a much better start than the Summer Games in London a couple of years ago. Jones and her teammate Jazmine Fenlator had a poor finish in the early heats of the two-woman bobsled event, as they stand 11th our of 19 places. This […]Continue reading...
Madison Holleran posted a picture (bottom) of downtown Philadelphia around 6pm on Friday night to her Instagram account, and an hour later, she was found dead at the bottom of a parking structure. Authorities are ruling it a suicide, but questions obviously remain as to why a beautiful 19-year-old girl from Allendale, NJ would jump […]Continue reading...
Rihanna is absolutely in the Jocks Top Ten celebrity dream girl category. Olympic sprinter Usain Bolt recently saw Ri Ri's twerking video to T-Pain's "Up Down." Of course you want to see what it looked like, right? I guess he missed her skills in the "Pour it Up" video.
Usain Bolt, the fastest man alive, is out with his new memoir this week, "Faster Than Lightening."   In the book, Bolt wrote about the unusual sex pact that he had with his girlfriend, Jamaican runner Mizicann Evans.  Bolt became an instant celebrity after winning three gold medals in the 2008 Beijing Olympics and women "threw themselves" at him.  
During the Beijing Olympics, a then 22 year-old Usain Bolt thought that Chinese food was "odd." So the Jamaican sprinter ran to the nearest McDonald's in search of his favorite food: chicken McNuggets — and ending up eating 1,000 pieces of the fried chicken parts over the course of the Games. Besides his Kobayashian feat (and Olympic gold), this is just one of the tidbits...
MORE STORIES >>
Track and Field News

Delivered to your inbox

You'll also receive Yardbarker's daily Top 10, featuring the best sports stories from around the web. Customize your newsletter to get articles on your favorite sports and teams. And the best part? It's free!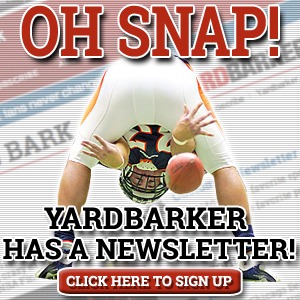 THE TRACK AND FIELD HOT 7