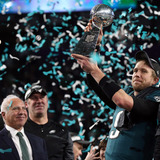 Imagine if this had taken place some five years ago. According to a report from ESPN's Phil Sheridan the defending champion Philadelphia Eagles once turned down a Cleveland Browns trade offer that would have sent Josh Gordon further east in exchange for Super Bowl LII MVP Nick Foles."The Philadelphia Eagles turned down a trade that would have brought them Cleveland Browns wide receiver...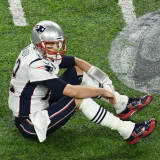 Those in Philadelphia and its surrounding areas are not soon going to let others forget that their Eagles defeated the mighty New England Patriots in Super Bowl LII earlier this month. It was the Eagles' first ever Super Bowl title. It came against a fellow east coast powerhouse with Philadelphia itself being major underdogs. Already a boisterous sports town, the hype is not going...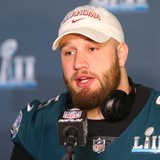 The ever-outspoken Lane Johnson is definitely not backing down from his criticism of the New England Patriots, even now that it's been nearly two weeks since the Super Bowl.The Eagles' offensive tackle has been talking about the Patriots for weeks now, famously calling them a "fear-based organization" and hinted that playing for New England was "miserable." Johnson isn't backing...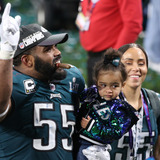 Fresh off helping his Philadelphia Eagles to their first Super Bowl title, defensive end Brandon Graham is now out here looking to get paid the big bucks.The 29-year-old former first-round pick is coming off a career-best 2017 campaign that saw him record 47 tackles, 9.5 sacks and two forced fumbles. He's also now openly talking about looking for an extension."For me, it's all about...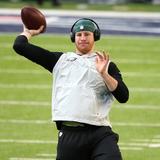 The Philadelphia Eagles are Super Bowl champions. And while quarterback Carson Wentz would carry them a long way, he didn't get to see it out. But that's what 2018 is all about. Coming off a season-ending ACL injury isn't going to make him change things up, however."I definitely won't change, so to speak. That has what made me successful this last season and my whole career. It is...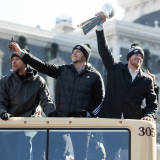 While the Eagles might not name an offensive coordinator, they have likely found their next quarterbacks coach. Assistant quarterbacks coach Press Taylor is expected to be promoted to the primary role, tweets Ian Rapoport of NFL.com. Taylor will replace John DeFilippo, who was hired as the Vikings' new offensive coordinator over the weekend. The 30-year-old Taylor joined Philadelphia...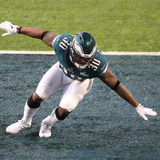 Eagles running back Corey Clement was the X-factor in Super Bowl LII.The Patriots clearly were not prepared for his pass-catching abilities, as he hauled in four catches for 100 yards (one touchdown) in the game.It was Clement's best performance of the season, and he made sure to get something to remember it.Check out this amazing Super Bowl LII tattoo he got on his forearm. That...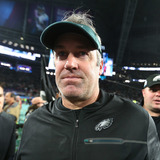 Even with the departures of offensive coordinator Frank Reich and quarterbacks coach John DeFilippo, the Eagles aren't immediately looking to bring in a new offensive coordinator, according to Ian Rapoport of NFL.com (Twitter). Rapoport points to running backs coach Duce Staley and wide receivers coach Mike Groh taking bigger roles within the team's offense. Head coach Doug Pederson...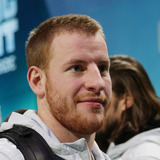 Carson Wentz made an appearance on Philly radio Tuesday morning and provided an update on how his rehabilitation following a knee injury is progressing.Most interestingly, Wentz said the goal remains for him to be on the field with his Philadelphia Eagles teammates at the onset of the 2018 NFL season. "That is definitely my goal. Timetables and all those things are always such a...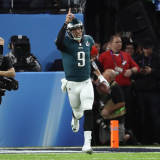 One of the controversies to arise from the Super Bowl had to do with whether or not the Philadelphia Eagles were lined up in illegal formation on the "Philly Special" trick play that resulted in a touchdown pass to Nick Foles. One former official thinks they were in illegal formation.NFL rules expert Mike Pereira, who serves as a TV analyst for FOX, said in an interview with Talk...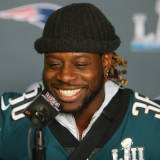 It's never easy to repeat in the NFL, but the Philadelphia Eagles have plenty to like ahead of the 2018 season. However, everybody knows about the Eagles now. There aren't going to be any surprises. That said, moves have to be made to improve the team to ensure they stay competitive. Well, except in one particular department: running back.Obvious moves the Eagles could make, according...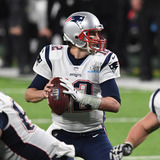 New England Patriots quarterback Tom Brady isn't sulking around the house in his pajamas after watching his team lose to the Philadelphia Eagles in Super Bowl LII last Sunday.What else would we expect from a five-time Super Bowl champion who has a wife that most men would literally give their left arm for? Well, Brady has decided to hit up the legendary Costa Rica coast with his...
MORE STORIES >>
Eagles News

Delivered to your inbox

You'll also receive Yardbarker's daily Top 10, featuring the best sports stories from around the web. Customize your newsletter to get articles on your favorite sports and teams. And the best part? It's free!