Found November 07, 2011 on The Southpaw:
Just going to give you an up-front warning: the best of these guys don't ever come up in scouts' discussions of the premium talent in the Jays organization. the position is in better shape for prospects than 2B and 3B, but the best guys are usually regarded as guys who project to a relatively low ceiling.
1.
David Cooper
(24) - Everything the scouts tell you about Cooper screams "don't get your hopes up" but he did everything you could ask him to do at AAA this year except pile up home runs. the book is that he's a guy with an offensive ceiling something like Lyle Overbay at his best (and a "most likely" that looks like Overbay in decline) but his case is not aided by defense. Overbay carries a sterling defensive reputation, Cooper's is "barely adequate.
That's an unfortunate combination for him. You have to tip your hat to what he did in Vegas though. A .439 OPS and 51 doubles is nothing to sneeze at. And while it's true his HR power was absent, he hit 20 dingers in AA the year before in a much tougher environment for power - and that having had an awful first half in 2010. So there's some power there. It's hard to say how much of that he gave up for the contact. I expect Cooper to be traded as part of some package because i don't see a place for him in Toronto. He'll have an "okay" career, i imagine, but not one that will make you wish the deal hadn't been made.
2.
Mike McDade
(22) - A sixth round pick in 2007, McDade is the definition of a "bad body" player. He stands 6'1" and is listed at 260 pounds. Most observers have thus spent his career waiting for that fact to catch up with him and his development to stall. Thus far, it hasn't. McDade has been a consistent "very good but not great" hitter the last three years. In the first half of 2011 he seemed to be having a breakout year, but around mid-season he suffered a knee injury. He eventually came back and tried to play through it (it's unclear to me if he hid it from the trainers or the team thought he could keep playing) and his stats crashed through the floor. Look at the comparison of his first and second half stat line:
.310/355/.525/.880.214/.265/.297/.561
It's reasonable to assume the second half numbers are not representative of, well, anything, and that the first half stats are project-able as a reasonable representation of where he's at now. Still, it's worth noting that he's missed ~20 games or more each of the last three years so there may be some health issues related to his size after all.
One thing NOT related to his size is his defense, which surprisingly, is considered to be excellent. He should move up to AAA this season, even if Cooper is still in the organization. He should look like a monster in Vegas, but we see how much good that did Cooper.
3.
Sean Ochinko
(24) - Future utility guy, so long as he maintains his positional versitility. Still listed as a catcher, he can also play 3B and 1B and where his defense holds up will make a big difference in his major league value. If he can be a competent catcher he'll be worth watching as a reserve guy in the majors, but good defensive catchers usually don't get shuffled around this much. I could see him maybe having a major league role not unlike that which Eric Hinske has settled into. The two-time Webster Award winner fell on some hard times in 2011 in comparison to his previous work. His HR total did go up quite a bit, but at the expense of so much contact that the net offensive result was actually down. He had a miserable April before picking it up the rest of the season but his OPS varied widely from month to month and he never seemed to be "in the zone." You can write this year off, of course, as an off-year, but it doesn't need to become a habit.
4.
KC Hobson
(20) - By every measure Hobson had a completely unimpressive season in 2011. He was projected to hit for power, and hasn't yet - not really even impressive doubles power. He was very streaky, didn't make enough contact, and even posted an alarming (for a 1B) 25 errors defensively. He's still young, and the Jays will take their time, but he needs to step up his game.
5.
Kevin Patterson
(22) - Patterson had a good year, but the big caveat is age. Being 22 in short-season ball and having a good year really doesn't impress most people. A 30th round pick in 2011, my guess would be that for a real challenge he might move ahead of Hobson- eventually if not initially - in 2012 because at his age he really ought to be trying his skills in Dunedin. lack of pro-experience aside.
6.
Art Charles
(20) - Charles is a big (6'6") guy with power potential who played for the Bluefield Blue Jays in 2011 after being a 20th round draft pick in 2010. He stepped up his offensive game this year, increasing both his OBP and his slugging. But he's probably not ever going to be called a great prospect if his average doesn't get out of the .240's - that kind of thing might be overlooked in a catcher or a SS, but not a 1B.
I'm going to try to get to the catchers this week before tackling the massive pitcher list.
Original Story:
http://thesouthpawbaseball.blogspot.c...
THE BACKYARD
BEST OF MAXIM
RELATED ARTICLES
                The baseball hot stove doesn't typically heat up until the GM Winter Meetings, which will take place from December 5th to 8th, but it's not too early to start looking at what Alex Anthopoulos and the Toronto Blue Jays could do during the offseason. For the Blue Jays there are three obvious areas of need: second base, relief pitching, and outfield depth...
The Toronto Blue Jays have picked Pete Walker to replace Pat Hentgen as the team's bullpen coach. Hentgen, a former Cy Young winner, stepped down from the position Monday for personal reasons. He will remain with the club as a special assistant. Wlaker, who enjoyed an eight-year MLB career, spent last season as pitching coach for Double-A New Hampshire, winners of the Eastern...
We haven't had a minor league thread in a while, now seems like a good time to get one going.  I received some updates from the instructional league last week and I thought I would share those.  In addition I have a look back at the 2011 season and we will catch up on the AFL. Instructional LeagueInstructional league wrapped up a couple of weeks ago.  Some of you may not...
The Toronto Blue Jays are looking to become contenders next season, and according to Buster Olney of ESPN, they would have to add a "shutdown" closer to do so. Olney points out that the Blue Jays were tied for third in blown saves in 2011 with 25. This winter, the closer market has a lot of interesting choices, like Heath Bell, Matt Capps, Joe Nathan, Ryan Madson, Jonathan Papelbon...
Pete Walker has replaced former AL Cy Young Award winner Pat Hentgen as the Toronto Blue Jays' bullpen coach. Hentgen quit Monday for personal reasons and will remain with the organization as a special assistant. Walker spent this year as pitching coach at Double-A New Hampshire, which won the Eastern League title.
Last week we found plenty of topics to kick off the first week of the winter, winter being that time of the year when baseball is not played. This week threatens to be a quiet week on the baseball front but who knows? Award season doesn't start until next week so baseball news will have to be generated by the general managers. The general managers meet next week in Milwaukee...
The awards season is in full swing around Major League Baseball, and Jose Bautista heads a list of Blue Jays players receiving attention across the league.
Pete Walker has replaced former AL Cy Young Award winner Pat Hentgen as the Toronto Blue Jays' bullpen coach.
Today's POTD deals with the second last home game of the 2011 season for the Blue Jays.
All Sports News

Delivered to your inbox

You'll also receive Yardbarker's daily Top 10, featuring the best sports stories from around the web. Customize your newsletter to get articles on your favorite sports and teams. And the best part? It's free!
THE HOT 10: Who's Trending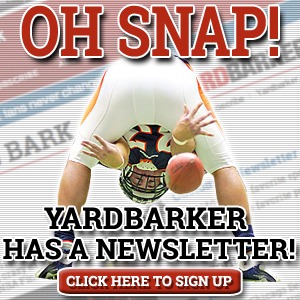 Latest Rumors
The Backyard

Today's Best Stuff

For Bloggers

Join the Yardbarker Network for more promotion, traffic, and money.

Company Info

Help

What is Yardbarker?

Yardbarker is the largest network of sports blogs and pro athlete blogs on the web. This site is the hub of the Yardbarker Network, where our editors and algorithms curate the best sports content from our network and beyond.