Found July 17, 2013 on Packers Talk Radio Network:
PLAYERS:
Datone Jones
,
Cullen Jenkins
,
Aaron Kampman
,
Johnny Jolly
,
Grady Jackson
,
Ryan Pickett
,
Richard Seymour
,
C.J. Wilson
,
Jerel Worthy
,
Mike Neal
,
Mike Daniels
,
Clay Matthews
,
Nick Perry
,
B.J. Raji
,
Aaron Rodgers
,
Randall Cobb
,
Morgan Burnett
,
James Jones
,
Sam Shields
,
Josh Boyd
,
Jordan Miller
,
Mario Williams
TEAMS:
Green Bay Packers
,
New York Giants
,
Jacksonville Jaguars
,
Detroit Lions
,
Oakland Raiders
,
Buffalo Bills
This is the fifth and final of my "Five Players That Have to be Good" for the Green Bay Packers. My fifth choice is rookie defensive lineman Datone Jones. I understand that having the team's 1st round pick as the fifth and final subject of this series might seem a little bit obvious.  Bear with me though as Datone's success could have more of an effect on both this season and the long term success of the Green Bay Packers than one might think.  The 6'4" 285 lb. Jones not only played in a pro-style 3-4 defense at UCLA, but was a read-option disrupting monster.  The Packers hope that Datone is finally the answer to the question "Who replaces Cullen Jenkins?"  First I'll address how Jones could be an impact player this season and then how his selection affects the 2014 plan and beyond.   Datone Jones has the potential to make an impact in both the base 3-4 defense that Dom Capers employs as well as the sub packages (with 2 down lineman) that Capers utilizes a league high 66.8% of the time.  I was a big proponent of the Packers moving to the 3-4 defense in the mid 2000's.  It was my opinion that Cullen Jenkins, Aaron Kampman, Johnny Jolly and Corey Williams could make for a nice DE rotation and that Grady Jackson/Ryan Pickett could hold up as NTs.  I thought KGB was an ideal fit for a 3-4 OLB and that Hawk and Barnett could coexist nicely inside.  It turned out that I was partially right.  The Packers hired Dom capers and made the switch to the 3-4 but KGB said in an interview with Packers.com recently that he wouldn't have enjoyed playing OLB.  Kampman was moved to OLB instead of bulking up and playing DE, and Corey Williams was traded.   My thought was that DE/DT tweeners (Jenkins, Williams) and strong side DEs that could play the run well (Kampman) would make good 3-4 defensive ends.  I didn't really understand the "5 technique".  You see, the elite 3-4 DEs, the real difference makers (and they are few) tend to be taller, athletic players.  JJ Watt (the prototype) is 6'5" 290.  Calais Campbell is 6'8" 300.  Richard Seymour is 6'6" 310.  What the Packers have now are 2 NT body types, a bunch of shorter nickel pass rushers, CJ Wilson (who can't rush the passer) and Datone Jones.  Jerel Worthy is 6'2".  Mike Neal is barely 6'3" and possibly being moved to OLB.  Mike Daniels is 6 feet flat.   Datone Jones is 6'4" and could possibly offer the Packers the longer type of athlete that can hold up against the run and be disruptive in the base defense.  Jones also had 19 tackles for loss with 6.5 sacks as a senior.  That kind of "wiggle" would project him as an effective player inside during nickel pass rush situations.  He could be the interior rusher on a regular basis that Clay Matthews has been needing to team with since Cullen Jenkins signed with Philadelphia.  A nickel rush group of Matthews, Mike Neal, Datone Jones and a healthy Nick Perry is a pretty fearsome foursome.  If all four players live up to their vast potential (DPOY, 2 1st round picks and a 2nd), the blitz happy Capers could actually start playing more 7 man coverages or 6 man coverages with a spy (read: Kaepernick and Wilson) while still getting to the QB on a regular basis.   Where I think the successful development of Datone Jones matters the most however, is in the plan for 2014 and beyond.  Ryan Pickett, BJ Raji, Mike Neal, Johnny Jolly and CJ Wilson are all free agents after the 2013 campaign.  The Packers just gave Aaron Rodgers and Clay Matthews $200.3 million (DAYUM!).  They also have Randall Cobb, Morgan Burnett, James Jones, and Sam Shields among others that they have to consider extensions for.  If Jones can prove this season that is going to be an above average player for many years to come it gives the packers financial flexibility for the future.  For example: if the Packers re-signed only Raji and Neal and let everyone else walk, they could have a 6 man DL rotation of Raji, Jones, Neal, Worthy, Mike Daniels and Josh Boyd/Jordan Miller/2014 draft pick.  If Jones is good (and Worthy comes back healthy), that's not bad.  It's also not very expensive.  Having that kind of limited money tied up in the DL could allow the Packers to keep one more of their key pieces in Green and Gold down the road.   I would caution Packers fans to be patient with Datone Jones.  Defensive Linemen, especially big ones, sometimes take time to develop.  Watt had 2/3 of the tackles, ¼ of the sacks and ¼ of the pass deflections he had as a sophomore, as a rookie.  BJ Raji's rookie year was pretty non-descript.  Mario Williams only had 4.5 sacks as a rookie. It takes these guys a little bit longer than say, ILBs or RBs to make an impact in the NFL.  Datone Jones could make a big impact this year, but it's critical to the long term success of the Packers that he becomes someone they can rely on for the long haul.   Datone Jones has to be good. --------------------- Ross Uglem is a writer at PackersTalk.com. You can follow Ross on twitter at rug_PhD12 ---------------------
Original Story:
http://packerstalk.com/2013/07/17/5-g...
THE BACKYARD
BEST OF MAXIM
RELATED ARTICLES
Bryan Bulaga (Photo Credit: Jeff Hanisch/ US PRESSWIRE) The Green Bay Packers finished last season 12-4 and won the NFC North title in back to back years.  Along with those back to back titles have been back to back exits in the NFC Divisional playoffs.  While they have a top five offense, their defense has been below average the past couple years.  With those stats in mind, here...
The dog days of summer are upon us, and two weeks from Friday Packers training camp will open once again. It has been said before that competition breeds excellence. This year in the case of the Green Bay Packers there is plenty of competition to go around, but which of these competitions will be the most hotly contested? Over the off-season the Packers have added players creating...
This is the seventh in a series of 13 previews leading up to the Green Bay Packers' July 26 start of camp. TODAY'S POSITION: LINEBACKERS Rating (1-to-10 scale): 7 Projected starters: Clay Matthews (fifth year), Brad Jones (fifth year), A.J. Hawk (eighth year), Nick Perry (second year) Backups (asterisks indicate players expected to make the roster): Dezman Moses, Nate...
This is the eighth in a series of 13 previews leading up to the Green Bay Packers' July 26 start of camp. TODAY'S POSITION: SAFETIES Rating (1-to-10 scale): 5 Projected starters: Morgan Burnett (fourth season), Jerron McMillian (second season) Backups (asterisks indicate players expected to make the roster): M.D. Jennings, Sean Richardson, Chaz Powell, David Fulton The breakdown...
GREEN BAY, Wis. -- No Greg Jennings. No Donald Driver. It seems like an ideal scenario for a backup wide receiver like Jarrett Boykin to emerge in the Green Bay Packers' high-scoring offense. Boykin doesn't see it that way, though. Not because it isn't, in fact, a great opportunity for the second-year receiver to have a much bigger role this season, but simply because...
According to Michael David Smith of Profootballtalk.com, the Packers and safety Morgan Burnett have agreed on a new deal. Burnett signed a four-year contract extension worth $24.75 million, with $8.25 million guaranteed. Burnett had been negotiating a new deal with the Packers and was heading into the final year of his rookie contract and would have been eligible for free...
The Green Bay Packers released details of another banner year financially on Tuesday, crediting another winning season, revenue-sharing across the NFL and shrinking player costs. Team President and CEO Mark Murphy told reporters the Packers generated a record $308.1 million in revenue, up 2 percent from 2012's record $302 million. ''Another strong year on the field...
With today's dedication of roughly 7,000 new seats in the south end zone of Lambeau Field, the Green Bay Packers now boast the third largest stadium in the National Football League, with seating for approximately 81,000 fans. When Lambeau Field opened in 1957, it was then known as City Stadium and had a seating capacity of 32,500 (the name was changed in 1965, when it was renamed...
Veteran offensive lineman T.J. Lang played hurt for most of last season The Green Bay Packers need young players to step up if they expect to be a force come January, but that won't be enough. They also need a bunch of veterans to perform better than they did a year ago. Jermichael Finley, T.J. Lang, B.J. Raji, A.J. Hawk, Tramon Williams and Mason Crosby immediately come to mind...
The Green Bay Packers will definitely retire Brett Favre's No. 4. It just won't happen during the upcoming 2013 season. Speaking Tuesday after his annual meeting with reporters to discuss the team's finances, Packers president/CEO Mark Murphy made it clear that retiring Favre's number and reconciling with the future Pro Football Hall of Fame quarterback is important...
We reach the finish line in our fifth-annual player rankings, with Aaron Rodgers, Clay Matthews, Randall Cobb and Bryan Bulaga topping the list. We offer fresh perspectives on these critical performers.
GREEN BAY, Wis. --Don't expect Brett Favre to make an appearance of any kind at Lambeau Field this season. Though Green Bay Packers president and CEO Mark Murphy stated on the team's website in early July that "we would like to retire (Favre's) number prior to his (Hall of Fame) induction" in 2016, it's not likely going to happen within the next year. &quot...
All Sports News

Delivered to your inbox

You'll also receive Yardbarker's daily Top 10, featuring the best sports stories from around the web. Customize your newsletter to get articles on your favorite sports and teams. And the best part? It's free!
THE HOT 10: Who's Trending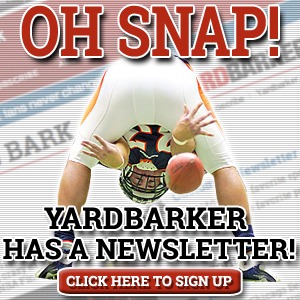 Latest Rumors
Best of Yardbarker

Today's Best Stuff

For Bloggers

Join the Yardbarker Network for more promotion, traffic, and money.

Company Info

Help

What is Yardbarker?

Yardbarker is the largest network of sports blogs and pro athlete blogs on the web. This site is the hub of the Yardbarker Network, where our editors and algorithms curate the best sports content from our network and beyond.