Found October 24, 2013 on Shutdown Line:
The whole debate on whether or not the Hurricanes "won" the Jordan Staal trade will probably go on forever and at this point, I've kind of stopped caring. The Hurricanes wanted to get a top-tier player and paid a big price in order to get Jordan. After last season, most would consider this trade a big loss for the Hurricanes because Jordan didn't have the big "breakout" season that everyone was hoping for. Not that 30 points in 48 games is anything to scoff at, seeing how it would be pro-rated to 50-51 points over 82 games, but the general consensus was that Jordan didn't make much of an impact in his first year with the Canes. Players are always going to be judged by goals and points, especially by outsiders, but anyone who keeps up with this blog knows that I thought Jordan had a better year than most would indicate. Mostly because of all of his contributions that didn't show up on the scoresheet (killing penalties, making the Canes a better possession team, etc.) but still, more offense is going to be expected from him now that he is entering the first year of his ten-year, $60 mil. contract.  This season, most of the talk around Jordan has been positive. He has been one of the Hurricanes best forwards this year and his line with Nathan Gerbe & Patrick Dwyer was the only thing the Canes had going for them over the few few games. He has also contributed nicely on both special teams units and is a big reason why the Canes PK looks drastically improved compared to last year. His all-around play has been so good that you wouldn't know that he has only two points in nine games. Again, I hate using that as a basis to judge a player but there is more expected out of the former Pittsburgh Penguin this season and that means he will need to produce more offensively. Personally, I think that the goals and points will come to Staal as long as he keeps doing what he is doing (driving the play, creating chances, etc.), but he may need some help from both his teammates and the coaching staff to really have a breakout year. For most of his career in Pittsburgh, Staal was used as a third line center and was stuck with grinders like Tyler Kennedy and Matt Cooke as his linemates. Despite that, Staal produced at a first line rate at even strength relative to his ice time and everyone thought he could have a huge season with more ice time in better linemates. Last year, he was sort of put in that situation as the Canes used him as a second line center with Jeff Skinner as one of his wingers for most of the year. His numbers ended up being disappointing relative to expectations and Kirk Muller is trying some new things with him this year.  Jordan is still getting second line minutes and a decent amount of time on both special teams units, but his role at even strength is much more extreme than it was last year. As one of the best two-way centers in the league, Staal is no stranger to playing hard matchups and Muller is using this to the Canes advantage by burying him in the defensive zone against other team's top lines. Staal was used this way in Pittsburgh and it appears Muller is taking a page out of their book and amplifying it.   Corsi% OZ/DZ% Ruutu 59.1% 71.0% Semin 53.3% 59.1% Bowman 52.4% 52.1% E. Staal 52.1% 60.0% J. Staal 51.6% 38.0% Skinner 51.0% 61.3% Gerbe 50.0% 38.9% Dvorak 50.0% 54.0% Nash 48.4% 53.8% Dwyer 48.3% 45.0% Lindholm 47.2% 53.8% Tlusty 46.0% 52.6% Westgarth 44.4% 44.4% Sutter 44.4% 33.3% The Hurricanes first and third lines are basically getting the Sedin treatment now, taking a good majority of their draws in the offensive zone while Jordan's line is getting all of the tough assignments. This is a way for the coaching staff to get the most out of their best players and over the last few games, it has been working. Both Eric Staal & Alexander Semin have been winning the possession battle, something they had trouble doing last season, and they are starting to find the back of the net more often too. Meanwhile, Jeff Skinner currently leads the team in points despite and has exploited a lot of favorable matchups on the Hurricanes "third line." Where does that leave Jordan, though? Like I said earlier, he is currently stuck in a tough minute role and his ability to drive the play hasn't been affected much at all, despite him being buried in the defensive zone. Both him and Nathan Gerbe have formed some nice chemistry together and the puck is always moving in the right direction whenever they are on the ice. Unfortunately, it hasn't resulted in them producing many points and not all of it is their fault. It's difficult for them to score when they are constantly being forced to fight an uphill battle by the coaching staff and it's even more difficult for Jordan to score when he has to play with guys like Patrick Dwyer & Radek Dvorak on his wing. Both are nice players and have done a good job for the Canes, but they would be third or fourth liners on a contending team. Gerbe has good enough offensive instincts to stay on this line for now, but the Canes need to find a better right winger for Jordan if they want to get the full value out of him. Jordan showed in Pittsburgh that he can make the most out of sub-par linemates, but there is only so much offense he can create if he is going to be used in this type of role with these linemates. What should Muller and company do about it, though? One option is to put Ruutu or Skinner on this line since they are the ones scoring right now, but Muller's going to have to give Jordan some more offensive opportunities in order to make that work. You can't shelter everyone, but neither Skinner or Ruutu are fit for an extreme defensive role. Someone like Nash, Lindholm or Sutter may have to take over some of Jordan's defensive responsibilities if that's the case, which honestly doesn't sound like a bad idea right now. Not that Jordan isn't cut out for the role he's being used in now, but if the Canes want to get the most out of him offensively, not forcing him to take over 60% of his draws in the defensive zone will be a nice start. They might want to shelter Ruutu, Tlusty, Skinner, etc. but you can't shelter all of your best offensive players and one of these three may need to step up to tougher minutes if the team wants to add a scorer to Jordan's line.  
Original Story:
http://www.shutdownline.com/hurricane...
THE BACKYARD
BEST OF MAXIM
RELATED ARTICLES
The Carolina Hurricanes have placed goalie Cam Ward on injured reserve with an unspecified lower-body injury and recalled Mike Murphy from Charlotte to replace him. The team announced the moves Friday, one day after Ward was injured 4:07 into the first period of a 3-1 loss at Minnesota. Ward, who started eight of Carolina's first 10 games, is expected to miss 3-4 weeks. Murphy...
Carolina Hurricanes goalie Cam Ward will miss three to four weeks because of a lower-body injury that forced him out of the game at Minnesota just minutes after the faceoff. Ward was replaced by Justin Peters 4:07 in after skating off the ice Thursday night. The Hurricanes announced in the second period the timetable for Ward's absence, without specifying the nature of his injury...
The Carolina Hurricanes have put together a respectable 4-3-3 start and sit second in the Metropolitan Division. However after losing Cam Ward to an injury in Thursday night's game against Minnesota the Canes have a real problem in net. Ward went down just four minutes into his start against the Wild with what the team is calling a lower-body injury. The Canes' No. 1 netminder...
The Carolina Hurricanes got some bad news, Cam Ward will miss three to four weeks, this per the Raleigh News & Observer's Chip Alexander. The team has recalled Mike Murphy, so if they don't make another move, Murphy will split time with Justin Peters for the foreseeable future. Health wise, the Cane's cannot get much luck, especially in the goalie department where Justin...
The Carolina Hurricanes have looked quite comfortable away from home in October, and in the next two nights they'll get a couple of more chances to prove their early road play isn't a fluke. They're hoping their early woes against the Western Conference are just that. The Hurricanes look for their first four-game road winning streak in more than 30 months Thursday night...
ST. PAUL, Minn. -- Nino Niederreiter and Zach Parise scored for Minnesota with the first two shots of the season against Carolina fill-in goalie Justin Peters, and the Wild beat the Hurricanes 3-1 on Thursday night despite losing their own starting goalie to injury. Cam Ward was hurt just 4:07 into the game, an unspecified lower-body injury that forced the Hurricanes to send Peters...
RALEIGH, NC – Jim Rutherford, President and General Manager of the National Hockey League's Carolina Hurricanes, today announced that goaltender Cam Ward is expected to miss three to four weeks after suffering a lower-body injury during tonight's game against the Minnesota Wild. The Hurricanes will recall goaltender Mike Murphy from the Charlotte Checkers of the American Hockey...
I have been tinkering with a spreadsheet since the beginning of the season tracking Canes "on ice scoring stats." In simple form I have a short log of who is on the ice for goals for and goals against in different situations (power play, even strength and penalty kill) and have done some fairly simple math to convert to a per ice time number. You can find similar stuff...
The Carolina Hurricanes have looked quite comfortable away from home in October, and in the next two nights they'll get a couple of more chances to prove their early road play isn't a fluke. They're hoping their early woes against the Western Conference are just that. The Hurricanes look for their first four-game road winning streak in more than 30 months Thursday night...
Forward Patrick Dwyer missed practice again Wednesday and will not play against the Minnesota Wild on Thursday Canes coach Kirk Muller said. Dwyer sustained an upper-body injury Monday in practice at Raleigh Center Ice. Although Dwyer accompanied the team on its road trip to Minnesota and Colorado general manager Jim Rutherford indicated he could be placed on injured reserve. Dwyer...
MNWild: Carolina On My Mind Gameday Preview Good Evening All, Tonight is Harding's Hope night at the X with the Carolina Hurricanes in town to matchup against the hometown Wild. Josh Harding was presented with the opportunity to be an unrestricted free agent last summer before the lockout for the first time in his career since the Wild selected...
You heard it hear 1st. I think Thursday's matchup is an interesting preview night for Team USA's 1st pairing for the upcoming Olympics with Ryan Suter and Justin Faulk taking the ice against each other. Suter is a shoe-in, very likely the team's #1 defender and a left shot. Justin Faulk is an up-and-comer, a well-rounded player and a reasonable fit for Suter as a right...
All Sports News

Delivered to your inbox

You'll also receive Yardbarker's daily Top 10, featuring the best sports stories from around the web. Customize your newsletter to get articles on your favorite sports and teams. And the best part? It's free!
THE HOT 10: Who's Trending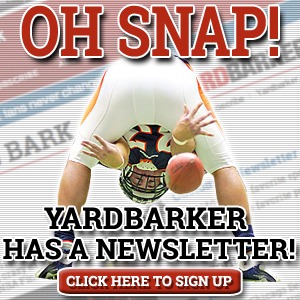 Latest Rumors
The Backyard

Today's Best Stuff

For Bloggers

Join the Yardbarker Network for more promotion, traffic, and money.

Company Info

Help

What is Yardbarker?

Yardbarker is the largest network of sports blogs and pro athlete blogs on the web. This site is the hub of the Yardbarker Network, where our editors and algorithms curate the best sports content from our network and beyond.