Found March 11, 2012 on Bleed Black & Gold:
Aaron Smith put out a letter today in the Pittsburgh Post Gazette saying thank you for his years here in Pittsburgh.  I can not say enough about how well this was written so I will let the letter speak for itself.
Dear Steelers Fans,

As of today, I am no longer a member of the Pittsburgh Steelers. I leave the field and Steelers with no regrets, and am grateful to have played for such a tremendous organization. I feel truly blessed to have spent my entire professional career in the best town, playing for the most loyal fans who have loved and supported myself and my family.

The last 13 years of our lives have been special because of the people who cheered me on, and I am truly fortunate to have been a part of the Steelers, the City of Pittsburgh and the Steelers Nation. You have opened your arms and your hearts to us as a family and we will never forget that. Your support, enthusiasm, love and dedication are gifts I will carry with me my entire life.

I may no longer be on the Steelers active roster, but I will always be a Steeler and will never forget the people who made it all worthwhile — the fans, the Rooneys, the front office, the equipment guys and trainers, my teammates and family. Thank you for supporting me over the last 13 years, and I hope you will support me in whatever future path life will take me on.

We plan on making Pittsburgh our home and I will endeavor for the rest of my days to find a way to thank each and every one of you personally for all that you have done and meant for me and my family. You cheered for me for 13 years and now I cheer for you for the rest of my life. You will always be in my heart, thoughts and prayers. Thank you from the bottom of my heart for allowing me to have the job of a lifetime. You will always be in my heart.

Your friend always,

Aaron Smith and Family, No. 91
Smith sounds like he is about to head into retirement.  He does not want a big show about it though.  This may have been his retirement speech.  Smith shows so much class in this letter and is truly one of the good guys that we have come to know in Steelers Nation.
Smith has always been my favorite player to watch.  He was under rated his entire career until he missed some games and then someone noticed.  Late in his career he finally got his due.  My respect for Smith and the way he went about his business is undenied.  Aaron is one of those players you can not help but cheer for.  I even went as far as naming my son Aaron.  Do not tell my wife that, she thinks she picked the name.  After reading this letter though it confirms that I made a good choice.
You are a class act Aaron Smith.  You will be missed.  Thank you for all the memories and good luck the rest of your life.
Original Story:
http://feedproxy.google.com/~r/BleedB...
THE BACKYARD
BEST OF MAXIM
RELATED ARTICLES
Aaron Smith, one of the all-time great Steelers, took out an ad in Sunday's Pittsburgh Post-Gazette thanking Steelers fans and the city of Pittsburgh.  Here is the complete text of the page:  Dear Steelers Fans, As of today, I am no longer a member of the Pittsburgh Steelers. I leave the field and Steelers with no regrets, and am grateful to have played for such a tremendous...
One of the classiest and most talented players in the history of the Steelers franchise said his final farewell to the Steeler Nation on Sunday, March 11, 2012, with an advertisement in the Pittsburgh Post Gazette. It reads as follows: Dear Steelers Fans, As of today, I am no longer a member of the Pittsburgh Steelers. I leave the field and Steelers with no regrets, and am grateful...
Aaron Smith said his final goodbyes to the Steeler Nation today in an advertisement printed in the Pittsburgh Post Gazette (below). Smith, who spent his entire career with the Steelers, was notified of his release a little over a week ago along with James Farrior and Hines Ward. Smith has been a cor Continue
  With rollover money from the 2011 season the Steelers 2012 cap officially stands at just over $121 million dollars. The number likely isn't as high as teams were hoping, but at least it's not lower. The Steelers will now move to signing their own restricted free agents and should Continue
Some great news from steelers.com last night as a Q & A was posted that was done recently with Pittsburgh Steelers head coach Mike Tomlin. In the interview Tomlin was asked about the condition of running backs coach Kirby Wilson, who was badly burned in house fire just before the Steelers Wild Card game against the Denver Broncos. Tomlin said that Wilson has surprised the doctors...
Monday is the next important date up on the calendar for the Steelers and all NFL teams. The NFL will release the final 2012 salary cap amount on March 12th, giving teams the remainder of the weekend to make sure everything is in order so they aren't over the limit. The future of key restricted free agents for the Steelers will be affected one way or the other. As an FYI, if any...
By Christina Rivers It's the numbers that many have been waiting for, and according to Jason La Canfora of the NFL Network, the National Football League is nearly set to release them to all 32 team by the end of the week.  La Canfora posted on Twitter: La Canfora admitted he'd like to see the numbers be over the $120M this season.  Many teams probably feel the same way...
It was announced today that Pittsburgh Steelers' Special Teams Assistant Coach Amos Jones will fill in for Kirby Wilson who was badly injured in a fire at his home. The accident happened on January 6th just days before the Steelers traveled to Denver for their AFC Wild-Card game with the Broncos. Wilson suffered severe burns over 30-50% of his body but thankfully, they were not...
By Jeremy Hritz This past week in Steelers Nation was eerily quiet in comparison to the weeks that preceded it. Outside of Plaxico Burress calling Ben Roethlisberger his favorite NFL quarterback, Rod Woodson questioning the hiring of Todd Haley much after the fact, and Aaron Smith saying thank-you to fans with an advertisement in the Pittsburgh Post-Gazette, this has been the calmest...
By Cian Fahey Leadership is a vital part of sports which does not appear on the game film or statistics sheet. Leadership is something which transcends through a whole club or franchise from the top to the bottom. However, leadership is also something that is needed at every level for teams to be successful. The New England Patriots are the perfect example of a team with leadership...
Some good news to pass along on the eve of the 2012 free agency period as Adam Schefter is reporting on ESPN that the Pittsburgh Steelers, along with 27 other NFL teams, should receive an extra $1.6 million in 2012 salary cap space thanks to the Dallas Cowboys and Washington Redskins being docked $10 million and $36 million respectively in 2012 cap space because they front-loaded...
Seems like all we hear about these days is Mike Wallace, the salary cap, and the constant over analyzing of every restricted and unrestricted free agent on the Steelers.  Before that it was Haley vs Roethlisberger, or the power struggle in Pittsburgh that never was.  You can only beat those topics so much before it becomes out of control. We've more than covered all of that and...
Steelers News

Delivered to your inbox

You'll also receive Yardbarker's daily Top 10, featuring the best sports stories from around the web. Customize your newsletter to get articles on your favorite sports and teams. And the best part? It's free!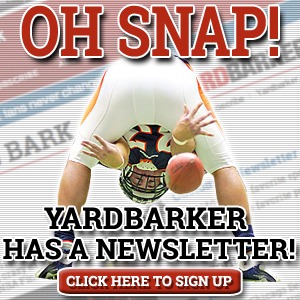 Latest Rumors
The Backyard

Today's Best Stuff

For Bloggers

Join the Yardbarker Network for more promotion, traffic, and money.

Company Info

Help

What is Yardbarker?

Yardbarker is the largest network of sports blogs and pro athlete blogs on the web. This site is the hub of the Yardbarker Network, where our editors and algorithms curate the best sports content from our network and beyond.