Can the Arians/Palmer combo lead the Cardinals to more victories in 2013? (@Cardschatter, Twitter) What do you feel is the biggest question mark about this team heading into training camp? Amanda Baggot: I think as always the big question is how will starting quarterback Carson Palmer perform. He is one of the keys to the Cardinals having a successful season. It will be interesting to see the what kind of chemistry he will have with the receiving core. Kevin Bonneville: I have a couple questions with camp a few days away from kicking off. First off, how is Bruce Arians going to do in his first true training camp as a head coach? Is it going to be different from Ken Whisenhunt in terms of how he deals with his veterans and how practices are ran? Also, how is the defense going to look? There are a number of new pieces to go along with a new defensive coordinator. If they want to get off to a good start this season, the defense is going to have to pick up where it left off last year. Krisi Fortner: The biggest question mark for me is how all of the new pieces are going to come together. Is it going to slide in place easily and harmoniously or will this truly be a transition year as predicted? Cards Camp is the first real glimpse at how it will all translate on the field this season. What position battle intrigues you the most? AB: I think the battle between Michael Floyd and Andre Roberts will be the most fun to watch. Both receivers are extremely talented and I am sure that Floyd will be the winner of this position, but lets not forget the fact that back in 2012, Roberts scored more fantasy points than Larry Fitzgerald. KB: Let me start out by saying that it's nice that for the first time in three years we don't have to talk about the quarterback position. There is no question that Palmer is locked in as the starter for Week One. There really aren't a ton of jobs up for grabs, so I have to agree with Amanda on the WR2 battle between Floyd and Roberts. Floyd is said to have had a great offseason so Roberts is going to have to step up to keep his job. The secondary is another spot to keep an eye on over the next month. There are a lot of guys in the mix, but it remains to be see who will win the starting jobs. KF: With Daryl Washington out for a fourth of the season, I'm wondering what it will look like when he returns more than when he is serving his suspension. Who are a couple of under the radar players you have your eyes on going into camp? AB: I will keeping my eye on Ryan Williams. He has always showed me promise but he has been bitten by the injury bug a few too many times in his first two seasons. After bringing in Rashard Mendenhall and drafting two rookie running backs, it will be interesting to see what the veteran's role is and how he's going to perform. KB: It seems like everyone and there mother is talking about Andre Ellington and rightfully so considering how impressive he reportedly looked during offseason workouts. With the injury histories of both Williams and Mendenhall, there's a chance that Ellington is this team's starter at running back by the end of the year. With fourth and fifth receiver spots open for competition, I'm going to have my eye on both LaRon Byrd and Robert Gill. Byrd, who has been called Fitz Jr. because of their similar looks, didn't see a lot of playing time last year, but he's got promise and size. Gill was the talk of OTA's, so it is going to be interesting if he can build on that. He's not necessarily under the radar, but I'm curious to see what Dan Williams will look like. What his weight is coming into camp could decide on the type of season he's going to have. KF: Jamell Fleming and Floyd. Floyd has gotten more attention, but I'm hoping he gets his shot at a breakout year. Fleming didn't get played much the last third of 2012 season, but I think he is a talent that has stayed under the radar. Do you expect to see Ryan Swope at all? AB: I really don't think that we will see him. If he is still suffering from his concussion symptoms, I think it is best that he stays home and works on his recovery because this is a serious matter. KB: As more time goes by, the Swope situation looks worse and worse. He didn't take a snap during any of the team's OTA's and mini camps in the offseason and it's up in the air what he will do during training camp. With football being such a violent sport, concussions are nothing to play around with and it is certainly very possible that the young receiver never takes a snap at the NFL. Unlike a lot of fans, I don't think taking Swope in the draft back in April was a bad decision though. He was a low risk, high reward type player in the sixth round. Unfortunately for the Cardinals, he hasn't been able to get on the field to prove that he was a worthy selection. KF: I expect him to be there, but I haven't heard an update on the status of his concussion so I don't know what his playing time or participation will look like. Finally, do you plan on attending and if so, how often? AB: As you all know, I grew up a diehard Packers fan. You would see me at training camp every year so I am very excited to attend training camp here as I would love to compare the experiences and keep an eye on the team! KB: I'm torn about camp this year. I went up to Flagstaff for camp each of the past four years and it was great to get away from the heat and see the pines even if it were only for the afternoon. At the same time, I'm pretty excited that camp is now only about a 45-minute drive from my house in Mesa. I'll try to go as often as I can, as long as I don't have work and gas prices don't continue skyrocket. KF: It would've been easier if the camp was in Flagstaff since I live in Las Vegas now. I plan on being there for preseason, but I'm saving my travel for home and away games during the regular season. The post Arizona Cardinals Roundtable: Training camp edition appeared first on One is the Loneliest Number.
Original Story:
http://1istheloneliestnumber.com/ariz...
MORE FROM YARDBARKER
Cardinals News

Delivered to your inbox

You'll also receive Yardbarker's daily Top 10, featuring the best sports stories from around the web. Customize your newsletter to get articles on your favorite sports and teams. And the best part? It's free!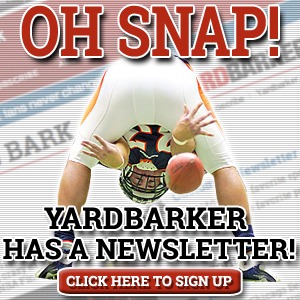 Latest Rumors
Best of Yardbarker

Today's Best Stuff

For Bloggers

Join the Yardbarker Network for more promotion, traffic, and money.

Company Info

Help

What is Yardbarker?

Yardbarker is the largest network of sports blogs and pro athlete blogs on the web. This site is the hub of the Yardbarker Network, where our editors and algorithms curate the best sports content from our network and beyond.