Found December 03, 2012 on Friends of the Program:
Louisiana Tech, gettin' all frugal, opting for the staycation To hell with the rankings this week, because Louisiana Tech have now made the entire thing obsolete.  The Bulldogs just went and circumvented the whole wins and losses thing that usually dictates your position in the "Fabulous Holiday Trip to Louisiana's 3rd Most Glamorous City" pecking order and went straight to the "regrets" phone number at the bottom of the Independence Bowl invitation and made the call. As the story goes,  Louisiana Tech has made it known for weeks of their desire to play in any bowl not located in the Shreveport-Bossier metro area.  Furthermore, the Bulldogs made it known that should they have to come to said bowl in the Shreveport-Bossier metro area, they would rather not play a team from the Sun Belt Conference, more specifically, the Louisiana-Monroe Warhawks. As a bit of background, the La Tech/ULM I-20 blood feud has been going on for a while now.  The two teams had been Southland Conference rivals for years (ULM was known as Northeast Louisiana University at the time) but had not met on the football field since 2000.  That next year, ULM joined the Sun Belt and Louisiana Tech joined the WAC.  Those moves alone created a bit more tension, as Louisiana Tech fans and administration felt that a move to the Sun Belt with ULM was a bit below them at the time.  In more recent years, ULM has tried to get Louisiana Tech back on their football schedule, but Tech has continued to refuse the invitation.  That being the case, ULM put all of it sports under the directive to not schedule Louisiana Tech as an opponent for any sport until the Bulldogs acquiesced and agreed to renew the rivalry on the football field with the Warhawks. As for this year's Independence Bowl, leading up to this weekend, Louisiana Tech had been working to receive an invite to a bowl with substantially more cache, like say the rich-with-history-and-tradition Heart of Dallas Bowl, or the Memphis fairgrounds-anchored Liberty Bowl.  The plan even looked like it might work once OU beat TCU, Northern Illinois beat Kent State, and Kansas State beat Texas.  All of that would likely mean Oklahoma into the BCS and thus opening a spot in a lower-tier bowl for Louisiana Tech to slide into.  Unfortunately, the voters didn't cooperate, and put Northern Illinois into the Top 16 in the BCS, thus giving the Huskies a spot in the BCS, knocking OU out, and relegating Louisiana Tech back to the Independence Bowl. All of this, of course didn't go down until Sunday.  But on Saturday, the Independence Bowl made a call to Louisiana Tech, inviting to play in the game against ULM, who they had invited earlier in the week.  Louisiana Tech asked for more time to make a decision, as they were still waiting on the Heart of Dallas or Liberty Bowl to come calling.  The bowl consented to an extension, but told Tech that they needed an answer before Sunday.  As a contingency, the bowl had Ohio as a back-up plan if Tech declined, but of course, a regionally-friendly Tech-ULM match-up would be the more financially desirable option.  The deadline passed with no answer from Tech, and so the bowl moved on, inviting Ohio. Sunday, Tech, realizing that their options had become limited to Shreveport or bust, called the Independence Bowl back and asked if the offer was still good.  they were informed that it was, in fact, not, thus 9-3 Louisiana Tech would be staying home for bowl season. This is no one's fault but Louisiana Tech's.  I get the desire to "Avoid Shreveport" and all of its crime-infested trappings, but Tech is a 3rd place team in the worst Division I conference in the country.  They went from shaking hands with Orange Bowl officials in early November to losing two straight and having no real leg to stand on.  They should have embraced the bowl in Shreveport with open arms and planted a big wet kiss on her mouth and worried about getting the necessary shots later.  Instead, they jeopardized the long term future with the stadium and the city (Tech plays an almost annual home game in Shreveport against a big opponent for revenue and attendance purposes) for a possible trip to DFW or Memphis in the short term.  For that decision, much like the reason Louisiana Tech lost those two straight late in the season to put them in this position, there is no defense. All of that now explained, here we stand with your 2012 Avoiding Shreveport winners….everyone but ULM and Ohio…with special recognition to Louisiana Tech, for the most avoidingly avoiding of Shreveport in the history of these rankings. Avoiding Shreveport is brought to you by Friends of the Program - Sports and Culture...All Under the Table Of Course
Original Story:
http://feedproxy.google.com/~r/Friend...
THE BACKYARD
BEST OF MAXIM
RELATED ARTICLES
When is a bowl game worse than no bowl at all? Ask Louisiana Tech. The announcement of the Bulldogs' fate, courtesy of La. Tech associate media relations director: Louisiana Tech has not been selected for a postseason bowl game. Nation's No. 1 offense ends year at 9-3. #WeAreLATech — Patrick Walsh (@LATechPWalsh) December 2, 2012 That's a nice little plug for...
A decline to play in the Independence Bowl and an upset by rival Northern Illinois University has now resulted in the bowl-eligible Louisiana Tech Bulldogs' season ending early.
The Louisiana Tech Bulldogs finished the 2012 college football season with a 9-3 record. They ranked No. 1 in the country in points scored per game, averaging 51.5 points per contest on their way to playing some of the more exciting games of the season, including a 59-57 loss to Johnny Manziel and the Texas A&M Aggies. The Bulldogs ranked 4th in passing yards and 18th in rushing...
Before Kirk Herbstreit and the national media got their collective jockstraps in a bunch about Northern Illinois there was another BCS buster making blips on the national radar: Louisiana Tech. The Bulldogs ran their record to 9-1 and climbed as high as #20 in the polls behind the nation's highest scoring offense, with their only blemish through ten games coming because of a...
The Louisiana Tech Bulldogs lead the nation in scoring offense averaging 51 points a game, they have an overall record of 9 – 3, and they will not be playing in a bowl game. How does something like this happen to a team that lost only 3 games by a combined 17 points? Louisiana Tech wasn't left in the dark, they did receive an invite to the Independence Bowl, but had decided to...
Louisiana Tech, with a 9-3 record and the top-rated offense in the country, is not going to a bowl game. La Tech athletic director Bruce Van De Velde tells the AP that Independence Bowl organizers offered a spot in their game on Saturday afternoon, but the Bulldogs had other possible options still available to them. Van De Velde says he asked the Independence Bowl for more time...
Every college football program has to deal with unhappy alumni. But few have to deal with the wrath of Karl Malone, who is now threatening to use all 6-foot-9, 250 pounds of himself to turn his former school around. Malone is peeved that Louisiana Tech reportedly turned down a chance to play in a bowl game after going 9-3 this season. He made good use of his Twitter account Sunday...
All Sports News

Delivered to your inbox

You'll also receive Yardbarker's daily Top 10, featuring the best sports stories from around the web. Customize your newsletter to get articles on your favorite sports and teams. And the best part? It's free!
THE HOT 10: Who's Trending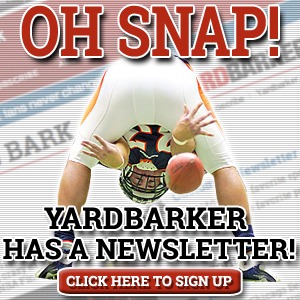 Latest Rumors
Best of Yardbarker

Today's Best Stuff

For Bloggers

Join the Yardbarker Network for more promotion, traffic, and money.

Company Info

Help

What is Yardbarker?

Yardbarker is the largest network of sports blogs and pro athlete blogs on the web. This site is the hub of the Yardbarker Network, where our editors and algorithms curate the best sports content from our network and beyond.