Found January 28, 2013 on Fox Sports Wisconsin:
MILWAUKEE -- In the game of baseball, struggles are inevitable. The game requires players to learn from their miscues, but also to have an ability to let go of the past and forget about it. Nobody knows this better than a closer. With his team so close to winning when he appears in the game, failures are magnified tenfold. Brewers closer John Axford knows this better than anyone. Coming off one of the best seasons by a reliever in team history in 2011, Axford had a roller coaster of a yearin 2012. After a few early season struggles, he bounced back in May, only to have the coaster hit a downward spiral in June, July and August, causing him to lose his job as Milwaukee's closer. When nobody else could fill the role adequately, Axford stepped up and asked manager Ron Roenicke for his job back. The skipper obliged and Axford didn't let him down, saving 17 of his 18 chances in September and October. The late run helped Axford lower his season ERA to 4.67, still drastically higher than the 1.95 he posted in 2011. The Brewers still believe in him often referencing the fact Axford has the second most saves in the major leagues over the last two seasons. As he heads into 2013 as the team's closer again, Axford is trying to put the past behind him, but still remembering the lessons he learned from a trying season. While getting back on track and saving as many games as he did late in the season was important to go into the offseason with, Axford says it wasn't really a confidence booster because he never lost confidence in his ability to get the job done. "I don't think it was ever a matter of confidence, in all honesty," Axford said. "Certain games you try to figure things out, and you are wondering why?" And often times during the roughest stretches he did just that: Wonder why things got so out of hand during the middle of the season. "I can definitely look back at certain games and think if that ball was just hit six feet the other way on the ground, it would be a different story," Axford said. "Same with this one, if this pop-up was not off the tip of the glove or if it was just over here instead or if I hit the corner better or if I threw the slider. "You can always nit-pick those things and some things do wind up to be bad luck. Toward the end it was still a great boost of confidence, it never left me, but going through that when we did and battling as a team together, and I felt like I was really enjoying myself and helping a lot. It was definitely a good thing to go into the offseason with." Axford wasn't alone in his struggles in Milwaukee's bullpen last season, as the Brewers bullpen finished last in the league with a 4.66 ERA and had the most blown saves in baseball with 29. The end result was a complete dismantling of the unit, leaving Axford as the only remaining member of last season's Opening Day bullpen. Gone are Francisco Rodriguez, Kameron Loe, Manny Parra and Jose Veras, replaced with Tom Gorzelanny, Michael Gonzalez and Burke Badenhop. "It's quite a bit of turnover but it's nice to change faces sometimes too. I think it will be a nice refreshing bullpen and a refreshing feel down there," Axford said. As the elder statesman in terms of time spent in Milwaukee's bullpen, Axford is looking to grab even more of a leadership role this season. Started as "Camp Hoffman" by former Brewers and future Hall of Fame closer Trevor Hoffman, Axford continued the tradition of daily bullpen workouts and wants to keep the tradition alive even with the turnover. The challenge for Axford will be to mesh the new faces with himself and fellow holdover Jim Henderson. "I think we really try and keep it as tight knit and as close as we can because we are around each other so much that it's nice to be able to hold the bar over ourselves so we know what we can do and know what we can accomplish," Axford said. "If everyone is kind of tired after this flight, maybe you don't want to run as much that day. It's easy for us to be able to dictate that." As the leader of the group, he's open to new ideas and different voices stepping forward to help the group. "There's a lot refreshing faces, and it is going to be great to really feed off each other in that way," Axford said. "That's why it is difficult to change as many faces as we have, but sometimes its good because you get to understand different personalities of the different of players." Through all the changes, Axford remains the most important piece in whether Milwaukee's bullpen bounces back. His season will start earlier than usual, as Axford will join Henderson to anchor Canada's bullpen in the World Baseball Classic. He feels playing in more meaningful games earlier in the calendar will help him be ready when the season starts. "It's nice to get that little extra anxiousness and play for something that's important during the spring," Axford said. "I think it gets your mindset a little bit different too." During the past few weeks, Axford posted numerous pictures of meaningful moments in his life on his social networking accounts. The most telling photo was of a training guide for a server's job at a restaurant where Axford was working five years ago. While he's a long way from taking orders, he enters an important year of his career. Without a long term contract, Axford needs to prove that the fluke year was 2012 and not 2011. Through the ups and downs of his baseball career, he's always found a way to fight through. Now he's just hoping to do it again. "You need a short term memory," Axford said. "You just need to let go of it, there's no need to focus on the past and what's happened before, but you can use it as motivation." Follow Andrew Gruman on Twitter.
Original Story:
http://www.foxsportswisconsin.com/01/...
THE BACKYARD
BEST OF MAXIM
RELATED ARTICLES
MILWAUKEE -- A pair of Brewers recovering from major injuries were given a good prognosis from team doctors Sunday in physicals that took place prior to Brewers On Deck. First baseman Mat Gamel and left-hander Chris Narveson both were examined by team physician Dr. William Raasch and the outlook is positive for both to head into spring training with no restrictions. Gamel recovering...
The Milwaukee Brewers have signed free-agent shortstop Alex Gonzalez to a one-year major league deal, according to a source. Gonzalez will make $1.5 million and will have the opportunity to earn nearly $1 million more in performance bonuses. Gonzalez played just 24 games for the Brewers last season. In 2011 he hit .241 with 15 home runs and 56 RBI in 149 games for the Atlanta Braves...
MILWAUKEE -- For most of his career, Yovani Gallardo has been overshadowed at the top of the Milwaukee Brewers rotation. From Ben Sheets to C.C. Sabathia and then Zack Greinke, Milwaukee has had three bona fide aces for the majority of Gallardo's six years in the big leagues. With Greinke and the other established veterans gone from the Brewers rotation, Gallardo is now the...
As slugger Corey Hart recovers from right knee surgery that is expected to sideline him for the start of the regular season, the Milwaukee Brewers continue to look to bring a first baseman into camp to offer in-house replacement candidate Mat Gamel competition, according to Adam McCalvy of MLB.com. "There's still the possibility that Doug [Melvin, the Brewers'...
KNOCK, KNOCK! Who's there? CarGo! CarGo who? CarGo vrooooooooom! That made absolutely no sense. Did it need a prop to explain it? Who's writing your standup, Carrot Top? It's true, my stand-up goes over about as well as Michael Richards' did back in the day. I'll never look at Cosmo Kramer the same way again...but enough about maniacal, racist tirades...
We've reached that point in the offseason where there's not much to write about. Well, the Brewers offseason moves up to this point (or lack thereof) haven't given us much fodder either, and it's not like we capitalized on writing something the few times a post was warranted... like that clutch Kelvim Escobar inking. But this post-Winter Meetings, pre-Spring Training...
This is a guest post by reader Raymond Bureau. If you are interested in contributing a guest post and having your work featured on MLB Injury News email blaine@mlbinjurynews.com. The Milwaukee Brewers got a big blow to the heart when they learned the fate of their star first baseman / right fielder. Corey Hart will miss four months after having surgery to repair a torn meniscus...
MILWAUKEE -- To kick off their annual winter fan fest, the Milwaukee Brewers revealed the winner of the Design a YOUniform contest. Fans were asked to submit their ideas for an alternate Brewers on-field uniform in the fall. Three finalists were announced recently and all three were in attendance Sunday. The design based around the barrel man logo on the hat designed by Ben Peters...
By Andrei Greska FOXSportsWisconsin.com MILWAUKEE -- With the league's most potent offense coming back whole for the most part, there was only one topic in the minds of fans and players alike during the 2013 edition of Brewers On Deck: pitching. "I think there are far more unknowns this year than there were last year because of a lack of experience," Ryan Braun...
The Milwaukee Brewers are talking to free agent first baseman Lyle Overbay about a potential minor league contract, according to Ken Rosenthal of FOX Sports. #Brewers talking to free-agent 1B Overbay about minor-league deal. Gamel will be regular 1B with Hart out. Overbay played in MIL 2004-05. — Ken Rosenthal (@Ken_Rosenthal) January 28, 2013 Rosenthal adds that...
All Sports News

Delivered to your inbox

You'll also receive Yardbarker's daily Top 10, featuring the best sports stories from around the web. Customize your newsletter to get articles on your favorite sports and teams. And the best part? It's free!
THE HOT 10: Who's Trending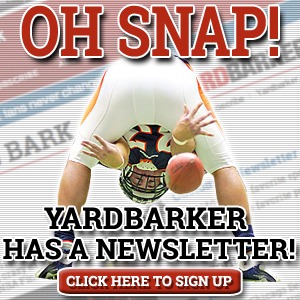 Latest Rumors
The Backyard

Today's Best Stuff

For Bloggers

Join the Yardbarker Network for more promotion, traffic, and money.

Company Info

Help

What is Yardbarker?

Yardbarker is the largest network of sports blogs and pro athlete blogs on the web. This site is the hub of the Yardbarker Network, where our editors and algorithms curate the best sports content from our network and beyond.