Found August 24, 2013 on Fox Sports Ohio:
PLAYERS:
Brandon Weeden
,
Andrew Luck
,
Trent Richardson
,
Josh Gordon
,
Josh Cooper
,
Owen Marecic
,
Shayne Graham
,
Joe Thomas
,
Brandon Jackson
,
T.Y. Hilton
,
Billy Winn
,
Desmond Bryant
,
Quentin Groves
,
Jabaal Sheard
,
Greg Little
,
Greg Toler
,
Mitchell Schwartz
,
Davone Bess
,
Cordell Roberson
,
Josh Aubrey
,
Jamoris Slaughter
,
Jason Campbell
,
Jason Pinkston
,
Shawn Lauvao
,
Garrett Gilkey
,
Tashaun Gipson
,
Spencer Lanning
,
T.J. Conley
,
Leon McFadden
,
Buster Skrine
,
Joe Haden
,
Reggie Wayne
,
Phil Taylor
,
Akeem Auguste
,
Johnson Bademosi
,
Brian Hoyer
,
Larry Asante
,
T.J. Ward
,
Paul Kruger
,
Ahtyba Rubin
,
David Nelson
,
Gary Barnidge
,
Trevin Wade
,
Brandon Bogotay
,
Ryan Miller
,
Dion Lewis
,
Montario Hardesty
,
Jordan Norwood
,
Chris Faulk
,
Barkevious Mingo
,
Naaman Roosevelt
TEAMS:
Cleveland Browns
,
Indianapolis Colts
The Browns offense and Brandon Weeden had been near perfect in the first two preseason games and were hoping to keep it going in the dress rehearsal game.Not so much.Weeden, who was named the starting quarterback earlier this week was 18-of-25 for 229 yards (72 pct.), including three touchdowns with no interceptions. He came into the Colts game with a rating of 139.8. More importantly, he had led the Browns to scores on five of the six drives he was at quarterback.Against the Colts, Weeden was 12-of-25 for 105 yards with no touchdowns or interceptions. HIs rating was just 59.6. Weeden was 1-of-7 in drives that resulted in scores after starting the preseason 5-of-6. Overall, he's 6-of-13 in that category. Weeden's counterpart, Andrew Luck was 16-of-25 for 164 yards with two touchdowns and an interception. HIs rating was 92.8.In the first half against the Colts, Weeden and the offense was 0-of-5 on drives, including four punts and a turnover by fumble. Weeden was 8-of-15 for 66 yards and a 64.9 rating in the first half. Rob Chudzinski sent the offense out minus Trent Richardson for the first two series of the third quarter. The first series was a three-and-out, thus Chudzinski sent Weeden back out for another series before he led the Browns to a score.Trailing 17-0 and having three-staight three-and-outs, Chudzinski sent Weeden and the offense back out for a second series in the third quarter. After completing a pass to Josh Gordon for eight yards, Weeden hit Josh Cooper on a sideline pattern for a first down. Owen Marecic caught a short pass and after rolling over untouched was able to get up and get a first down to the Colts 48 and a 15-yard gain.On third down, Weeden once again went to his former college teammate Cooper for the first down on third-and-6 to the Colts' 32. After that, the Browns had three incomplete passes in a row before Shayne Graham hit a 50-yard field goal to make it 17-3. Cooper had two receptions for 16 yards.The Browns best drive was their opening drive of the game when they moved the ball into Colts territory before Joe Thomas was flagged for holding. That stalled the drive and the Browns punted. Weeden started 6-of-6 before for yards, before he threw an incompletion. The Browns picked up first downs on their first three possessions, but on their final two possessions of the first half they were three plays and punted. The last possession came with 16 seconds left in the first half deep in their own territory and they just ran out the clock."It's a matter of execution," Chudzinski said at halftime of the WKYC broadcast. "We stopped ourselves on offense. We're facing a good team and can't do those things. The penalty stopped our drive and the penalty stopped a drive."We just need to get in a good rhythm."Unfortunately, they never did.The Browns were just one-of-6 on third down in the first half and three-of-10 during Weeden's tenure in the game.Weeden and the starters came out for a sees in the third quarter. Weeden tried to go deep to Gordon on first down but was incomplete. After a short run by Brandon Jackson, Weeden threw a slant to Gordon on third down which was right on the number for a first down, but Gordon couldn't hang on to the ball forcing a three and out punt. EXTRA POINTSThe D: The Browns defense gave up a field goal on the Colts opening possession and then forced a punt on the Colts second series. The Colts moved the ball into the red zone but then tightened up and forced the field goal. In the first nine possessions of the preseason, the first team defense has given up just two field goals. The defense gave up a 8 play 66 yard touchdown drive for the first touchdown given up by the number one defense. Out of their first 10 possessions, 2 field goals, one touchdown. The defense forced a turnover on an interception inside the five-yard line to keep the score 10-0 at the half. The first team defense stayed in for the first series of the second half and the results weren't good. After a long punt return gave the Colts a start in Browns territory, QB Andrew Luck marched the Colts quickly for a touchdown to extend the lead to 17-0 as Luck hit WR Ty Hilton for a touchdown.Winn, Groves Start: DL Billy Winn started in place of DE Desmond Bryant (back) and LB Quentin Groves started at outside linebacker in place of OLB Jabaal Sheard (knee). Winn had four tackles, while Groves had one and a pressure on QB Andrew Luck.T Rich Time: RB Trent Richardson touched the ball on the first four plays of the game on offense. He started with a five-yard run and then caught a pass for 10 yards. Another run of five yards and 12 moved the ball to the Colts' 44 before Thomas was called for holding. Richardson finished with seven carries for 31 yards and had one reception for 10 yards.Receiving Corps: WR Greg Little caught a would-be first down on third-and-7, but had the ball stripped by DB Greg Toler and it was recovered by the Colts. OL Mitchell Schwartz was called for unnecessary roughness after the play and the Colts started on the Browns 35. Little had three receptions for 28 yards. WR Josh Gordon finished with just two receptions for 16 yards, but he had a couple of dropped passes. WR Josh Cooper, filling in for WR Davone Bess caught two key passes on third downs on the Browns first scoring drive and finished with two receptions for 16 yards. Undrafted rookie FA WR Cordell Roberson was the leading receiver with two catches for 34 yards. Roberson also recovered an onside kick for the Browns.Campbell, Aubrey, Slaughter Hurt: There were two announced injuries during the game for the Browns and both were defensive backs. Josh Aubrey suffered a hand injury, but he returned in the fourth quarter and made a tackle. DB Jamoris Slaughter had a groin injury. Both players are rookies. Aubrey is an undrafted free agent, while Slaughter was a sixth-round draft choice. QB Jason Campbell appeared to injure his leg late in the game. He was 8-of-14 for 112 yards. and led the Browns to their second field goal.Cousins Starts: OL Oneil Cousins started at right guard in place of Jason Pinkston and Shawn Lauvao, who were both sidelined with ankle injuries. Cousins did not play in the first two preseason games as he was recovering from an ankle injury he suffered early in training camp. OL rookie Garrett Gilkey replaced Cousins after the first two series with the first team.Gipson Pick: FS Tashaun Gipson made an acrobatic interception inside the five-yard line to stop the Colts in the second quarter on a pass that went off the hands of the Colts fullback. Gipson finished with four tackles.Punting Night: P Spencer Lanning started badly with a 31-yard punt and then a 29-yard punt. However, he responded when forced to punt from the end zone with a 65-yard punt. He also had a 50-yard punt and averaged 40 yards, overall. T.J. Conley was cut earlier this week, leaving Lanning as the only punter currently on the roster.McFadden Debut: Rookie DB Leon McFadden made his first appearance in the preseason after missing the first two games with a groin injury. DB Buster Skrine started opposite of DB Joe Haden as DB Chris Owens was held out with a foot injury. McFadden was in on the tackle on QB Andrew Luck's first pass as he tackled WR Ty Hilton on a nine-yard gain. The Colts came back and threw to WR Reggie Wayne with McFadden on the coverage. McFadden was the starter in the nickel and received a lot of playing time. McFadden was victimized on second-and-four from the Browns' 10 as Luck hit WR Darius Heyward-Bey on a quick slant for s a first down to the three. The Colts later went after McFadden again, as he hit Wayne on third down to the six.Graham Hits: K Shayne Graham converted on both of his field goal attempts, including a 50-yard kick and a 44-yard kick. He is 3-of-3 on the season.Top Tacklers: LB D'Qwell Jackson, DL Phil Taylor, DB Akeem Auguste and DB Johnson Bademosi all tied for the team lead with five tackles.Tough Luck: QB Brian Hoyer's first pass was deflected off of WR Cordell Roberson and former Browns DB Larry Asante intercepted it and returned it for a touchdown to make it 27-6.T.J.'s Back: DB T.J. Ward made his debut and was one of the four captains along with DL Phil Taylor, OLB Paul Kruger and RB Trent Richardson.He pressured QB Andrew Luck on a couple of blitzes. He finished with 3 tackles.Sack Attack: OLB Paul Kruger sacked Luck on the Colts first series. DL Ahtyba Rubin had a chance at sacking Luck, but couldn't hang on.Inactives: The Browns had 17 players who were inactive, including: WR David Nelson (knee), TE Gary Barnidge (shouder), DB Trevin Wade (shoulder), K Brandon Bogotay (groin), OL Shawn Lauvao (ankle), OL Jason Pinkston (ankle), OL Ryan Miller (head), RB Dion Lewis (leg), RB Montario Hardesty (knee), WR Jordan Norwood (hamstring), OL Chris Faulk (knee), LB Barkevious Mingo (bruised lung), DL Desmond Bryant (back), DL Jabaal Sheard (knee), DB Chris Owens (foot), WR Davone Bess (knee) and WR Naaman Roosevelt (hamstring).Cuts Looming: NFL rosters must be trimmed to 75 by next Tuesday Aug. 27 and then to 53 by next Saturday, Aug. 31. The Browns close out their preseason on Thursday Aug. 29.
Original Story:
http://www.foxsportsohio.com/nfl/clev...
THE BACKYARD
BEST OF MAXIM
RELATED ARTICLES
Browns fans in search of positive news following Saturday Night's 27-6 loss to Indianpolis will have to keep searching as Terry Pluto of The Plain Dealer is reporting Browns' first round draft pick who missed yesterday's "dress rehearsal" will not be back on the field any time soon. In his weekly Sunday column  Pluto explains the highly touted pass rusher could miss more...
The preseason continues tonight for the Cleveland Browns. Can they build on last week's performance? These are the things I'll be watching for… It seems like the Browns haven't played in a long time doesn't it? The Lions game was only last Thursday, but so much has happened to the team since they took the field for that one. There has been a plethora of injury reports...
 By: Shaun DePasquale (@ShaunDoesDraft) Interview by Damond Talbot (@drocksthaparty) It makes us proud to see the players succeed in the pros whom caught our eye early. It's becoming apparent that one such player is un-sung Cleveland Browns UDFA WR Cordell Roberson. The big, 6'4 200+ wideout has been a standout in camp, and in preseason. […]
The Browns released the list of players who will miss tonight's third preseason game of the year against the Colts in Indianapolis. They include kicker Brandon Bogotay, wide receiver Davone Bess, cornerback Chris Owens, linebacker Jabaal Sheard, defensive end Desmond Bryant, and cornerback Trevin Wade. #Browns scratches for tonight's game vs. Indy: Bogotay (groin), Norwood...
Today the Cleveland Browns released WR standout Cordell Roberson. Roberson tore it up in the preseason as both a wide out and on special teams. Vernon Kearney was also released. The Lane Cornerback who has good size was released minutes later. Expect both to get calls soon.
Every year, during the final weeks of August, grown men and women flock to the homes of their friends, colleagues, and family members (or nearby sports bars) to take part in perhaps the nerdiest ritual in all of sports fanhood: fantasy football drafting. I admit, I am a huge fan of fantasy sports. It is the perfect way to enhance one's knowledge of the players participating in...
The Browns dropped to 2-1 on the preseason with an uninspiring 27-6 loss in Indianapolis on Saturday night. As fun as the Browns starters were to watch during the team's first two preseason games, Saturday night in Indianapolis was just the opposite. Through two and a half quarters Andrew Luck and the Colts outplayed the Browns starters  to the tune of 17-6. Weeden and Company...
While We're Waiting is the daily morning link roundup that WFNY has been serving up for breakfast for the last several years. We hope you enjoy the following recent collection of yummy and nutritious Cleveland sports-related articles. Anything else to add? Email us at tips@waitingfornextyear.com. "Brandon Weeden, QB, Cleveland Browns. After suffering through a bumpy rookie season...
INDIANAPOLIS (AP) -- Andrew Luck and Brandon Weeden have come a long way in a year. The two bright-eyed rookies who took turns staring at Hall of Fame busts during last summer's rookie symposium are now established starters and franchise cornerstones. So when they meet again Saturday night, Luck and Weeden will be following a different preseason script -- playing at least one...
Its Friday. A big weekend of sports is upon us with two of our teams. We have the Indians welcoming in the Minnesota Twins and the Browns travel to Indianapolis for the "dress rehearsal" preseason game Saturday night against the Colts. It was an interesting week for our teams. The Tribe swept the Angels and thanks to losses by the teams in front of them, now sit just two and...
All Sports News

Delivered to your inbox

You'll also receive Yardbarker's daily Top 10, featuring the best sports stories from around the web. Customize your newsletter to get articles on your favorite sports and teams. And the best part? It's free!
THE HOT 10: Who's Trending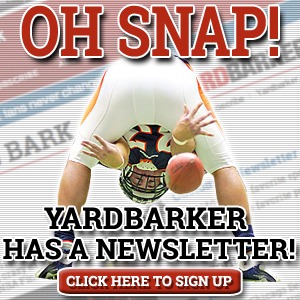 Latest Rumors
The Backyard

Today's Best Stuff

For Bloggers

Join the Yardbarker Network for more promotion, traffic, and money.

Company Info

Help

What is Yardbarker?

Yardbarker is the largest network of sports blogs and pro athlete blogs on the web. This site is the hub of the Yardbarker Network, where our editors and algorithms curate the best sports content from our network and beyond.