Found May 06, 2013 on Pats 360:
If there's one thing that we've learned about Bill Belichick over the years is that he admires players that have excelled in two sports. In the most recent case, Belichick has recognized Aaron Dobson's basketball background and told the media on Friday that it certainly was a plus in his scouting report, as basketball players tend to have "good hands." Per the Providence Journal: I would say that, just based on my experience as a coach through the years, that basketball players, most have good hands. They have to handle the ball a lot. The ball is on them quick, tight passes and handling the ball in traffic and that kind of thing. Usually, when you get a good basketball player, those guys usually have pretty good ball skills in terms of handling the ball: strong hands in being able to keep it and quick hands, being able to snatch it and handle it cleanly and, hopefully, without losing it. The second-round draft pick out of Marshall wasn't just recruited to play football at the NCAA level, but he was also a sought-after basketball recruit by some pretty big-time schools such as West Virginia. Dobson stands in at 6'3″ and certainly brings some much needed size to New England's wide receiver corps. Not only does Dobson have great hands, as he didn't drop a single pass this past season at Marshall, but he's great in jump ball situations—hence his basketball background. There's no question that Dobson has the physical attributes to succeed at the NFL level, but he needs to have right football IQ to flourish in New England's very demanding and complex offensive attack. Originally published at NEPatriotsDraft.com
Original Story:
http://pats360.com/post/49768059776
THE BACKYARD
BEST OF MAXIM
RELATED ARTICLES
For as good as the New England Patriots have been at putting a great roster on the field year in and year out, they're really bad at drafting wide receivers. Even a NFC general manager said "Even Belichick would admit they've been terrible." and the 2013 draft class including Aaron Dobson as a second-round pick confirms that fact. It's not that Dobson is a terrible wide...
"Part of the respect that I have for Bill Belichick is his ability to stay ahead of the curve...
New England Patriots head coach Bill Belichick feels like they got some good value by trading Jeff Demps to the Buccaneers for Legarrette Blount, according to Mike Reiss of ESPNBoston.com. "We felt like we got good value for Blount. He's a guy that we basically gave up [Jeff] Demps for, and Demps, I'd say, is less of a proven player and there were some other issues with...
The New England Patriots are reshaping themselves into a new look unit. In the midst of the departure of wide receiver Wes Welker and the uncertain immediate futures of tight ends Rob Gronkowski and Aaron Hernandez, the Patriots are restocking their arsenal with wideout Danny Amendola and the recent trade for former Tampa Bay running back LeGarrette Blount. Please click here...
ESPN Boston's Mike Reiss provided even more insight into the New England Patriots draft picks after watching "Patriots All Access" in the draft room, and he recognized something that many Patriots fans will find very peculiar. Bill Belichick received a call with a trade offer for pick #91 in the draft, which is the draft pick that was originally going to go to the Pittsburgh...
As has been the case under Bill Belichick, the New England Patriots were active on draft day, moving around and collecting extra selections. The team traded away their first round pick to the Minnesota Vikings, receiving four choices in return. New England filled several needs but as you'll find out, not everyone was on the same page in their war room.Jamie Collins/OLB/Southern...
New England Patriots quarterback Tom Brady says he's focused on playing the game he loves and isn't worried about what he will do after he can no longer play. "I love doing what I'm doing. I love playing. I love the preparation. I love training for playing. I love thinking 
Who could be running the Browns today who might get the benefit of the doubt? I think it's a good question. Sometimes I wonder if the Kraft family somehow divested the Pats, bought the Browns and brought Bill Belichick with them if Browns fans would continue point to failed draft picks like Courtney Brown as proof that the Browns were failing in the present. I don't know how...
  We are now almost two weeks removed from the 2013 NFL Draft, and of course it is time for me to give the Patriots their initial draft grade. I purposely waited a week to write this review, as the emotions and immediate aftershocks are now over. This draft had some normal Bill Belichick behavior (trading out of the first round, and selecting a player in the 3rd round who was rated...
FOXBORO, Mass. — The Patriots' recent ties to the Rutgers football program are so deep that owner Robert Kraft even joked recently that the team may have to set up a recruiting center on the New Brunswick, N.J., campus. Bill Belichick's infatuation with Rutgers players has been well documented over the past few seasons. The love affair began when the Patriots took Devin McCourty...
"We felt like we got good value for Blount. He's a guy that we basically gave up [Jeff] Demps for, and Demps, I'd say, is less of a proven player and there were some other issues with Jeff. With LeGarrette, he's been a productive player. He didn't play as much last year with the emergence of [Doug] Martin down there, so I can certainly understand that Tampa was in. We felt...
Some of the Patriots' 2013 acquisitions could bring the team's defense back to its glory days. Prior to 2011, Bill Belichick was known to run a complex hybrid defense that included 3-4 and 4-3 looks, zone coverages and man coverages. But a lockout leading up to the 2011 season, and a 2012 roster that was full of new and inexperienced players, forced the team to simplify on defense...
Patriots News

Delivered to your inbox

You'll also receive Yardbarker's daily Top 10, featuring the best sports stories from around the web. Customize your newsletter to get articles on your favorite sports and teams. And the best part? It's free!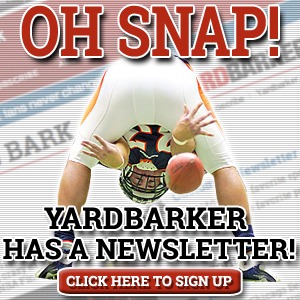 Latest Rumors
Best of Yardbarker

Today's Best Stuff

For Bloggers

Join the Yardbarker Network for more promotion, traffic, and money.

Company Info

Help

What is Yardbarker?

Yardbarker is the largest network of sports blogs and pro athlete blogs on the web. This site is the hub of the Yardbarker Network, where our editors and algorithms curate the best sports content from our network and beyond.