Found February 25, 2012 on Timberwolves Central:
What kind of cap space could we get to this summer? If we amnesty Darko, buyout Webster and Miller, and renounce Beasley, Randolph and Tolliver where are we? Kevin Love 12,922,250 Derrick Williams 4,809,840 Nikola Pekovic 4,837,200 Jose Barea 4,493,500 Wesley Johnson 4,285,560 Luke Ridnour 4,000,000 Ricky Rubio 3,741,120 Wayne Ellington 2,083,042 Malcolm Lee 762,195 Martell Webster 600,000 (buyout) Brad Miller 848,000 (buyout) Total $43,382,707 Add in 3 minimum cap holds and we're at about $44 million. The cap is approx. $58 million this year...so about $14 million in cap space? Is that correct? I think I'm missing the cap hold for the first rounder that we'd get from Memphis... Lots of RFAs that would be interesting with the Wolves. Would you make a huge offer to Batum? Would Portland match?
Original Story:
http://www.mnsportsfans.com/forum/sho...
THE BACKYARD
BEST OF MAXIM
RELATED ARTICLES
MAD SKILLS
The best part? The record Minnesota Timberwolves rookie point guard phenom broke in Orlando during early All-Star Weekend festivities — according to the NBA, it was "Guinness World Record" but I cannot confirm that (mainly because I'm lazy) — was that the previous record stood for about an hour, as Evan Turner of the Philadelphia [...]
Minnesota Timberwolves point guard Ricky Rubio spent his weekend in Orlando dropping dimes in the NBA Rising Stars game. Then he put got his name in the Guinness Book of World Records. No big deal. Rubio set the world record for the most baskets made from behind the basket in a minute. The young Spaniard was joined in Orlando by his parents, who couldn't have been more thrilled...
Yes, I know the Rising Stars Challenge was an exhibition game but still you have to be impressive with the passing ability and flash of Ricky Rubio. In these games no one goes full out on defense, but they sure go all out on offense. Everyone tries to make the highlight play. That play of the night from this game came from Rubio. After a made shot Rubio got the pass...
Just minutes after Philadelphia 76ers guard Evan Turner sank 14 shots from behind the backboard, setting a Guinness World Record, Timberwolves guard Ricky Rubio snatched the honor away. In Orlando for an All-Star weekend Rising Stars shootaround Friday morning, Rubio lined up with the basket in front of him and to his right and sunk 18 shots in 60 seconds. That was four better than...
It was one of those leads embarrassingly large in a game that means little which is a breeding ground for cockiness, and the NBA couldn't have picked a better GM to hold that lead. Charles Barkley reclined on the sidelines at the Amway Center in the second half of Friday night's BBVA Rising Stars Challenge, his team holding a lead it never once relinquished before going...
Ricky Rubio went to the playground during tonight's NBA Rising Stars game. Rubio took down a long rebound and started to take the ball up court. As he was doing so DeMarcus Cousins got in his way so he dribbled the ball through Cousins open legs like he was at the Rucker. After that he continued down court tossing an easy alley-oop pass to Blake Griffin. (H/T to Jose3030...
The one magical thing about the NBA is that it can bring people of all walks of life together and amaze the younger generation.During a recent Minnesota Timberwolves game, Fox Sports North interviewed a young three-year old fan named Chase and got the inside scoop about how much he likes the Timberwolves along with that hamster:(Courtesy of The Basketball Jones)
Minnesota Timberwolves guard Ricky Rubio set a world record Friday morning by making 18 shots from behind the backboard in less than a minute.
MINNEAPOLIS Three members of the Minnesota Timberwolves -- Kevin Love, Ricky Rubio and Derrick Williams -- arrived Thursday in Orlando to participate in NBA All-Star Weekend. After a day of travel, interviews and photographs (and maybe a minute or two of relaxing), the festivities begin Friday in full force. A look at the events in which you can watch and cheer for Love, Rubio and...
Jeremy Lin, Ricky Rubio and Kyrie Irving are new editions to what is becoming one of the great collections of NBA point guards in league history.
Celebrity Game by Maurice Bobb / @reesereport Rising Stars Game by Lang Whitaker / @langwhitaker We're late due to technical difficulties (read: couldn't get past the L's velvet rope), but here we are live and direct at the Sprite All Star Celebrity Game 2012.  So far, the crowd has reacted loudest to Jersey Shore's Vinny Guadagnino, so, there's that, but that won't...
Timberwolves News

Delivered to your inbox

You'll also receive Yardbarker's daily Top 10, featuring the best sports stories from around the web. Customize your newsletter to get articles on your favorite sports and teams. And the best part? It's free!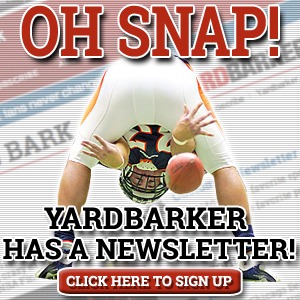 Latest Rumors
Best of Yardbarker

Today's Best Stuff

For Bloggers

Join the Yardbarker Network for more promotion, traffic, and money.

Company Info

Help

What is Yardbarker?

Yardbarker is the largest network of sports blogs and pro athlete blogs on the web. This site is the hub of the Yardbarker Network, where our editors and algorithms curate the best sports content from our network and beyond.