Found October 28, 2013 on Legend of Cecilio Guante:
A package deal of the worst kind When I was a college kid pledging a fraternity, we occasionally talked about "package deals."  It was in the context of rush. Hey, we can't give this kid a bid unless we give this one, they're a "package deal." Whenever that kind of talk popped up, it got quickly squashed. It was stupid. You should look at a kid as a kid. WTF is a package deal anyway? And that was at a college fraternity. 19-year old kids. My point? There was more sense there than at a professional sports organization. I am talking of course about my New York Knickerbockers. Most of the time I try to just enjoy the recent versions of the Knicks for being semi-relevant and watchable again. I attempt to block out the talk of Dolan and CAA and all this nonsense, despite having little doubt that many of the fundamental practices of running a franchise are likely absent here. GMs coming and going leaving amid confusion and uproar? I made a choice to rise above and try to ignore. Eat the sausage but don't pay any attention to how it's made. Somewhat hypocritical, fine. I liked it that way. But this…this reminds you that it's really all a f-in joke. It only really hit me tonight. Chris Smith was a package deal with his older brother J.R. Not that this is a new discovery. It's just jolting to say it and acknowledge it. A handshake agreement between mightily-powerful CAA and Knicks management. Grown men playing this ridiculous game. Now, a player with ZERO right to be on an NBA roster has a spot and a contract. No matter that he's going down to the D-League. It's a waste of a roster spot that could've been filled with more value by several players on the Knicks bench only days ago. Diogu. Leslie. Tyler. All players that might have helped this Knicks team at much more pressing positions with much more needed skills. Chris Smith delivers little to no value…unless you consider his role in landing J.R. Smith back in a Knicks uniform. That is the case, plain and simple. A package deal made by supposed professionals running an NBA franchise. Really mind-blowing when you think about it. Ladies and gentlemen…your…New…York…Knicks!
Original Story:
http://legendofcecilioguante.com/chri...
THE BACKYARD
BEST OF MAXIM
RELATED ARTICLES
The starting lineup still isn't finalized and the bench will be weakened. Not the ideal way for the New York Knicks to start a season. They were blistering at the beginning last year, blowing out Miami in their opener en route to a 6-0 record, a win shy of their best start ever. They had at least a share of the Atlantic Division lead every day and won it for the first time since...
Injured center Jeremy Tyler, cut controversially by the Knicks Friday to make room for J.R. Smith's brother, Chris Smith, is still rehabbing at the Knicks' Westchester training facility as the club engages Golden State in talks to obtain his D-League rights, The Post has learned. The 6-10 Tyler, who had surgery to repair a stress fracture in his left foot in early September...
Last Friday, the New York Knicks did one of the Knicksiest things ever, which is saying quite a bit. On the day they trimmed their roster down heading into the regular season, they handed the 15th and final roster spot to Chris Smith, the undeserving brother of J.R., a decision made with nothing but nepotism and corporate interests in mind. Knicks Twitter exploded after the cuts...
Pics: J.R. Smith owned that ass
Lenzelle Smith Jr. doesn't need a calendar to know when Ohio State's basketball season is drawing near. After being around him for going on four years, Smith can just look at coach Thad Matta. ''You can tell when coach Matta is kind of falling back a little bit and is taking it easy,'' Smith said with a grin. ''And then you can tell when basketball...
By Charles R. Trimble III Rapper 50 Cent once wrote a song called "21 Questions". This song basically questioned the devotion of a companion through good times and of course bad times, well in this case we have 21 questions Knicks fans are asking each other as the season opens: 1 - Will Stoudemire be healthy enough to play opening night after multiple knee surgeries? 2 - Will...
Carmelo Anthony should focus on trying to get players to join him in New York, not creating uncertainty about whether he would leave. That's the opinion of TNT analysts Charles Barkley and Kenny Smith, who are disappointed by Anthony's desire to become a free agent after this season. ''He owns the city, he should be trying to get guys to come here and not like ...
By Max Marcilla The countdown is coming to an end, as the Knicks open their season at home against the Milwaukee Bucks tonight at 7:30. Before the NBA season tips off, I'll leave Knick Nation with some questions about the team and my predictions. Will The Knicks Key Players Stay Healthy? Obviously, health is the key for any sport and any team, but when looking at the recent injury...
Happy opening night eve! It'll be great to finally see some meaningful basketball tomorrow, but unfortunately the Knicks aren't in action until Wednesday. Read on to see what else they have on their plate for the upcoming week. The New York Knicks still have a ton to figure out heading in to the 2013-14 season. Amar'e Stoudemire, Kenyon Martin, and J.R. Smith all didn't...
Knicks News

Delivered to your inbox

You'll also receive Yardbarker's daily Top 10, featuring the best sports stories from around the web. Customize your newsletter to get articles on your favorite sports and teams. And the best part? It's free!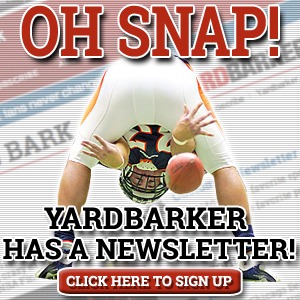 Latest Rumors
The Backyard

Today's Best Stuff

For Bloggers

Join the Yardbarker Network for more promotion, traffic, and money.

Company Info

Help

What is Yardbarker?

Yardbarker is the largest network of sports blogs and pro athlete blogs on the web. This site is the hub of the Yardbarker Network, where our editors and algorithms curate the best sports content from our network and beyond.