Found September 05, 2013 on HawkeyeNation.com:
Former Iowa All-American quarterback and current BTN analyst Chuck Long returns this week to discuss the Hawkeyes play from their week one loss against Northern Illinois. Q: Considering it was his first ever college football game, Jake Rudock he exceeded my expectations. How would you assess his play? Chuck Long: I was very impressed with him. I thought for a first start for a young man who has never thrown a pass in a collegiate game, I thought he played with poise…he threw two picks but one was a tipped ball. The only errant throw he made was that last one and he will learn from that. There were times where he looked like a veteran guy out there who had been playing for a while. That's a good sign. He's a smart kid, he was well coached in high school and came from a great program. For a first start….it was a lot better than my first start, I'll tell you that right now. Q: Your first start was at Nebraska, right? Long: Yes, it was horrendous. I thought that was pretty good for Jake's first start. Mine was miserable. I got benched the next game because of it. I thought Jake handled himself very well. Q: There is an old cliche about a team's biggest improvement being week one to week two..as former player and coach, do you buy it and where do you think this Iowa team improve most this week from last? Long: I think they were close to hitting some more big plays, offensively. I liked Greg Davis' call on 3rd and 1 even though it didn't hit, that deep shot would have put some icing on the cake. I liked that call and as time goes on I think those plays will happen. Overall, the secondary play will get better. There were some secondary breakdowns that will improve into game number two. Every coaches fear going into the first game are those mental breakdowns because you haven't played a game yet. Now you have live film against another opponent so you can learn from that. You go from there to the second game, you won;t see as many breakdowns as you did in game one. Offensively, if you think about the production compared to last year, that was a vast improvement. A vast improvement. That is something to build on for the Hawkeyes. Q: This week, some fans are feeling like "Oh no here we go again, we are going to be a bad team." You picked Iowa to be 6-6 and said it would be a great year if they got to 6-6..do you feel any differently about this team now and their chances after this first game? Long: They are a better football team than they were last year. They already showed that to me in game one. However the schedule is so daunting that it may not show up in the win column, if that makes sense. I think they could be a better football team this year but it won't show up in their record. I still think 6-6 would be a great year for them, considering going from last year to this year and their schedule. The Northern Illinois game was a game that you'd like to win…it gets you off to a good start…they added Ohio State and Wisconsin this year. That last half of the season is going to be really tough. The first five games for this team are key; you have to be in the positive side of the win column there. Q: Were you surprised at how few targets the tight ends got in this game, which seems to be a theme carried over from last year? Long: CJ did catch a touchdown pass. Iowa really lacked big plays last year. They lacked 20-yard or more passes. Talking to Greg Davis before the game, he wanted to get the ball down the field. There were a lot of naysayers last year about how they couldn't get the ball down the field, and they couldn't. They have worked on that in the offense. They need big plays down the field. It will be hard for them, especially with a young quarterback, to move that ball down the field for a 15 play drive to score a touchdown. They have to make some big plays and how you do that is lock up, protect and put guys like Powell out there for a home run shot, which they tried. Tight ends will not get you big plays down the field. They are more possession type receivers because of their size. They are not as fast as wide receivers. There is a lot of pressure to get that ball down the field to help that young quarterback. So you do that with wide receivers and block with tight ends. Once they get those big plays, in time that is going to open up the tight end play but it will be the reverse of that for a while. They are trying to run the ball, get the line of scrimmage tighter and take the shot down the field with their wide receiver. Once they hit those big plays, you will see more balls thrown to the tight end as the season goes along. Long has made a return to Iowa and is living in Cedar Rapids where he works as a Business Development Executive for Holmes-Murphy Insurance, a company who is headquartered in Des Moines. He is also doing color commentary and studio work for the BTN. The post Chuck Long Sees Promise from the Hawkeyes appeared first on Hawkeye Nation.
Original Story:
http://www.hawkeyenation.com/football...
THE BACKYARD
BEST OF MAXIM
RELATED ARTICLES
Iowa quarterback Jake Rudock (#15) shakes hand with offensive lineman during the Hawkeyes season opening loss against Northern Illinois. The Iowa Hawkeyes found themselves in an all to familiar situation this past Saturday in its season opener against Northern Illinois. Iowa answered many of its fans questions about not only their offense, but also their choice to start sophomore...
Iowa Quarterback Jake Rudock met with the media on Tuesday as he prepared himself and offense for this weekend's game with Missouri State. See what the Sophomore had to say about throwing to the TEs, Damond Powell, what he saw on film for Game 1 and more.
The Iowa Hawkeyes played admirably against Northern Illinois but will have to reduce its mistakes against Football Championship Subdivision foe Missouri State. To open the college football season eight Football Bowl Subdivision teams lost against FCS teams — including Northern Iowa's win over Iowa State. Iowa football has never lost to an FCS opponent. This game however, is important...
(Eds: With AP Photos.) By LUKE MEREDITH AP Sports Writer Iowa lost again last weekend, its seventh straight defeat dating to last season and its first in an opener in 13 years. And yes, it came against MAC school Northern Illinois, a team the Hawkeyes had beaten eight times in a row. It didn't help that the game swung on a late interception by new quarterback Jake Rudock. But...
The mugshot from Iowa Hawkeyes fan Samatha Goudie has appeared online. And it is AWESOME. yes people i did drink at iowa's first tailgate. If they breathalized everyone in iowa city i would have had a lot of cell mates — Samantha (@Vodka_samm) September 2, 2013   Goudie was arrested on Saturday at Kinnick Stadium and later blew a .341 on a breathalyzer test. The 22-year-old...
The Iowa Hawkeyes face Missouri State on Saturday in what could turn out to be one of the most important games of the season. Yes, I typed that. No, I was not compensated by the University ticket office to do so. Yes, I believe it. Why? Here are a few of the reasons why I believe this to be true, even though the outcome is all but a foregone conclusion… THE STREAK: It's seven...
COACH FERENTZ:  It will be a hot day out there on Saturday, so biggest thing is going to be watching the guys from the heat standpoint. Captains, we have the same four captains, James Morris and Chris Kirksey defensively, and Brett Van Sloten, Mark Weisman offensively will lead the team. And next up is just, you know, I didn't acknowledge this Saturday, but it was a great crowd...
Hawkeyes News

Delivered to your inbox

You'll also receive Yardbarker's daily Top 10, featuring the best sports stories from around the web. Customize your newsletter to get articles on your favorite sports and teams. And the best part? It's free!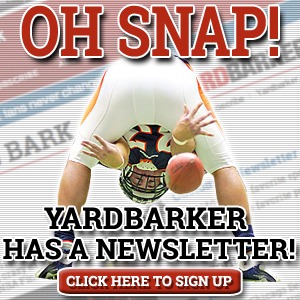 Latest Rumors
The Backyard

Today's Best Stuff

For Bloggers

Join the Yardbarker Network for more promotion, traffic, and money.

Company Info

Help

What is Yardbarker?

Yardbarker is the largest network of sports blogs and pro athlete blogs on the web. This site is the hub of the Yardbarker Network, where our editors and algorithms curate the best sports content from our network and beyond.