Did Virginia Tech Steal This Concept?Remember when artist Charles Sollars created all of those concept uniforms and helmets for college football's top programs? Mr. Sollars wasn't just doing this for fun. His intention was to have one or maybe more schools buy his designs. Well according to Sollars, some of his concepts did gain some traction. In fact, Virginia Tech was interested in having a conversation. Here is a great story of an underdog designer getting a huge break, only to be shot down by the typical forces of major college athletics. Put it this way, the athletes aren't the only ones being exploited. Let's begin from the beginning. John Ballein, who is the Associate Athletic Director for Virginia Tech football reached out to Mr. Sollars. Here is the email:   From: John Ballein Date: February 28, 2012 6:51:27 AM MST To: sollars85@gmail.com Charles, I am reaching out to you about a helmet design I have seen.  Can you provide me with your contact information. Thanks. John John A. Ballein, Ed.D. Associate Athletic Director Virginia Tech Football 205 Jamerson Athletic Center Blacksburg, VA  24061 (540) 231-9988 (540) 231-3473 – FAX   Wow! Pretty cool for Charles right? Well the conversation didn't end there. Let's follow this chain that Mr. Sollars sent to BeyondU:     At 05:14 PM 2/28/2012, you wrote: John,  I will be sending the photos in a separate email due to file size.   To the best of my knowledge, each University has separate licensing agreements with sports affiliates – ie, Nike or Adidas.  I can offer my designs under a free-lance agreement, or if necessary, as an off-site consultant agreement.  I am open to working with Virginia Tech and any existing contractual commitments  to get this design from concept to field.   If there is another scenario that I need to consider to enable the University, I am more than willing.  Overall response has been more than favorable, and if social media pre market launch is an indicator, seems as if fans are going to love this helmet design!  Having had a million and a half page views on just my Flicker site alone in less than two weeks,  comments range from " WHEN IS THIS GOING TO BE ON THE FIELD?"  to "WE HAVE TO HAVE THESE! " .    I would welcome the opportunity to share in giving fans what they want.   You have my contact information.  Feel free to call, text or email.   I am sending you the original design you requested,  and some additional designs that are yet to be released.  Best Regards,  Charles At 10:50 AM 2/29/2012, you wrote: John, Did all of the designs load properly for you? I sent a total of six On Feb 29, 2012, at 9:55 AM, John Ballein wrote:  They did.  Thanks.  I will be in touch. At 10:58 PM 3/12/2012, you wrote:  John, I was just wondering where we are at in the process of getting the helmets OK'd? Yahoo ran a story about my designs today adding to the media buzz On Mar 13, 2012, at 6:50 AM, John Ballein wrote:  That great.  I told you the interest is high on these types of things.  I am meeting with our helmet people on Wednesday.  I will be in touch. At 08:44 AM 3/27/2012, you wrote: John, I was just wondering where we were with the helmets? Thanks Charles On Mar 27, 2012, at 8:30 AM, John Ballein wrote: Charles, I met with our rep. from Riddell.  Since this cost is outside of the State budget, It is going to be difficult to fund.  Also, he felt that that large of a decal would present to many issues for our equipment people.  We are hoping to put something together for next season and find funding. I am going to see if Pinto can come up with a decal for us to use as a template. John   Here is the concept Virgina Tech was considering:   Clearly at this point the conversation appears to be positive. Well there is where the conversation stopped, until November, when Charles Sollars, had this to say to the Virginia Tech representative John Ballein.   On Nov 17, 2012, at 11:54 AM, charles sollars  wrote: John, Per our last conversation (below) it was my understanding you were "unable to get funding for use of my logo design".  As of today, I see you went ahead and used my design, unauthorized, and did not pay me for my services.  I will be contacting my attorney regarding the issue or you can pay me and give me credit for use of my design.  I will expect to hear from you by no later than Monday regarding this issue since MY DESIGN IS IN USE AS OF TODAY'S GAME. CHARLES SOLLARS On Nov 17, 2012, at 3:29 PM, John Ballein wrote: Charles, No problem in speaking with you next week, JohnSent from my iPhone The helmet in question was this one below: photo credit: vt.edu On Nov 17, 2012, at 5:43 PM, charles sollars wrote: John, Per my previous email.  I will expect a resolution regarding compensation and recognition for my helmet design that you rolled out at today's game.  As a designer, I am quite aware of retributions associated with unauthorized use of creative, and am holding you accountable.  If I do not have resolution by Monday, I will be handing this over to my attorney who has advised me to include all parties associated with the production and the unauthorized use of conceptual work we had discussed both in email and via phone conversations, including all samples discussed and illustrated. Charles Sollars charles sollars From: John Ballein Subject: Re: Charles Sollars Helmet Concept Date: November 17, 2012 6:11:02 PM MST To: charles sollars Charles, No problem. I will pass it on to our license and legal departments next week.  Have a good weekend. John Sent from my iPhone This is where this tale ended. Or has it just begun? If you look at both helmets, it's clear that they aren't identical, but they are strikingly similar. Also the suspicion is elevated by the fact that there is clear evidence of a conversation, where Virgina Tech was interested in these designs. Then there was the shady business of claiming poverty on Virginia Tech's side. It was almost as if Ballein was planting a seed that there was never an intention to compensate Mr. Sollars for his work. Right now this is in the hands of lawyers. BeyondU, in fact has some other legal documents in our possession that we are holding back for the time being. If they become relevant and we have legal permission to release them, we will. We will keep you updated on any developments. BeyondU Sports BeyondU Sports - Best College Sports Blog Site
Original Story:
http://feedproxy.google.com/~r/Beyond...
MORE FROM YARDBARKER
All Sports News

Delivered to your inbox

You'll also receive Yardbarker's daily Top 10, featuring the best sports stories from around the web. Customize your newsletter to get articles on your favorite sports and teams. And the best part? It's free!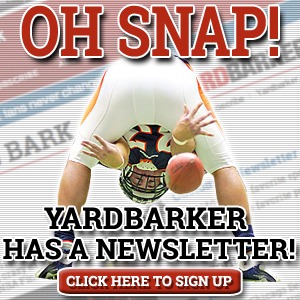 Latest Rumors
Best of Yardbarker

Today's Best Stuff

For Bloggers

Join the Yardbarker Network for more promotion, traffic, and money.

Company Info

Help

What is Yardbarker?

Yardbarker is the largest network of sports blogs and pro athlete blogs on the web. This site is the hub of the Yardbarker Network, where our editors and algorithms curate the best sports content from our network and beyond.