Eat, Drink, Watch: More than just the Super Bowl this weekend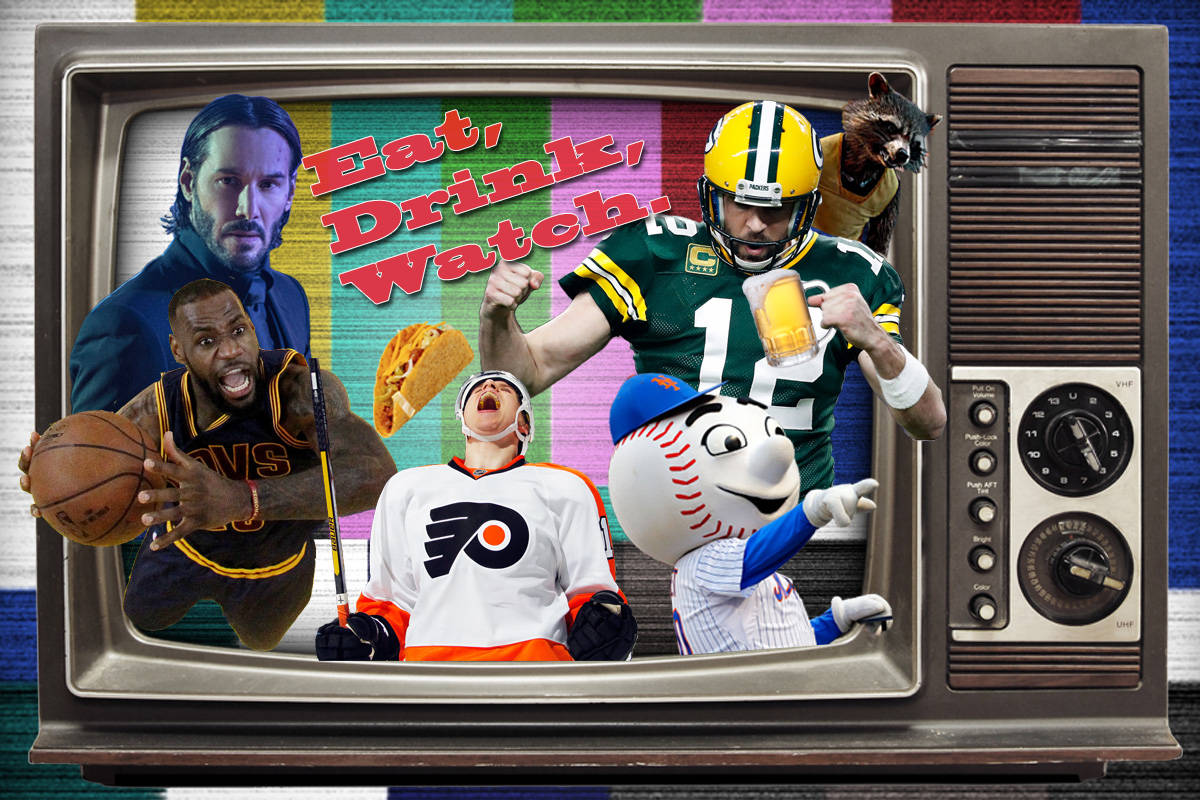 It's been a long week. You're tired. You're hungry. You're thirsty. You just want to find something to watch and unwind only to find not only do you have too many games to choose from on any given night to watch, there is an entire catalog of shows and movies you can barely keep up on.

When did our weekends turn into so much work?

So let's make it simple. Here is what you want to eat, this is what you want to drink and this is what you want to watch over the next 48 hours or so of "freedom" you have in your life. Maybe. We all know we're looking at work email at some point. And the car needs an oil change. And someone needs to take the kids to basketball practice. Wait, is that a leak in the garage? Okay, enough. Let's hurry up and get to the fun stuff for this Super Bowl weekend of February 3, 2017.

Eat

The news around the food word is the biggest Italian export since pizza is finally hitting American shores; the Trapizzino, the Roman street food that is part-calzone, part-pizza, part-Sunday supper all in handy pocket with their first U.S. outlet opening in NYC in the coming weeks.
With filling options from chicken cacciatore, eggplant parmigiana, broccoli and sausage, chicken and peppers, burrata and zucchini – a simple slice is not going to feel the same after this comes to town.
But weeks away is too far; we need food for this weekend. Super Bowl weekend.
Thankfully we can easily make its cousin, the scacciata, at home.
Scacciata, pizza's family member you never knew you needed to have... until now. 
Sarah Sprague
We're going to follow the TailGreater's advice and skip the fancy beer for this weekend. Back to basics, but better. Old Tanker Ale is what we're drinking this weekend.
We were skeptical ourselves when we first tried PBR's reboot of one of their brews from 1937, this amber beer had the perfect maltiness to standup to the burgers they were served with, but still drinkable enough you didn't feel weighed down by its presence.
If you're not sure where you can pick up a six-pack of this one for whatever Super Bowl party you're heading to this weekend, the Pabst people have a nice website where you can search for it by zip code here. Oh, and the burger? We've got 30 suggestions for what you need to put on your own home burger bar here if you're still planning your weekend. 
Watch
Sometimes half the battle is sorting out what you want to watch (and what you have time for!) on the weekends. Here are our highlights for the weekend of February 3, 2017.
Sports
AP Photo/David J. Phillip
Friday: USMNT has a friendly against Jamaica. The men's side had a 0-0 draw against Serbia earlier this week under Bruce Arena and the new coach remains confident the team can qualify for the World Cup (7 p.m. ET/4 p.m. PT, FS1). Remember when all used to get excited for Lakers-Celtics? Well, nostalgia should get you through this one (8 p.m. ET/5 p.m. PT, ESPN). Vasquez-Collazo gets underway at 10 p.m. ET/ 7 p.m. PT on FS1. Sadly the game we really want to watch, USC at Stanford in women's college basketball, is not on TV despite coach Tara VanDerveer being on the cusp of her 1000th win.
Saturday: Today's a much better day for sports. The day starts out strong with top-ranked Chelsea verses third place Arsenal (7:30 a.m. ET/4:30 a.m. PT, NBCN), #23 Purdue against #17 Maryland in men's college basketball (noon ET/9 a.m. PT, ESPN). Kings-Flyers should be a good one (1 p.m. ET/10 a.m. PT, NHLN) as both teams fight to get over the hump to the top-tier in the NHL. #5 Arizona vs. #13 Oregon in men's basketball at (4 p.m. ET/1 p.m. PT, ESPN) bounces perfectly into #20 Notre Dame vs. #12 North Carolina (6 p.m. ET/3 p.m. PT, ESPN) to a grand finale of #8 Kentucky against #24 Florida (8:15 p.m. ET/5:15 p.m. PT, ESPN). And it wouldn't be right to leave out the battle of disfunction in the NBA, Cavs-Knicks (8:30 p.m. ET/5:30 p.m. PT, ABC).
Super Bowl Sunday: Obviously, Super Bowl LI for Patriots-Falcons (6:30 p.m. ET/3:30 p.m. PT, Fox).
Beyond the championship, you have a pretty good matchup of Kings-Capitals early in the day (noon ET, 9 a.m. PT, NBC), Clippers-Celtics (2 p.m. ET/11 a.m. PT, ABC), and solid women's basketball rivalry match between Missouri and #5 Mississippi State (2:30 p.m. ET/11:30 a.m. PT, ESPNU).
Rings is your escapist delight this weekend, but we're not sure how many people were clamoring for a third film in The Ring series – 12 years after the last one.
What you should spend your time on this weekend is the powerful documentary I Am Not Your Negro about playwright and novelist James Baldwin; a look at race relations through his eyes in the 1970s as narrator Samuel L. Jackson tells Baldwin's story through Baldwin's own works.
If you're still looking for something else, you can still check out all the first-time Oscar nominees.
Streaming
Netflix adds the Santa Clarita Diet series starring Drew Barrymore and Timothy Olyphant as your typical suburban couple living in... well. That's some diet she's on. Netflix also added the award-winning The People v. O.J. Simpson: American Crime Story this week, while Hulu added one of our favorite movies of the decade, Darren Aronofsky's The Fountain along with the very dark The Machinist.
TV
We're already planning our entire Saturday around Sundance TV's marathon of Airplane, Airplane II, The Naked Gun, The Naked Gun 2 1/2, The Naked Gun 33 1/3. If you're anywhere near Animal Planet all weekend, you'll be sure to see one of any Puppy Bowls. If you're determined to watching anything but the Super Bowl, you'll find an entire guide in here. 
But the big show this weekend that isn't the Super Bowl is going to be the return of the 24 franchise, 24:Legacy which premieres right after the Super Bowl on Fox. Early word on the Jack Bauer-less version is the tension and the drama are still all there, but it feels heavy in today's current political climate. 
Be ready not to escape into your escapism.
MORE FROM YARDBARKER:
MORE FROM YARDBARKER
All Sports News

Delivered to your inbox

You'll also receive Yardbarker's daily Top 10, featuring the best sports stories from around the web. Customize your newsletter to get articles on your favorite sports and teams. And the best part? It's free!