Found October 11, 2013 on Two Guys, a Glove and a Coke Bottle:
Episode 111: Invader Szym In the hundred-and-twelfth episode, Thomas and Danny are joined by ESPN's Dan Szymborski to talk about Hunter Pence's contract and recap the 2013 season. Click on the image below to find it on iTunes:  You can also find it on the RSS feed, or by clicking on the play button below. We look forward to your feedback, either by commenting here on the blog, emailing us at giantspod@gmail.com, or our Twitter feed. Go Giants!
Original Story:
http://giantspod.net/2013/10/10/episo...
THE BACKYARD
BEST OF MAXIM
RELATED ARTICLES
Chad Gaudin (courtesy of ESPN.com) The San Francisco Giants are poised this offseason to overhaul a rotation that helped them win two World Series titles in three years. While Matt Cain and Madison Bumgarner remain core staples as front end starters, the back end of the rotation is filled with question marks. Will Tim Lincecum sign? Which veteran starter will the team bring...
To anyone worried about the future of the San Francisco Giants: don't be. In addition to having recently locked up four of their biggest stars to long contracts - Buster Posey, Hunter Pence, Madison Bumgarner, and Matt Cain - it turns out that the Giants prospects are pretty darned good to. Meaning the future of the team is in pretty good hands. Baseball America recently...
Picture courtesy of Marko Realmonte We've learned that the Seattle Mariners are searching for a new manager, and San Francisco Giants coach Ron Wotus is one of many men on their long list of candidates. Wotus has served as a bench coach with the Giants since 1999. Prior to that he was a manager in the Giants organization from 1991-1997. He was also named Pacific Coast League...
It's been individual accolade after individual accolade for one of MLB's most team-oriented players. Tying records. Setting records. Player of the Week awards. Player of the Month awards. The Willie Mac award. And now Hunter Pence has been nominated for MLB's Hank Aaron award, given each year to two sluggers (one from the American League and one from the National...
The good news for San Francisco Giants prospects just keeps coming. In addition to the six San Jose Giants recently ranked in the California League's top-20, prospect Angel Villalona is set to compete in the Arizona Fall League's inaugural hitting competition. Villalona, a 23-year old infielder who was once considered a prize prospect in the Giants farm, has been...
This week, San Francisco Giants President and CEO Larry Baer sent out a stunning letter to the 2013 season ticket holders, reminding them of how they're the best fans in baseball, thanking them for their unparalleled and unwavering support, and promising them that this ship is being turned around. It was, quite frankly, a beautifully written letter that should have every...
To most people in the baseball community, RBI stands for Runs Batted In. But to Jim Messemer and the rest of his team at San Francisco RBI, that three letter acronym takes on a different meaning: Reviving Baseball in Inner Cities. In a wonderful article featured on MLB.com, San Francisco RBI is chronicled, and you don't want to miss it. While on the surface it may seem...
Hey Giants fans, the season may be over, so you know what that means? It's time for YOU to pick up the action and play baseball! If you don't have SF to do it for you, then why don't you play a little? This week's featured app is the premier baseball game (non Buster Posey division, of course) available: 9 Innings: 2013 Pro Baseball. 9 Innings is exactly...
It turns out that Jose Abreu is not the only Cuban infielder that the San Francisco Giants are spending their autumn inspecting. Alexander Guerrero, another 26-year old Cuban slugger was thought to be off the market . . . but now he's as available as ever. Last month it seemed like the Los Angeles Dodgers – surprise surprise – had wrapped up a deal with the middle infielder...
A few days ago we crowned our 2013 Giants MVP: Hunter Pence. Well, today it's time for the Cy Young. And, as you probably could guess, it ain't a very close race. Yup, our Cy Young winner for the 2013 San Francisco Giants is none other than Big Country . . . Madison Bumgarner. Despite being only 24 years-old, Bumgarner pitched like a season veteran all season long, matching...
Giants News

Delivered to your inbox

You'll also receive Yardbarker's daily Top 10, featuring the best sports stories from around the web. Customize your newsletter to get articles on your favorite sports and teams. And the best part? It's free!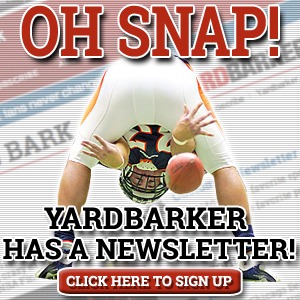 Latest Rumors
Best of Yardbarker

Today's Best Stuff

For Bloggers

Join the Yardbarker Network for more promotion, traffic, and money.

Company Info

Help

What is Yardbarker?

Yardbarker is the largest network of sports blogs and pro athlete blogs on the web. This site is the hub of the Yardbarker Network, where our editors and algorithms curate the best sports content from our network and beyond.