Found March 27, 2013 on Fox Sports:
This is the time you look back at your alma mater with pride. You remember the good old days, adding a lot more good than was really there. Wichita State is one of the most unlikely teams to reach the Sweet 16 of this NCAA tournament and will likely win at least one more game. So for Shockers alumni, it's a great moment. And for former Shockers players? Think of their highlight dunks, superhuman blocks ... "I look back at my college basketball career," a former Shocker center told me, "and I just want to go back in time, pull myself off to the side and ... punch myself in the face. Hahahahaha. "It's a team sport, idiot. Start playing with your teammates." Paul Wight, a backup center in Wichita 22 years ago, wearing No. 50, rode the bench at Wichita State all the way to superstardom. He is now Big Show, one of the big stars of pro wrestling, ready to kick butt at Wrestlemania 29 on April 7 at New Jersey's MetLife Stadium. Imagine Wichita State hoops at the Final Four and WrestleMania on the same weekend. "I'm definitely happy for them," Big Show said. "I have a lot of positive memories from that university, the teachers, the classes I took. It's just a lot of personal things were going on in my life at the time. It didn't work out for me. But things happen in life. Things change. "It was good for me as a human being to go from an arrogant, cocky SOB to being humbled a little bit. Of all my experiences at Wichita State -- now I'm a 41-year-old adult that has children of my own -- humbling wasn't a bad thing for me. It wasn't a bad thing to sit on the bench. Some of the lessons I learned from my college basketball days definitely help me now." I should point out that I worked in Wichita while Wight was playing there and remember specifically that when he came into the games, parts of the crowd would start singing the theme from the Addams Family. "That happened once," he said. He was just so huge, nearly 7 feet, and most people didn't realize he was actually athletic. He didn't look it. So the comparison to Lurch was right there in front of snarky college kids. While we see the glory of the Final Four and the NCAA tournament, the truth is that most careers don't go that way. More player careers actually go the way Wight's did. Until the part where Wight became a star, not only wrestling, but also making appearances on TV shows and movies. Reality led Wight to an unreal height. Reality found its way into the unreal life of Big Show. Wight definitely sounds fully humbled when talking comfortably about his Wichita State career. "I remember strength coach Kerry Rosenboom (who's still at WSU) in there trying to get me to lift weights," Big Show said. "I was like, 'It's going to mess up my shot. Going to mess up my shot.' "It didn't mess up my shot. I messed up my shot.'' He said he got into trouble at practice so many times, and was forced to run at 5 a.m. the next day as punishment, that one of the assistant coaches started bringing doughnuts and coffee in the mornings. They had become that familiar with the routine. "I remember missing the bus when we were playing Tulsa," he said. "A couple guys and I ran to Sonic to get food. The car I had was such a piece of crap, when I got to Sonic, it wouldn't start. Coach (Mike) Cohen left us. We got the car going and pulled up to the bus, and it pulled around us. They wouldn't pull over. "Then I was low on gas, in a small town in Oklahoma. I had a friend nearby who I played junior college ball with, so I stopped and borrowed money from him for gas. We finally got to Tulsa. I mean, we were just clowns." That night, an assistant coach said Cohen would not dress them for the game, and that they needed to turn around and drive home. "I think it took me three quarts of oil and two tanks of gas to go 150 miles home," Big Show said. In high school, Wight was a multi-sport athlete. Everyone wanted him to focus on football, he said, but he wanted basketball. Wichita State, without a football team, was a great place for him. It was when he was going into his sophomore year, he said, that Wichita State doctors diagnosed him with Acromegaly. "My first physical as an athlete, the doctor said, "'You've got giantism,'" said Big Show, who is listed on the WWE website as 7-foot, 441 pounds. "I thought, 'F.U., I do not.' I was a small-town kid from South Carolina What is he talking about? I don't have some kind of diseases.'' He was told he needed surgery, but Wight said he'd wait till he was finished with college. Instead, he had it that summer -- a tumor removed from his pituitary gland, he said. And then, a few weeks before the season started, he dislocated two bones in his wrist. "It was a mental struggle there." Big Show doesn't blame his physical issues as much as his attitude: "Being honest, I wasn't mentally ready to play. I was the big idiot that would dive on loose balls. Everyone wanted to see me go there and rebound and dunk, but I was diving for loose balls and not learning offense, and posting up in the low paint and not moving the ball." Eventually, Cohen was fired. Wight didn't feel as if he were part of the new regime, and went to Southern Illinois-Edwardsville, still thinking he had an NBA career ahead of him. But he got hurt again and gave up. "I just lost interest and ended up moving back to Wichita," he said. "I worked for a guy that was loading karaoke equipment. I got a job loading semi-trailers, then went to Chicago for him, answering phones and doing karaoke shows at nights." Through that, he met Danny Bonaduce, formerly of the Partridge Family. Bonaduce introduced him to Hulk Hogan. And everything took off. Reality took an unreal turn.
Original Story:
http://msn.foxsports.com/cbk/story/nc...
THE BACKYARD
BEST OF MAXIM
RELATED ARTICLES
KANSAS CITY, Mo. - As a general rule, Eric Sexton prefers to keep his two left feet to himself. Still, when you just took down Gonzaga, he figured, what the heck? You dance like nobody's watching. Except that, um, everybody is watching, as Sexton discovered Saturday night. Before long, his smart phone started quaking like the San Andreas Fault. Sixty texts. Ding, ding, ding...
Florida Gulf Coast may be the nation's biggest Cinderella, but this year's bracket is filled with shockers. One of those teams, the No. 9 seed Wichita State, has upset No. 1 Gonzaga and will face La Salle at 10:17 p.m. Thursday for a shot at the Elite Eight. And their run has earned them their share of admirers as well, among them Jacksonville Jaguars head coach Gus Bradley...
TUCSON, Ariz. In a season when the No. 1 team in the country was never really safe, it has become the year of the little guys. Fifteen-seed Florida Gulf Coast University take a bow. Same for you, La Salle. Who said a No. 13-seed was unlucky? Ditto for 12th-seeded Oregon and ninth-seeded Wichita State. All were part of the upsetpalooza of the NCAAs second round when eight double...
The drum beat is only going to grow louder for mighty Kansas to start scheduling games against Wichita State. The top-seeded Jayhawks and ninth-seeded Shockers are on opposite sides of the bracket, but both of them have advanced into the NCAA tournament's second weekend. Nothing short of an appearance in the national title game would bring them together this year - or any year...
Wichita State went from sweet to elite, beating La Salle 72-58 on Thursday night to reach the final eight of the NCAA tournament for the first time in 32 years. Malcolm Armstead scored 18 points, Carl Hall added 16 points and freshman Ron Baker 13 for the ninth-seeded Shockers, who proved their upset of No. 1 seed Gonzaga in the third round was no fluke. They never trailed in this...
Around one out of every three shot attempts for the Wichita State Shockers has been a three point attempt during the 2012-13 season.  In Saturday night's 76-70 upset of 1-seed Georgetown, one out of every two three-point shots hit net; thus, Wichita State marches on with a Sweet 16 date with LaSalle in the surprising top of the West Regional bracket set for Los Angeles' Staples...
Does Wichita State really have a shot against Ohio State?
All Sports News

Delivered to your inbox

You'll also receive Yardbarker's daily Top 10, featuring the best sports stories from around the web. Customize your newsletter to get articles on your favorite sports and teams. And the best part? It's free!
THE HOT 10: Who's Trending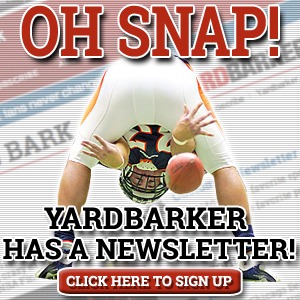 Latest Rumors
The Backyard

Today's Best Stuff

For Bloggers

Join the Yardbarker Network for more promotion, traffic, and money.

Company Info

Help

What is Yardbarker?

Yardbarker is the largest network of sports blogs and pro athlete blogs on the web. This site is the hub of the Yardbarker Network, where our editors and algorithms curate the best sports content from our network and beyond.