Found October 31, 2013 on Shutdown Line:
Slow starts aren't anything new to the Carolina Hurricanes. They've been known for having an underwhelming record during the month of October for years now and it always seems to take their best players awhile to get into top form. We seem to go through this every season, so the Canes posting a 4-5-3 record through October could end up being not that big of a deal in the big picture, especially with the Metropolitan Division being very weak right now. However, something that is very alarming is how poorly this team has played in first periods. In their first 12 games, the Hurricanes have scored the first goal in only three of them and they've been outscored 10-4 in first periods as a whole. The Hurricanes have managed to grab points in seven of these games, so they are at least fighting their way back into games, but the fact that they are usually trailing after 20 minutes is still a pretty big problem. With hockey being a game of chance, I generally don't put a lot of thought into how much "momentum" is gained after scoring or giving up a goal. However, something everyone can agree on is that the Hurricanes constantly digging themselves into holes early in games is not a good thing and it's something that needs to be rectified sooner rather than later. What's the root of the problem, though? Are the Canes coming out strong and falling behind after making a few mistakes? That would be the best case scenario but unfortunately, there are more than a few problems with the Hurricanes play in first periods this year. If you thought the Canes -6 goal differential in the first period was bad then you might want to advert your eyes, because their microstats are much worse. The Canes have been getting outscored, outshot, outplayed and outworked in the first 20 minutes of just about every game this year. Period GF GA SF SA CF CA 1 4 10 102 130 57 71 2 12 10 134 107 76 51 3 10 13 123 125 68 63 OT 0 1 6 9 5 4 If you wanted an explanation for Carolina's terrible Fenwick Close percentage but decent overall five-on-five rating, this is it. Carolina has been getting demolished in first periods and it goes all across the board. They're playing their way back into games in the second and third periods, but they are also trailing for most of that time, so that makes their numbers here slightly less impressive. The most frustrating thing is that the Hurricanes performance in second and third periods is passable and rather good overall, but the fact that they are trailing by 1-2 goals by that point sort of negates this. A closer look at the scoring chances reveals some even uglier numbers.  Period Total 5v5 PP 5v3 SH 3v5 4v4 EN 1 57 71 41 61 6 8 0 0 1 1 0 0 1 1 0 0 2 76 51 51 41 17 6 2 0 0 1 0 0 0 1 0 0 3 68 63 44 46 10 11 0 0 0 0 0 0 3 2 0 4 OT 5 4 0 0 1 0 0 0 0 0 0 0 4 4 0 0 Totals 206 189 136 148 34 25 2 0 1 2 0 0 8 8 0 4 The Canes have been outchanced by 20 in first periods during five-on-five play alone...that is just awful and it doesn't matter which way you look at it. Again, they are showing a lot of resillence by playing solid hockey in the second and third frames, but always falling behind early isn't going to bode well for them long-term.  It just seems like the team doesn't have any jump in their game for the first 20 minutes and they would rather let their opponents dictate the play instead.  None of this data is surprising to those who have watched the team, though. The real issue is finding the root of the problem and knowing how to correct it. Unfortunately, I don't have much of an answer for this right now because I'm not around the team and am not sure how they prepare for games. Although, I will say that their poor starts do not reflect well on the coaching staff or the player's gameday preparation. If it happens a couple times then it's not a big deal, but the numbers above speak for themselves.  It's strange because the Hurricanes have been nearly the opposite of last year's club. Only instead of being "fragile" and falling apart in the second & third periods, they are falling behind early and climbing their way back into games. Neither are good recipes for success and the Canes will need to sort out their first period issues very soon.
Original Story:
http://www.shutdownline.com/hurricane...
THE BACKYARD
BEST OF MAXIM
RELATED ARTICLES
Jim Rutherford, President and General Manager of the National Hockey League's Carolina Hurricanes, today announced that the team has agreed to terms with center Manny Malhotra (mal-HOH-truh) on a one-year, two-way contract. The deal will pay Malhotra $600,000 at the NHL level, or $125,000 at the American Hockey League (AHL) level, with a guarantee of $250,000. "Manny brings...
According to the Raleigh News & Observer's Chip Alexander, Jeff Skinner will not play this weekend for the Carolina Hurricanes, which would mean two games, at the very least. In his place though, Radek Dvorak may be back in the lineup. The 21 year old Skinner is suffering from an upper body injury. The good news is, it is most likely not a concussion. Sometimes the NHL teams...
RALEIGH, NC – Jim Rutherford, President and General Manager of the National Hockey League's Carolina Hurricanes, today announced that the team has agreed to terms with center Manny Malhotra (mal-HOH-truh) on a one-year, two-way contract. The deal will pay Malhotra $600,000 at the NHL level, or $125,000 at the American Hockey League (AHL) level, with a guarantee of $250,000. ...
from Luke DeCock of the News & Observer, Long before they lost both Cam Ward and Anton Khudobin to injuries in the space of 10 days, the Hurricanes lost Frederik Andersen to a contract squabble. They had taken the Dane with the 187th pick of the 2010 draft, and he looked like one of those rare late-round picks who might actually pan out. But Andersen refused to sign...
Something you may have noticed is that I've expanded my game recaps this year and have included analysis of both zone entries and zone exits. Why? Because hockey analytics are growing and there are enough tools out there for us to look at the game beyond just goals, points and stats that are tracked at arenas. I've always had kind of an obsessive personality and would rather...
A signing that went relatively unnoticed a few weeks ago was the Charlotte Checkers signing veteran center Manny Malhotra to a professional tryout contract. A former first round pick, Malhotra has been in the league for 14 years and while he has never lived up to his draft status, he has built a reputation as a solid defensive center. He spent the last three seasons with the Vancouver...
Where do I begin with this game? There are so many errors and examples of terrible play that I could single out but I wanted to keep this post reasonably short. I'll just say this: The Hurricanes played, by far, their worst game of the season and looked completely outmatched by the Penguins. A three-game losing streak isn't the end of the world and it's still early in...
With Cam Ward weeks away from returning and Anton Khudobin's availability in doubt and the Rick DiPietro experiment underway with the Charlotte Checkers, the Canes' goaltending job belongs to Justin Peters. Canes coach Kirk Muller said Monday that Peters has "the ball." For now he's the No. 1 goalie, the best option. Against the Pittsburgh Penguins on Monday...
Hurricanes News

Delivered to your inbox

You'll also receive Yardbarker's daily Top 10, featuring the best sports stories from around the web. Customize your newsletter to get articles on your favorite sports and teams. And the best part? It's free!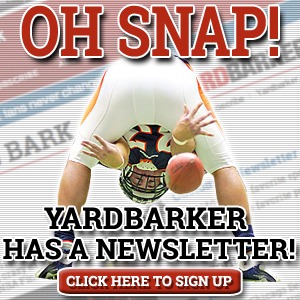 Latest Rumors
Best of Yardbarker

Today's Best Stuff

For Bloggers

Join the Yardbarker Network for more promotion, traffic, and money.

Company Info

Help

What is Yardbarker?

Yardbarker is the largest network of sports blogs and pro athlete blogs on the web. This site is the hub of the Yardbarker Network, where our editors and algorithms curate the best sports content from our network and beyond.