Found June 14, 2013 on Fox Sports:
The Miami heat pushed "The Button" on Thursday in San Antonio, a button they seem to use only when they really need it, like Popeye's spinach. LeBron James showed up in camouflage, which may or may not have been a coincidence, and the Heat got big games from their Big Three, using a fourth-quarter surge to put away the Spurs, 109-93 . So the narrative of the series changes again, and you may find it helpful to know what you can and can't say about it after Game 4. Some stuff you can't say after Game 4 "Chris Bosh is a ninny" Bosh was responsible for one of the great facepalm moments of the NBA playoffs, when he cocked back and slammed home a thunderous dunk -- but right after time expired in the first half. But he has to be forgiven because he played his best game of the series, going for 20 points and 13 rebounds . Bosh rightfully takes a lot of heat for his tendency to float around on the perimeter and not get rebounds, but this just isn't one of the nights you can rip him. "Manu Ginobili has really come to play this series" The thing about older players is that, while they may not be able to bring it every night like they did in their prime, maybe they can do it two out of three, or at least show the flashes from time to time. Well, we're four games in and the Spurs are still waiting for Ginobili to flash something. He has 30 points in the series and he's 3 for 16 from the 3-point line. With Danny Green and Gary Neal floating back down to earth after Game 3 (they combined for 13 3-pointers and 51 points in Game 3, but only six 3-pointers and 23 points in Game 4), San Antonio needs to look across the floor. Like Miami on Thursday, the Spurs need their Big Three to play well, and it's starting to look like Ginobili just might not add much to Tony Parker and Tim Duncan. "I know who Jesse Williams is and what the deal is with him" You're innocently watching your glowing furniture and then -- boom -- there's this guy on the screen calling himself "Jesse Williams" and encouraging you to keep up with what he's up to via Twitter, except he doesn't seem to be up to anything at all. He's just sitting there taking photos with his phone the whole time. And he pops back into your living room at halftime and shows you his uninteresting pictures and then he's gone. He's obviously selling that phone, but this is a confusing marketing scheme, is it not? ( Yeah, I know he's that guy on 'Grey's Anatomy.' But I didn't tune in to watch a soap opera. ) Some stuff you can totally say after Game 4 "Gary Neal would make a terrific wingman" Any time Gary Neal walks into a room, he's the most confident guy in that room. He'd be a great wingman, because he'd never see a number he didn't think you (or he) could get. We know this because Gary Neal thinks nothing of taking a 26-foot shoot over Lebron James in the NBA Finals, and makes it. "That kid who sang the national anthem has some real cojones" Let's just start with his age. Sebastien de la Cruz is 11. Remember being 11? Did you ever perform in front of 20,000 people at that age? Well, Sebastien did (along with millions watching on TV), and he took all kinds of racist crap for it on the Internet because he wore a mariachi outfit when he sang the national anthem before Game 3, and then he showed up before Game 4 and did it again. And he sang the pants off the song, and he gave the crowd a little wink and a little gesture and basically carried himself like freaking Usher. "Dwyane Wade isn't done yet" For a great team, the Heat are awfully inconsistent. For the duration of the Big Three Era, they have had an infuriating ability to look doomed one night and unbeatable the next, and lately that has a lot to do with Wade. He is not the same player he once was, and isn't expected to be, but he was looking slow and tired and washed up the first three games of the series. And then he scored 32 points and got six steals in a series-evening Game 4. "He was Flash again," James said.
Original Story:
http://msn.foxsports.com/nba/story/nb...
THE BACKYARD
BEST OF MAXIM
RELATED ARTICLES
For those of you wondering what Miami Heat star LeBron James decided to wear to the AT&T Center for game four of the 2013 NBA Finals, wonder no more! Thanks to the fine folks over at SB Nation, they caught this screen cab of LeBron entering the Miami dressing room dressed in a camouflage vest and black t-shirt/pants:
LeBron James scored 15 points playing with the aggression and ferocity that everyone expects of the four-time MVP, and the Miami Heat and San Antonio Spurs went into halftime tied 49-49 in Game 4 of the NBA Finals on Thursday night. James scored 11 points in the first quarter and also had four rebounds to rally the Heat back from a 10-point first quarter deficit. Dwyane Wade added...
After Miami Heat star LeBron James scored a dysmal four points in the first half of game three of the 2013 NBA Finals, Golden State Warriors guard Stephen Curry decided to go in on him. Curry was in control of the ESPN Sportscenter Twitter account and posted the below Vine video of his daughter scoring a basket on a Fisher Price hoop: #StephCenter Halftime Recap: LeBron James 4 Pts...
 Game 4: Miami Heat vs. San Antonio Spurs 9 p.m./ABC -- Spurs lead 2-1 15 points. 7-for-21 shooting. 1-for-5 shooting from beyond the arc. And, most importantly, Spurs 113, Heat 77. These are the numbers undoubtedly rattling around in LeBron James' head after his Game Three disaster of a performance that now has Miami almost with its backs to the wall facing two more...
Win or Lose it's all about LeBron James. We tend to forget there are 9 other people on the court. He's a force of nature, but LeBron isn't the only reason for Miami's uneven play.
Was anyone else wondering what happened to the fashion once the NBA Finals started? For some odd reason there just hasn't been anything worth talking about since the series began. If anyone was going to sport something strange it would be the Heat That is, until now. Dwyane Wade, Chris Bosh, and LeBron James may have discovered the secret to their success; dress like weirdos...
I joined Justin Hull on The Home Stretch to talk about the haters ripping on LeBron James, why San Antonio's role players needed to step up in Game 3 and the NBA Draft.
- Since the 2-3-2 in the NBA Finals, the winner of Game 3 has won the series 92 % of the time (12-1). The Heat beat the Mavericks in 2011 but lost the series. - The Spurs made 16 three pointers in Game 3 a NBA Finals record - Danny Green 16 made three pointers are most of any Spurs player in the NBA Finals - The 36 point loss by the Heat in Game 3 is the worst in Heat postseason...
Game Two was the kind of game good teams have nightmares about. The defense and principals of a team break down and it leads to an onslaught of highlights and talk that makes a player and a team doubt itself. Especially when the stakes are so high. The only thing a team can do to fight all this off is to respond the next time out. San Antonio HAD to respond the next time out and...
It started off as we thought it might.  Tim Duncan and Tony Parker are key in a San Antonio Spurs win while LeBron James had a triple double in a Game 1 that could've gone either way.  Then things got weird.  First the Spurs got crushed by the Miami Heat, which isn't too weird, but what was weird is that the blowout wasn't a part of a "LeBron game" or...
All Sports News

Delivered to your inbox

You'll also receive Yardbarker's daily Top 10, featuring the best sports stories from around the web. Customize your newsletter to get articles on your favorite sports and teams. And the best part? It's free!
THE HOT 10: Who's Trending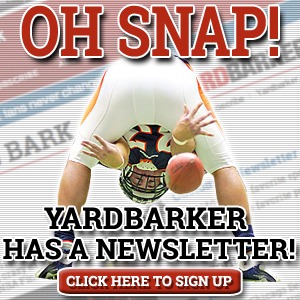 Latest Rumors
The Backyard

Today's Best Stuff

For Bloggers

Join the Yardbarker Network for more promotion, traffic, and money.

Company Info

Help

What is Yardbarker?

Yardbarker is the largest network of sports blogs and pro athlete blogs on the web. This site is the hub of the Yardbarker Network, where our editors and algorithms curate the best sports content from our network and beyond.