Found July 16, 2012 on Monkey with a Halo:
PLAYERS:
Jordan Walden
,
Kole Calhoun
,
Danny Haren
,
Torii Hunter
,
Brad Mills
,
Jerome Williams
,
Garrett Richards
,
Francisco Liriano
,
Matt Capps
,
Jered Weaver
,
Scott Boras
,
Mike Scioscia
,
Mark Trumbo
,
Chris Iannetta
,
Cole Hamels
,
Bartolo Colon
,
Mike Trout
TEAMS:
Los Angeles Angels
,
Minnesota Twins
,
Philadelphia Phillies
,
Oakland Athletics
The July 16th, 2012 edition of daily news for the Los Angeles Angels of Anaheim including Walden placed on DL, Haren likely back July 22, Hunter nursing a sore groin and much more...
The Story: Jordan Walden has been placed on the DL with a bicep strain with Kole Calhoun called up in his place.
The Monkey Says: Waldo might only be out a few days since the move is retroactive to July 9th.  What's interesting is that Jordan says he has had fits of this all season, which is strangely comforting as it might be one of the underlying reasons for his wild inconsistency.  As for Calhoun, he is just up as insurance while Hunter is nursing a sore groin.
The Story: Dan Haren will make a rehab start for Inland Empire tonight and likely start for the Angels on July 22nd.
The Monkey Says: Given the nature of his injury, there is no guarantee that his back won't tighten up on him after the start, so it isn't a certainty, but all reports seem to indicate that Dan is feeling much better than he did a few weeks ago.
The Story: Torii Hunter is nursing a sore groin and considered day-to-day.
The Monkey Says: Reports suggest that the Halos are just playing it safe and that Hunter could be in the lineup as soon as today.
The Story: Brad Mills was sent down to Triple-A to make room on the roster for Jerome Williams.
The Monkey Says: This makes it a virtual certainty that Garrett Richards will get the start on Tuesday.
The Story: The Angels have shown trade interest in Francisco Liriano and Matt Capps.
The Monkey Says: Capps frightens me as he is a mediocre reliever who has been overbilled as a closer.  As for Liriano, he could slot into the rotation should the Angels get fed up with Santana or Haren not be able to get healthy.  However, Liriano has been very inconsistent his entire career, so he is hardly a surefire answer to the Angels problems finding a consistent arm for the back of the rotation.  However, when Liriano is on, he can be outstanding, so it might be worth the gamble depending on what the Twins want in return.
The Story: Jered Weaver isn't concerned about the millions he gave up when he signed a team-friendly extension with the Angels.
The Monkey Says: With the exception of having Scott Boras as an agent, Weaver has never been a guy who has shown much concern over money, so this is not a surprising revelation at all.  What will be amazing to watch though is just what a bargain Weaver's deal looks like after guys like Hamels and Greinke get signed this off-season.
The Story: Mike Scioscia shows no inclination to move Mark Trumbo to the clean-up spot against right-handed pitchers.
The Monkey Says: This is becoming a thing, but it really shouldn't.  Scioscia doesn't like the idea of having the entire top half of the lineup being right-handed, which is a somewhat legitimate concern, so he is keeping Morales in the four-hole.  Trumbo is clearly the better hitter, so he deserves the slot to himself, but it probably isn't hurting the Angels much in the long-run as statistical studies show that switching two batters in the batting order would only cause a marginal improvement, if any.
The Story: The Angels signed all but two of their 2012 draft picks.
The Monkey Says: They missed on their 31st-round and 39th-round picks, so no big deal.  This is a great thing for the Angels, but don't overrate the accomplishment too much as they greatly lowered their degree of difficulty by drafting almost entirely from the college ranks.
The Story: Chris Iannetta says he would like to return to the Angels next season.
The Monkey Says: First, he needs to get healthy and he is reportedly going to start throwing again this week.  The Angels have a reasonable club option on him next season, so he should get his wish so long as the team is comfortable with his recovery from wrist problems.  (NOTE: It appears, but I am not 100% certain, that his option is a mutual option thanks to a clause in his contract because of being traded, so it isn't a lock he'll be back, though it would seem prudent of him to take the guaranteed $5 million and try and rebuild his value after an injury-plagued season).
The Story: The Angels and Phillies each had scouts at each others games this weekend, presumably as part of a potential Cole Hamels deal.

The Monkey Says: This is all just everyone doing their due diligence, so don't go getting excited.  Alden Gonzalez said it best this afternoon when this story came out "I'm told the Angels have a lot of scouts, & their job is to scout teams, & they are in a lot of ballparks, watching players."
The Story: Mike Butcher blames Santana's lack of aggression, not his weight or conditioning, for his struggles.
The Monkey Says: Santana looks a little bloated, but it isn't like he turned into Bartolo Colon, so this makes sense.  Given Ervin's career track record of going sideways for inexplicable reasons, I have little doubt that his problems lie in his mental approach.
The Story: Mike Trout is apparently also known as the Millville Meteor.
The Monkey Says: I hate that nickname.  In fact, I hate any nickname for Trout.  First off, his last name is Trout.  That's enough.  Second, he is so good that I feel as if he is beyond needing a nickname.
[follow]
Original Story:
http://www.monkeywithahalo.com/2012-a...
THE BACKYARD
BEST OF MAXIM
RELATED ARTICLES
Dan Haren allowed two runs on seven hits through five innings in a rehabilitation start at Class-A Inland Empire Monday evening and expressed optimism regarding his impending return from a lower back injury that clouded his effectiveness over a disappointing first half of the 2012 season. Haren, 6-8 with a 4.86 ERA and having surrendered 16 homeruns in 17 major league starts, threw...
By George Alfano - Special to The Internet Home for Angels Fans, AngelsWin.com Haren rehab start with Inland Empire 66ers SAN BERNARDINO, CA -- For the first time since spring training, Dan Haren isn't worried about a stiff back hindering his pitching. Haren threw five innings Monday night during a rehabilitation start, throwing 67 pitches and allowing seven hits...
The Anaheim Angels have placed right-hander Jordan Walden on the 15-day disabled list because of a strained biceps. The move made Sunday before the Angels' played the New York Yankees is retroactive to July 9. Walden has been struggling of late. He gave up five runs in four appearances since July 1 - he only allowed three runs over nine appearances in June. He is 2-2 with a...
The Los Angeles Angels have placed right-handed reliever Jordan Walden on disabled list with a strained right bicep. The move, which was first reported by MLB.com on Sunday, is the latest in a rough season for Walden, who started the season as the Angeles' closer. Walden had saved 32 games in 2001, but lost the job to Ernesto Frieri. He has compiled a 2-2 record with a 3...
I want to hate Bryce Harper and Mike Trout.  Maybe if they played for the Tigers I'd love them but two guys that young, that talented and that successful who aren't on my team?  Honestly, I really want to dislike them. With Trout it's a little harder because somehow he comes across as a good guy and great teammate despite only being 20 years old.  Harper, it's a little...
As always, the rankings are based on a player's overall season performance with a weight on recent performance. RANK PLAYER CHANGE COMMENTS 1 -- 0Last Week: 1 Mike Trout - Between the All-Star Game and then the series in New York, I think I speak for us all when I say that we'ver had more than enough "Mike Trout idolized Derek Jeter" stories to...
Curtis Granderson made the catch of the day by robbing fellow center fielder Mike Trout of extra bases on Sunday. Trout launched a 2-1 pitch deep to center field that appeared to be destined for extra bases, as Granderson was shading the Angels top prospect to right center field. After a long run to track the ball down, Granderson made a stellar catch at the warning track just before...
This is no time to panic. But it might be getting close. The Angels came out of the All-Star break believing they had one of the best bullpens in the American League -- and they did. So what's happening now? Their strength has become a glaring weakness. The relievers can't maintain leads, can't keep opposing hitters off base, can't close out games. They struggled...
NEW YORK (AP) -- Kevin Jepsen got Alex Rodriguez to pop out with the bases loaded in the ninth inning and the Los Angeles Angels took advantage of New York's baserunning follies to beat the Yankees 10-8 Sunday. With seemingly no lead safe recently at Yankee Stadium, Mark Teixeira hit a two-run homer in the ninth off Ernesto Frieri to make it 10-7, the first runs off the closer...
NEW YORK -- The Los Angeles Angels flexed their own muscles Sunday against the homer-happy New York Yankees, then survived a ninth-inning rally to barely hold them off. The Angels chased Yankees starter Ivan Nova by scoring six runs off him, and added five runs against New York's bullpen in a 10-8 win at Yankee Stadium. The Angels and Yankees combined for eight homers, with...
Bryce Harper and Mike Trout are just two of the reasons that baseball's future is getting brighter.
In honor of Torii Hunter's birthday, Youtube user TrueYankeeforever compiled highlights of Torii Hunter from the last season. Play Our Fantasy Game Today and Try Your Hand at Winning $250 for FREE
All Sports News

Delivered to your inbox

You'll also receive Yardbarker's daily Top 10, featuring the best sports stories from around the web. Customize your newsletter to get articles on your favorite sports and teams. And the best part? It's free!
THE HOT 10: Who's Trending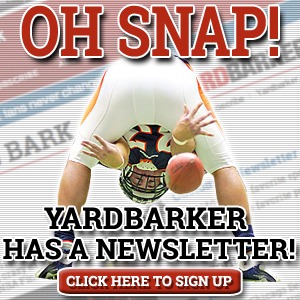 Latest Rumors
The Backyard

Today's Best Stuff

For Bloggers

Join the Yardbarker Network for more promotion, traffic, and money.

Company Info

Help

What is Yardbarker?

Yardbarker is the largest network of sports blogs and pro athlete blogs on the web. This site is the hub of the Yardbarker Network, where our editors and algorithms curate the best sports content from our network and beyond.