Found January 17, 2012 on Fox Sports Kansas City:
PLAYERS:
Alex Gordon
,
Luke Hochevar
,
Eric Hosmer
,
Mike Moustakas
,
Salvador Perez
,
Johnny Giavotella
,
Danny Duffy
,
Everett Teaford
,
Aaron Crow
,
Greg Holland
,
Tim Collins
,
Dayton Moore
,
Melky Cabrera
,
Jonathan Sanchez
,
Jonathan Broxton
,
Jose Mijares
,
Yuniesky Betancourt
,
Kevin Kouzmanoff
TEAMS:
Kansas City Royals
,
Arizona Diamondbacks
,
San Francisco Giants
The Royals have cranked up an ambitious promotion campaign for 2012 a year in which theyll host the All-Star Game at Kauffman Stadium. Beyond the buzz over that midsummer event, however, the Royals theme is aimed directly at what happens on the field. The two-word catchphrase for the coming season: Our Time. Unless youve been watching the Royals from up close, that seems like an ambitious boast especially for a team that finished 24 games from the top of the AL Central in 2011 and has scraped out just one winning season in 17 years. There are no guarantees in sport, of course, but the Royals suddenly appear to have re-invented themselves. Theyve created one of the best farm systems in baseball, and the talent developed through that work and financial investment has begun to produce victories and some goose bumps around the American League. An army of gifted young players appeared last year, and a few of the clubs earlier high draft picks guys like Alex Gordon and Luke Hochevar also began to blossom. Our final record (71-91) was deceiving, insisted Eric Hosmer, the often-magical first baseman who finished third in Rookie of the Year balloting despite missing the first month of the season. Hosmer hit .293 with 19 homers and 78 RBIs after arriving in the big leagues on May 6, and he was so spectacular defensively that it seems certain there will be Gold Gloves in the future. Talk to the teams we played against, especially in the second half of the year when a lot of the guys in our system got to the big leagues, Hosmer said. Believe me, they were taking us seriously. True enough. After Hosmer was joined in midseason by fellow prospects Mike Moustakas, Salvador Perez, Johnny Giavotella, Danny Duffy and Everett Teaford complementing rookie relievers Louis Coleman, Aaron Crow, Greg Holland, Tim Collins and Nate Adcock, all of whom started the season in Kansas City the long-awaited wave of talent finally reached Kauffman Stadium. Perez was awesome behind the plate and hit a stunning .331 in 148 at-bats. Third baseman Moustakas got off to a slow start, then found his stride and was the second-leading hitter in MLB from Aug. 15 through the end of the season. The Royals went 15-10 in September, and most hated to see the season end. We proved we can play with anybody, Hosmer said. Now we want to show it over some full seasons. We want to win championships. Yes, that sounds a bit ambitious at least for 2012. General manager Dayton Moore conceded there is a lot of ground that must be made up. We were 24 games behind Detroit, he said. Obviously, we feel weve brought a lot of talent to the big leagues, and we have more prospects who are a year or two or maybe less away from making their own impact. But we still have to go from 71 wins to a whole lot more. To make that jump in just one year is a big challenge. Having issued a few words of caution, however, Moore is happy to point out that the Arizona Diamondbacks rebounded from a 97-loss season to win the National League West a year ago. Moores personnel moves indicate hes pretty optimistic about the Our Time slogan, as well. The GM traded center fielder Melky Cabrera to the Giants for starting pitcher Jonathan Sanchez who will be a free agent after 2012. Former Dodger All-Star Jonathan Broxton was signed as a free agent to bolster the bullpen, and hes another potential contributor who could leave after one season. Moore found lefty relief specialist Jose Mijares and some solid back-up infielders Yuniesky Betancourt and Kevin Kouzmanoff to help win close games. Its exciting, Hosmer said. The club is making moves to win right now, and thats what were all about. Look at all the young guys on our roster, and Im including Gordo (Alex Gordon) and Billy (Butler). Then you have the guys whove come up about the same time I did, like Moose (Moustakas) and Perez and a few of our pitchers. The Royals have been drafting talent, but weve also been making sure to draft winners. And thats what the minor-league history has been with this group. There have been league championships at (Class) AA and then at AAA. Everyone here now expects to win. Several scouts around the major leagues have suggested that the Royals ultimately will be a playoff team, but that they might have to wait another year or two as young players reach their prime. Hosmer isnt buying that theory. Asked if hed accept a giant step forward say, something like 90 wins and second place in the division Hosmer dismissed the notion as though it were a disease. Second place is the same as last place to us, he said. Ask somebody like Moose if hed like to finish second. Hes a winner, and he wouldnt want anything to do with it. Our goal is really simple. Were here to win a World Series for Kansas City and then win another one. Despite the bravado, Hosmer claims to be realistic. Sure, we understand some other teams are really good, he said. This is the highest level of baseball in the world. Nobodys going to give us anything. But we have the talent in the organization now to achieve anything if we work hard enough. Hosmer laughed when reminded that Royals fans have been asked to be patient while all of the clubs young prospects take time to develop. Im not asking our fans to be patient, he said. Theyve waited long enough. They want to win now, and so do we. You wont find much patience in our clubhouse. Last season may have been about development, or planning for the future. But this year is the future. This year is about winning.
Original Story:
http://www.foxsportskansascity.com/01...
THE BACKYARD
BEST OF MAXIM
RELATED ARTICLES
KANSAS CITY, MO The Kansas City Royals announced tonight that the club has agreed to terms on a one-year Major League contract with infielder Chris Getz for the 2012 season, avoiding arbitration. Consistent with club policy, terms of the contract were not disclosed. The Royals now have five remaining arbitration-eligible players: pitchers Luke Hochevar, Felipe Paulino and Jonathan...
Catcher Brayan Pena and the Kansas City Royals avoided arbitration Monday by agreeing to terms on a one-year deal. Financial terms were not disclosed. Pena hit .248 with three homers and 24 RBIs in 72 games last season. He's expected to back up Salvador Perez, who hit .331 with three homers and 27 RBIs after getting called up late last season. The Royals have six remaining...
The Kansas City Royals and utility outfielder Mitch Maier have agreed to an $865,000, one-year contract that avoided arbitration. Maier can earn an additional $10,000 for making 100 plate appearances and $50,000 for making his first All-Star game. He had 113 plate appearances last season. Maier hit .232 and drove in seven runs while appearing in 45 games as the Royals' fourth...
For failing to garner 5% of votes cast this year, Juan Gonzalez will be dropped from the Baseball Hall of Fame ballot next year, leaving the Kansas City Royals with no former players on the regular ballot. Jason Kendall Do the Royals have any chance of getting a player in the Hall anytime soon? It's looking like it will be a very long time. As I documented in a previous article...
The Kansas City Royals have agreed to terms with Luke Hochevar, Jonathan Sanchez and Felipe Paulino on one-year contracts for 2012, avoiding arbitration with all three players.
KANSAS CITY, Mo. (AP) -- Catcher Brayan Pena and the Kansas City Royals avoided arbitration Monday by agreeing to a $835,000, one-year contract.
KANSAS CITY, Mo. (AP) -- Kansas City Royals owner David Glass says small-market franchises must do whatever it takes to lock up young talent long term, even if it's a sometimes risky proposition.
ROYALS AGREE TO TERMS WITH PITCHERS HOCHEVAR, PAULINO AND SANCHEZ ON ONE-YEAR CONTRACTS FOR 2012 KANSAS CITY, MO (January 17, 2012) — The Kansas City Royals announced today that the club has agreed to terms on one-year Major League contracts with right-handed pitchers Luke Hochevar and Felipe Paulino, and left-handed pitcher Jonathan Sanchez for the 2012 season, avoiding arbitration...
The Braves' Freddie Freeman and the Royals' Eric Hosmer produced seasons significant and notable for more than just the rare level of performance at such a young age.
The Kansas City Royals have been slightly active this week.  They have signed Kevin Kousmanoff to a minor league contract with a spring training invite.  The signing worries me that leaves Yuni out of the backup third base picture and forced into a role a SS.  I can only hope the signing is for depth.  This afternoon we saw random rumors floating around Twitter regarding Billy...
All Sports News

Delivered to your inbox

You'll also receive Yardbarker's daily Top 10, featuring the best sports stories from around the web. Customize your newsletter to get articles on your favorite sports and teams. And the best part? It's free!
THE HOT 10: Who's Trending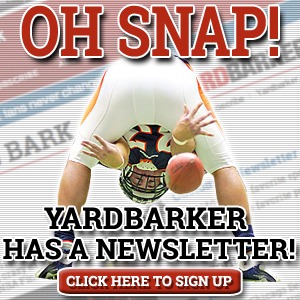 Latest Rumors
The Backyard

Today's Best Stuff

For Bloggers

Join the Yardbarker Network for more promotion, traffic, and money.

Company Info

Help

What is Yardbarker?

Yardbarker is the largest network of sports blogs and pro athlete blogs on the web. This site is the hub of the Yardbarker Network, where our editors and algorithms curate the best sports content from our network and beyond.