Found August 01, 2013 on BlackSportsOnline:
Nearly 3 months after admitting that he was gay, Jason Collins is still without a job in the NBA. Not surprisingly there is speculation from groups, Yahoo Sports reports, that this can possibly be attributed to the fact that Collins in the only openly gay athlete that is active in the NBA. Collins addresses the issue and says: "I look at it, honestly, like any other free agency in the past several years, where I know I have to stay patient.  I know that at this point in my career, you remain hopeful that there's a job and an opportunity waiting for you once teams start to fill out their rosters." Whichever team does decide to sign Collins will be making sports history but will have to downplay it in order not to make it a spectacle for the entire team. We have all seen how a media spectacle can distract a team and debilitate any ability to put together a solid season of production and results. Sadly, this is something to consider, but the reality is that there is way more than goes into this decision rather than the openly gay admission. The facts are that Collins, who is now 34 didn't have much production last season. He size would be intriguing to an NBA GM, but for a big man to average less than 2 rebounds per game is a problem that can't be ignored. Let's all take this for what it is rather than take it as a discrimination issue. Collins seems to be at the end of his career, and there really is no incentive for a GM to place him on a team and expect minimal production.    
Original Story:
http://blacksportsonline.com/home/201...
THE BACKYARD
BEST OF MAXIM
RELATED ARTICLES
Newly minted $80 million man John Wall has a new video out that shows him throwing an alley-oop to himself. Yeah, it's a fake: I'm not really sure what the point is behind this video. I am going to assume that Dime Magazine did it to see how many stupid people there are, because there will be people who think it is legit. I reminds me of some Powerade videos from a few years...
Washington Wizards executives today inked their franchise point guard, John Wall, to a five-year extension. The deal will begin at the start of the 2014 NBA season and run through the 2018-19 campaign. Tallied up, the extension runs upward of approximately $80 million over the five-year span. Which means Wall has become the richest youngster on the Wizards' roster. Wall is a former...
John Wall the foundation of the Washington Wizards' rebuilding efforts for the past three years has signed a five-year contract extension worth approximately $80 million according to a league source with knowledge of the situation. The deal will kick in at the start of the 2014-15 season and keep the point guard with the Wizards through 2019. Wizards President Ernie Grunfeld had...
The Washington Wizards and point guard John Wall have agreed to an extension. The five-year deal is worth $80 million. Wall or, Mr. G Star as he is known in the locker room for his love of the G Star clothing brand, also announced at his press conference on Thursday that his excitement is not only for himself but the people of Washington D.C. as well. Wall plans to donate $1 million...
According to Michael Lee of the Washington Post, John Wall has officially signed a 5-year, $80 million contract extension with the Washington Wizards. The 22-year-old point guard has averaged 16.9 points, 8 assists and 4.4 rebounds in three seasons with the Wizards. John Wall, the foundation of the Washington Wizards' rebuilding efforts for the past three years, has signed a...
Washington Wizards: John Wall Signing Grade By Brandon Hartman: VP of Content and Senior Writer at Hoopstuff…. Wall's contract: 5 years, 80 million -  Half of Washington shook their heads at another bloated contract given out by the Wizards, while the other half blared Troop 41's "John Wall song," while dancing a celebratory dance, as they heard the news. Whether you like...
With his new 5-year, $80 million dollar maximum contract extension, Washington Wizards' star point guard John Wall looks to have one of the brightest futures for young stars in the NBA. According to the Washington Post, Wall's contract is the third richest in franchise history. Only Gilbert Arenas and Juwan Howard had more lucrative deals than Wall. With his deal beginning next...
A day after signing a 5-year/$80 million extension with the Washington Wizards, former Kentucky guard John Wall already knows what he wants to do with at least one of those millions. Wall has decided to give back to the Washington D.C. community that has gave him so much since he was drafted #1 overall in 2010. His $1 million donation to the local charities will also come with some...
Recently, the fine folks over at Dime Magazine name Washington Wizards guard John Wall, the "fastest player in the NBA". In honor of that, they did a photo shoot with John and helped create this viral video clip which shows Wall throwing a full-court alley-oop to himself. Obviously, some camera tricks were involved:
A very nice gesture by Wall. Wall says very excited about signing new contract, not just for himself, but to give back. Will donate 1 million dollars to local charity — Washington Wizards (@WashWizards) August 1, 2013 H/T Stiletto Jill
Wizards News

Delivered to your inbox

You'll also receive Yardbarker's daily Top 10, featuring the best sports stories from around the web. Customize your newsletter to get articles on your favorite sports and teams. And the best part? It's free!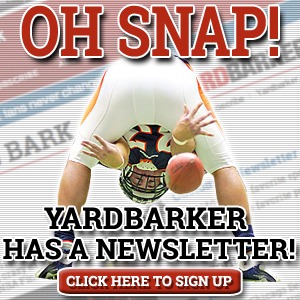 Latest Rumors
Best of Yardbarker

Today's Best Stuff

For Bloggers

Join the Yardbarker Network for more promotion, traffic, and money.

Company Info

Help

What is Yardbarker?

Yardbarker is the largest network of sports blogs and pro athlete blogs on the web. This site is the hub of the Yardbarker Network, where our editors and algorithms curate the best sports content from our network and beyond.