Found October 18, 2012 on Boston's Bettah:
Although the Patriots lost, Chandler Jones was all over Russell Wilson last Sunday
Has anyone named Wes Welker or Jared Mayo been a better player for the Patriots so far this season than Chandler Jones*?
Patriots first round pick and defensive end Chandler Jones has had quite the rookie season so far, leading the Patriots in sacks and having the 11th most in the NFL up to this point. He has been able to effectively rush the passer and always has the possibility of creating a turnover. His play through six games has him as a potential defensive rookie of the year.
He has 5 sacks this year, which is 45% of the Patriots total sacks. The 5 sacks are already more than any season Jones played at Syracuse. He has also been able to consistently rush the passer and move them out of the pocket. He has given offensive tackles all they can handle and then some.
Even though Mark Anderson and Andre Carter had 20 combined sacks and are both gone, Jones has shown that he can progressively get better and be a Dwight Freeney type of player, and can potentially have a consistent impact at defensive end that the Patriots have not had since Richard Seymour. Jones had two great first games, with each one including a sack and a forced fumble. Jones was getting held all night by Michael Oher (good job replacements refs!)  so disregard those statistics because when he wasn't getting held he was rushing Flacco out of the pocket and was a big part in the Gregory interception. Jones has been able to play at a high level consistently while also getting better at the same time.
Although the Patriots lost this past weekend to the Seahawks (sigh), Jones had his best game of the season. He was able to keep up with Russell Wilson, and ended up with a team high 9 tackles and also had a career high two sacks. He also had a strip sack on Russell Wilson and the Patriots were able to recover. Jones has the potential to consistently be a top 5 player on the Patriots in the future, and has been a top five Patriots MVP up to this point.
The Patriots have had two, wait, three problems the past few years. Their secondary, no pash rush at key times (Andre Carter hurt late in season), and the offensive playcalling*. Up till now, Chandler Jones has shown that he can help fix the problem, and he's only a ROOKIE. The Patriots main problem is the secondary. Which reminds me…
Mini Rant
I can not wrap my head around why the Patriots secondary will not turn their head in crucial pass situation. Don't you know that the refs are gonna call that every time? Is Bill not telling you this? Because I'm starting to question the way Bill his handling the secondary, especially how he got so moody when WEEI's Michael Holley was berating him for answers. Hopefully we can fix this problem and start playing like the Super Bowl Champions we know we can be.
For All i Know, or at least think to know, is that if the Patriots get to the Super Bowl, Chandler Jones, amongst others*, will be a huge part in helping us get there. 
*Tom Brady not included
*Tom Brady included
Original Story:
http://www.bostonsbettah.com/?p=5291
THE BACKYARD
BEST OF MAXIM
RELATED ARTICLES
Jets vs. Patriots: Drawing Up a Game Plan for New England | Erik Frenz: Here's Frenz's...
Stevan Ridley took Casual Friday to another level. The Patriots running back strutted his stuff through the Patriots' locker room in none other than an adult onesie on Friday. Ridley prefers to call the getup a "jumpsuit," but it's semantics, really. Nothing takes away from the fact that an adult onesie -- or "jumpsuit" -- is a very...
Shortly before the season began, Rex Ryan ruffled a few feathers by declaring himself the best defensive mind in football, eschewing the likes of Bill Belichick and Dick LeBeau. When it comes to being a head coach, however, he admits there's no contest. "If it was just between (Bill) Belichick and me, he's going to win that battle," Ryan said, via ESPNNewYork.com. "I don't...
Have Tom Brady and the New England Patriots Lost Their Fourth Quarter Magic?No.
artofnfl: New England Patriots
Florham Park, N.J.: Let's not waste time about how "big" or "important" this game is for the New York Jets.  We get it, it's New England.No need for Rex Ryan and Bill Belichick comparisons, or how Rex speaks as if him and Belichick will be on the field taking snaps on Sunday.Let's point out something that, may be obvious, but at the same time, isn...
Tough guys wear onesiesI've always heard that the way to tell a tough team is where they rank in rushing and where they rank in stopping the run.That's the tell tale sign of a physical team, that's tough to play. Over the past few years, the Patriots have not been particularly great in the rushing category. They've also usually been an average run defense.Not so far...
TICKETS!!!! New England Patriots vs. New York Jets @ Gillette Stadium on Sunday, Oct 21, 2012 - 4:15 PM
1. Contain Rob Gronkowski - Gronkowski absolutely murdered the Jets last year, highlighted by his posting eight catches for 113 yards and two scores in their second meeting, a 37-16 Patriots blowout victory. If the Jets want to win, they're going to have to find a way to contain Gronk. That probably means a heavy dose of LaRon Landry and Antonio Allen covering Gronkowski, if the...
After last year's "year of the tight end", Rob Gronkowski and Aaron Hernandez became two of the most threatening receivers in the New England offense. Being in the same division as the best passing quarterback in the league, our very own Tom Brady, the New York Jets had no other option, but to adjust their defense to compete against this powerful offense.Last year,...
America can go get their own ******* team. The New England Patriots are NEW ENGLAND's, and specifically, Boston's team. Go cheer for the ******* Cowboys. I actually had this thought the other day, before Cromartie called them that, when someone on Twitter followed me and their profile was #LakerNation #YankeeNation #PatsNation. It was one of the most sobering things ever...
Turn On The Jets Talks With Pats Propaganda - Jets/Patriots Preview: Here's a Q and A we did...
Patriots News

Delivered to your inbox

You'll also receive Yardbarker's daily Top 10, featuring the best sports stories from around the web. Customize your newsletter to get articles on your favorite sports and teams. And the best part? It's free!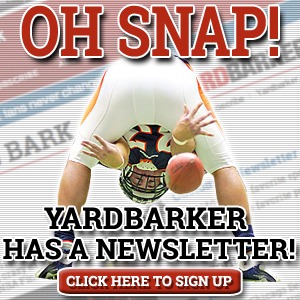 Latest Rumors
Best of Yardbarker

Today's Best Stuff

For Bloggers

Join the Yardbarker Network for more promotion, traffic, and money.

Company Info

Help

What is Yardbarker?

Yardbarker is the largest network of sports blogs and pro athlete blogs on the web. This site is the hub of the Yardbarker Network, where our editors and algorithms curate the best sports content from our network and beyond.