Found July 03, 2013 on Knickswag:
By Chris Connolly The Knicks went into last season with a roster full of one-way specialists. While this strategy worked extremely well in spurts for the Knicks, the ramifications of such players came full circle in the playoffs. The amount of limited players on the Knicks team also made it difficult for Mike Woodson to set a rotation. Whether he was searching for offense or defense, he often found himself scrambling for the right combination of players. Now with the season over and free agency in full swing, the Knicks must address their need of acquiring as many two-way talents as possible. With that said, it leads me to an interesting debate. Who would be the better fit for the Knicks: Chris Copeland or Matt Barnes? My choice may be an unfavorable one for many Knicks fans, who far too often find themselves as prisoners of the moment. Over the past few seasons, this has been the case for fans with Jeremy Lin and Steve Novak, and is now re-surfacing this offseason with Chris Copeland. By no means am I trying to take anything away from Cope, who rightfully deserves the attention he is currently getting on the market; but lets look at the big scheme of things. Cope captivated Knicks fans much the same way Jeremy Lin did. He was a feel-good story, who was given an opportunity on the biggest stage and made the best of his chance. He proved that if given the opportunity, he could come in and put the ball in the basket. He showed the ability to stretch the floor and added a nice dimension to the Knicks offense. You cannot understate his contributions to the Knicks team last season, but looking at the bigger picture, he is limited in many ways. Agree or disagree with the way Mike Woodson used Cope last season, there was a reason why he wasn't a consistent rotation player. He has a glaring weakness on the defensive end, and often looked like a deer in headlights when trying to cover an opposing player. Also, Cope was basically a non-factor on the boards, averaging only 2.1 rebounds per contest. Cope came into last season an unknown and under the radar player in opposing team's scouting reports. Even as the season went on and into the playoffs, Cope was most likely not addressed as a major threat. This is definitely not going to be the case going into next season. As teams make adjustments to shut down a player, what will the player do to counter act the adjustments? If you don't want to factor this in, just ask Steve Novak how difficult it is to make adjustments on the fly. Cope might have a more profound offense game than Novak, but how will he handle altered defensive schemes? This is a major unknown. This leads me into why, if given the choice, Matt Barnes would be my addition to the Knicks roster. Most Knicks fans remember Barnes for his brief stint during the 05-06 season. While he didn't necessarily impress in his time with the Knicks, he has since turned himself into a formidable NBA player. Barnes isn't going to "wow" you on the offensive end, but he is definitely a capable offensive player. He averaged a career high in points last season at 10.3 a game, and also tallied close to 5 rebounds a night. Barnes is no slouch on the offensive end, but he definitely makes his money as a more than capable player on defense. He is a gritty, in your face defender, who often matches up with opposing team's best scorer. Pairing him with Iman Shumpert, another proven lock-down defender, could make for a potent Knicks tandem. As teams in the Eastern Conference have put together quality shooting guard/small forward combinations, having two strong defensive players to match up with them is a necessity. For the Knicks, taking on Barnes would be a logical addition. You know exactly what you are going to get from him. I understand why Knicks fans are so captivated with Chris Copeland. If the price is right for the Knicks financially, by all means sign him up. If the Knicks could finagle a way to add Barnes and also keep Copeland, I would be all for it. The two would actually compliment each other well.  With that said, if Cope decides to sign elsewhere it will not be the end of the world for the Knicks going forward. You must also remember he will turn 30 years of age in his second full NBA season. Copeland is not a 24 year old with a high ceiling, and a lot of room for improvements. He is what he is: A stretch the floor player, who is too slow to guard a small forward and not aggressive enough to bang down low. On the contrary, Barnes is a lengthy veteran swingman, with significant prowess on the defensive end. The post Knicks News: Copeland vs Barnes appeared first on Knickswag - A New York Knicks Blog - News, Rumors, and more!.
Original Story:
http://knickswag.com/knicks-news-cope...
THE BACKYARD
BEST OF MAXIM
RELATED ARTICLES
We've heard a little about the players that the Cavaliers are pursuing in free agency, including Earl Clark and Darren Collison, Chauncey Billups, Greg Oden, and Nikola Pekovic, but a new name has emerged as a frontcourt option. ESPN New York's Jared Zwerling reports that the Cavaliers may be prepared to offer New York Knicks center Chris Copeland a multi-year contract. Source...
STAYING PUT
J.R. Smith and the Knicks reportedly are working out the details on a contract that will keep the NBA's Sixth Man of the Year with the team for another four years.
The New York Knicks and J.R. Smith agreed to a four-year contract worth $24.7 million on Thursday. As the 2013 Sixth-Man of the Year winner, the 27-year-old Smith averaged 18.1 points, 5.3 rebounds and 2.7 assists over 80 contests last season. An erratic gunslinger on the court and a liability off of it, the 6-foot-6, 220 pound Smith is a pricey gamble for New York. Connecting on...
In the event that Chris Copeland walks away form the New York Knicks for more money, do the Knicks reach out to Matt Barnes? According to sources, reps for Barnes have contacted the Knicks to show their interest. Barnes, the former Knick (a few weeks during the Larry brown era) could fill a hole at the small forward position. What He Brings: With the addition of Shawne Williams ...
There's lots of speculation of what the New York Knicks may or may not do to strengthen their point guard position. One thing the organization and the fans can agree on is everyone would like to see Pablo Prigioni return for a second season. The franchise would like to see Prigioni come back so much that they've reportedly offered him a two-year contract. Pablo Prigioni isn't...
J.R. Smith and the New York Knicks are reportedly finalizing a deal that will bring the 2012-13 Sixth Man of the Year back to NY, Adrian Wojnarowski of Yahoo! Sports reports. Smith, spent the last 2 season with New York where he averaged 18.1 points, 2.7 assists and 5.3 rebounds for the Knicks off the bench. Free agent shooting guard, O.J. Mayo is reportedly close to agreeing to...
Getty Images Frank Isola of The New York Daily News is reporting the Knicks have reached an agreement with guard J.R. Smith worth $24.7 million over four years. Breaking: The Knicks and J.R. Smith agree to a new deal, Smith's agent, Leon Rose, tells the Daily News. — Frank Isola (@FisolaNYDN) July 4, 2013   Smith was the NBA's 6th Man of the Year last season while averaging...
Even if he was going to have to take a little less money, I just couldn't imagine JR Smith not returning to the Knicks. Finally they locked him down. Breaking: The Knicks and J.R. Smith agree to a new deal, Smith's agent, Leon Rose, tells the Daily News. — Frank Isola (@FisolaNYDN) July 4, 2013
Pablo Prigioni has agreed to return to the New York Knicks. Prigioni was a 35-year-old NBA rookie last season after a long career in Spain.
Chris Copeland has agreed to sign a two-year, $6.1 million deal with the Indiana Pacers. The New York Knicks will be unable to match despite Copeland's status as a restricted free agent.
Free agent forward Kevin Martin is signing with the Timberwolves, sources say. The deal will be for 4 years and around $30 million, and leaves the Thunder with even less on their squad from the "Here's James Harden for nothing!" decision. Que sera. By the way, there's a 90% chance I thought this was Kenyon Martin when I first heard it. And then a 70% chance I thought it was...
He wanted to come back. The team adamantly let it be known they wanted him back. So, it is no shock that David West and the Indiana Pacers have reached a verbal agreement to finalize a 3-year deal, worth a reported $36 million according to Adrian Wojnarowski of Yahoo! Sports. Instead, the shocker could come for another member of the Pacers now that West is back. The news of...
Knicks News

Delivered to your inbox

You'll also receive Yardbarker's daily Top 10, featuring the best sports stories from around the web. Customize your newsletter to get articles on your favorite sports and teams. And the best part? It's free!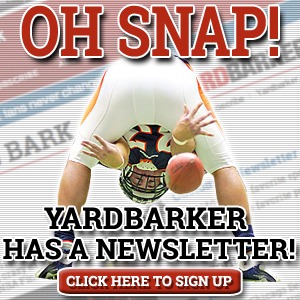 Latest Rumors
The Backyard

Today's Best Stuff

For Bloggers

Join the Yardbarker Network for more promotion, traffic, and money.

Company Info

Help

What is Yardbarker?

Yardbarker is the largest network of sports blogs and pro athlete blogs on the web. This site is the hub of the Yardbarker Network, where our editors and algorithms curate the best sports content from our network and beyond.