Found September 13, 2013 on Fox Sports West:
Lamar Odom has been charged with driving under the influence, the Los Angeles City Attorneys office said Friday. The NBA free agent was arrested Aug. 30 after he was spotted allegedly driving erratically on the 101 Freeway in the San Fernando Valley, the California Highway Patrol said. CHP officials said they spotted Odom driving a white Mercedes sports utility vehicle eastbound on the 101 Freeway near Sepulveda Boulevard. The driver was driving in a "serpentine manner" at speeds of about 50 mph. He is scheduled to be arraigned Sept. 27. Authorities tried to pull over Odom, but he continued driving eastbound, passing Van Nuys Boulevard and Woodman Avenue. He exited at Coldwater Canyon Boulevard and came to a stop, CHP officials said. Odom showed "objective signs of intoxication and was unable to perform field sobriety tests as explained and demonstrated," according to a CHP report. At the Van Nuys jail, Odom refused all chemical tests and was booked without incident, CHP officials said. Drivers suspected of DUI may refuse to take tests in the field, but once they are at a police station, they are required to take a chemical test. If they refuse, they lose their driving privileges for a year. By obtaining a California driver's license, drivers consent to have their breath, blood or urine tested if they are arrested on suspicion of driving under the influence of alcohol or drugs. A driver does "not have a right" to consult a lawyer beforehand, according to the California Department of Motor Vehicles. "If you refuse to submit to any of the tests, youre driving privilege may be suspended because of your refusal," according to the department's handbook. It adds: "Even if you change your mind later and agree to a test, and your BAC blood alcohol content measures 0.01 percent or higher your driving privileges may be suspended for both reasons." The basketball champion and former Sixth Man of the Year hired former O.J. Simpson defense attorney Robert Shapiro to represent him. Odom has made headlines in recent weeks in connection with alleged drug use, including reports last month that he was missing after a fight with his wife, Khloe Kardashian Odom. Drug rumors and some doubts about his character bumped him from the top spot in the 1999 draft down to the fourth pick, which is where the Clippers found him. He played for the Miami Heat, the Lakers and the Dallas Mavericks before returning to the Clippers last year. -- Joseph Serna and Richard Winton
Original Story:
http://www.foxsportswest.com/story/La...
THE BACKYARD
BEST OF MAXIM
RELATED ARTICLES
At this point I think Polina Polonsky would say that Lamar Odom has kilo of cocaine under her bed if that meant she would get on TMZ again. I am not saying she is lying, just seems like she is piling on. There was a report that Odom was buying products to make homemade crack pipes and Polonsky says it's true. Polina tells us, Chore Boy was always laying around the apartment when...
Lamar Odom has just been charged with 1 count of DUI ... TMZ has learned. TMZ broke the story ... Lamar was arrested August 30 at 3:25 AM on the 101 Freeway after cops saw him driving too slow. He flunked several field sobriety tests and was then cuffed and taken to jail where he REFUSED to submit to a blood alcohol test. The fact that he refused the blood alcohol test actually...
This year will be the first year that Doc Rivers will be coaching the Los Angeles Clippers and apparently, he wants to see two of his big stars less on commercials and more on the basketball court. Check out what Rivers told WEEI's Justin Barrasso while attending an Action for Boston Community Development's Hoop Dreams charity event: "Chris Paul and Blake Griffin, the first...
Sweltering Californian bombshell Nikki Leigh turned 25 on Friday, September 14. Please see below for Leigh's measurements and personal information. Born: Cypress, California Height / Weight: 5'3" / 112 pounds Eye color: Blue Hair color: Blonde Bra size: 34C (Natural) Adult relationships: Unknown. However, Leigh did use Twitter to pursue Los Angeles Clippers superstar Blake...
As noted on TNLP, we also do our best to scour our fair interwebs to find the greatest and funniest Instagram clips. This time around, Los Angeles Clippers center Byron Mullens makes an appearance after making this incredible trick shot on a pool table. Watch as he sinks four balls with one shot:
As you can see in the photos above, Blake Griffin and Kris Humphries favor each other in some ways. Casual fans apparently mix up the two pretty often. Humphries and Griffin were working out together at the Clippers facility over the summer and Kris told Blake about a woman mistaking him for the superstar. "I came in the gym and I was like, 'Blake, someone thought I was you...
Brothers? Blake Griffin and Kris Humphries get mistaken for each other all of the time I wonder what Blake Griffin secretly thinks when someone calls him Kris Humphries? Of course Griffin would never openly admit to what he is thinking when called "Kris Humphries," but one could assume he probably isn't too thrilled with it. Humphries on the other hand, probably loves it. This...
The New York Knicks J.R. Smith is only trailing Lamar Odom in the race for the NBA's worst off-season.  Today is 9/11 and many athletes are posting things to show their respect.  But, this guy is such a knucklehead it's not even funny.  The dude is obsessed with his Instagram account like so many other athletes.  But when idiots like him try to actually say something nice...
All Sports News

Delivered to your inbox

You'll also receive Yardbarker's daily Top 10, featuring the best sports stories from around the web. Customize your newsletter to get articles on your favorite sports and teams. And the best part? It's free!
THE HOT 10: Who's Trending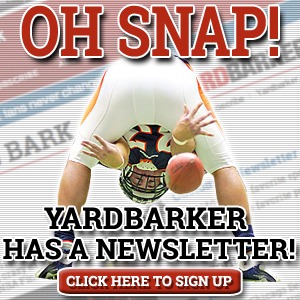 Latest Rumors
The Backyard

Today's Best Stuff

For Bloggers

Join the Yardbarker Network for more promotion, traffic, and money.

Company Info

Help

What is Yardbarker?

Yardbarker is the largest network of sports blogs and pro athlete blogs on the web. This site is the hub of the Yardbarker Network, where our editors and algorithms curate the best sports content from our network and beyond.