Found July 09, 2013 on The Roosevelts:
The division between generations in America's most popular court sport is becoming progressively more apparent; Michael Jordan last played in the NBA ten years ago, and a new generation of athletes now dominate the NBA's landscape. While there are a few players like Kobe Bryant and Tim Duncan who still carry the torch from yester era, it is clear that LeBron James now dominates the game. This is something that is undeniable, regardless of whether you view James as a heroic icon or an anathema. But, the purpose of this article is not to antagonize the already massive legions of LeBron haters and LeBron admirers. Instead, this article is meant to discuss one question: who is the better basketball player, LeBron or Jordan? There will be two aspects discussed: championships and athletic ability. Both of which will be assessed equally. Ultimately, the better player will be crowned. Hence, it will finally put an end to an elongated debate between the legions of basketball fans. First of all, the subject of championships needs to be assessed. Jordan won his first title with the Chicago Bulls in 1991—he was 28 years old during the first of many Windy City triumphs. In contrast, LeBron's impatience for a ring was well documented, as it was an important deciding factor when he chose to depart from the Cleveland Cavaliers and join the Miami Heat. But, the truth is that LeBron and Jordan were around the same age when they both respectively won their first championships. However, what puts Jordan ahead in the championship category is that he was undefeated in the Finals. In contrast, LeBron had two failed trips to the Finals before successfully besting the Oklahoma City Thunder in 2012. Moreover, LeBron's performances in playoffs prior to his maturation were something that can be simply described as insufficient. Secondly, both basketball players in question are phenomenal athletes. But, which player displays a more astounding amount of physical prowess?  James is a 6'8, 250 pound mesomorph with enough strength, power, and explosiveness to be a premier tight end in the NFL. Truly, a player of James' body type is seldom seen in the NBA. Moreover, James is a player who—due to his remarkable physique—can play both the power forward and the point guard positions. Jordan–a player who was 6'6 and just below 200 pounds during his play days—lacked the raw physical strength that James possesses. But, it is worth noting that Jordan had the highest vertical leap ever recorded in the NBA—one that stands at a remarkable 48 inches. Moreover, Jordan's lesser amount of strength can be seen as something of an advantage—a way in which Jordan maximized his skillset. While James passing and shooting ability are both colossal, Jordan possessed a finesse that the powerful LeBron simply does not have. Moreover, while Jordan was certainly guilty of performing non-penalized travels, LeBron—along with the rest of the contemporary association—is guilty of travelling to ludicrous extents. Often, James relies on his massive power to run opposing players over as he attempts to reach the basket. It is clear that both players have athletic traits that are unprecedented. And, as such, a draw must be declared. Simply due to the fact that they possess remarkable but different traits that are hard to compare. Who is the better player? Well, this is truly a hard question to answer because it is a poor question at its genesis; James and Jordan are two different players who are associated with different times periods. There are too many discrepancies between their eras to truly give an accurate comparison. It is true that James will never have an immaculate Finals record. And, it is true that Jordan never possessed a massive 250-pound frame. The comparison between eras is almost impossible—when Jordan was playing, there was little comparison between him and Wilt Chamberlain, Magic Johnson, or Kareem Abdul-Jabbar. Likewise, there shouldn't be such a monumental comparison between the two athletes of subject. Jordan was unquestionably inducted into the Hall of Fame in Springfield, MA—a place where LeBron will join Jordan once his playing career comes to a close. Both players are great, and there is little purpose to the process of needless comparison.
Original Story:
http://www.rsvlts.com/2013/07/09/jord...
THE BACKYARD
BEST OF MAXIM
RELATED ARTICLES
Rising senior Grayson Allen has been busy at the LeBron James Skills Academy working on his game. Check out what the Duke commit hopes to improve this summer as well as what he's looking forward to the most about playing at Cameron Indoor Stadium.
North Carolina commit Justin Jackson is putting on a show at the LeBron James Skills Academy. FOX Sports NEXT caught up with the rising senior to see what he's working on this summer.
LeBron James released a short snippet of him rapping LeBron James at this point can do whatever he wants. The two-time NBA champion released a 26 second clip of him spitting via Instagram. I must say, he is no Shaquille O'Neal on the mic! Actually all jokes aside, 'Bron has some pretty good flow. James freestyles to Jay-Z and Kanye West's" N-ggas In Parris" song. Jay-Z...
LAS VEGAS -- Heading into the LeBron James Skills Academy, Cliff Alexander was the top ranked prospect in attendance. After two games sessions he's proving that's certainly the case, as he's dominating the opposition on both ends of the floor.
LAS VEGAS - Games got started on Sunday at the LeBron James Skills Academy. Cliff Alexander turned in the night's most impressive performance, but several others also had productive days.
FOX Sports NEXT caught up with power forward Abdul-Malik Abu at the LeBron James Skills Academy. The rising senior discusses the newest schools he's hearing from, a timetable for his decision and more.
Tampa Bay Buccaneers running back Doug Martin tasted some success as a rookie, so he's used to having some sense of celebrity at this point in his career. Martin had the opportunity to meet perhaps the biggest celeb on the planet, when he was able to meet LeBron James.  According to Next Impulse Sports, Martin won't take any memories away from his meeting with James, as he took...
There's an easy way and a hard way, and Reid Travis opted for the latter throughout his three days at the LeBron James Skills Academy.
LeBron James went on his second straight post title party tour and ended up in Vegas for the second year in a row, to host at Tao, and party with Floyd Mayweather Jr. In the video courtesy of The Big Lead, Bron Bron apparently wasn't feeling all the picture taking, and video taping of him and Money Mayweather getting their party on. LeBron tells his fans and male groupies to stop...
Though it took place last fall, 2015 Milwaukee (WI) Dominican center Diamond Stone has a vivid memory of his unofficial visit to Michigan. GoBlueWolverine caught up with the five-star prospect at the LeBron James Skills Academy in Las Vegas this week, to reflect upon his time in Arbor, discuss his overall recruitment, his decision timeline, and much much more.
Scout.com released its updated rankings for the Class of 2014 and the University of Louisville's three-man haul to this point is ranked No. 2. The three future Cardinals are all at the LeBron James Skills Academy in Las Vegas and have been impressive through the first couple of days of the prestigious event.
All Sports News

Delivered to your inbox

You'll also receive Yardbarker's daily Top 10, featuring the best sports stories from around the web. Customize your newsletter to get articles on your favorite sports and teams. And the best part? It's free!
THE HOT 10: Who's Trending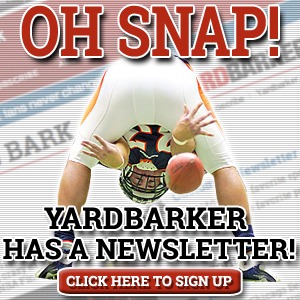 Latest Rumors
The Backyard

Today's Best Stuff

For Bloggers

Join the Yardbarker Network for more promotion, traffic, and money.

Company Info

Help

What is Yardbarker?

Yardbarker is the largest network of sports blogs and pro athlete blogs on the web. This site is the hub of the Yardbarker Network, where our editors and algorithms curate the best sports content from our network and beyond.