Found May 08, 2013 on Fox Sports North:
EDEN PRAIRIE, Minn. Jeff Locke had plenty of contact with the Minnesota Vikings and special teams coordinator Mike Priefer before being drafted by the team two weeks ago. Locke had met with Minnesota at the Senior Bowl and the Scouting Combine. Priefer later conducted a private workout with Locke at UCLA, where Locke's 44.23-yard average is second all-time in school history. Priefer knew the talent Locke holds in his left leg. It's why the Vikings felt comfortable making him the first punter selected in the NFL draft, choosing to make the move in the fifth round to get Locke. As soon as he was drafted, the fate of incumbent Chris Kluwe, who happens to be one spot below Locke on the UCLA punting record list, was all but decided. Even though Minnesota general manager Rick Spielman said Locke was coming in for competition, his eventual replacement of Kluwe was almost a foregone conclusion. "One, the character; two, he's a left-footed punter, which helps; three, he's a great directional kicker; four, he's excellent getting the ball inside at the 20," Spielman said of what separated Locke from the other punters in the draft. "Very good holder, good athlete, so those were all the things once we got into our draft meetings and then, like last year we sent coach Priefer out and did numerous private workouts and came back. When he came back and we were in our special teams meetings, he gave his input into it. Once we gathered all that information, that's why we made the decision." The Vikings didn't cut Kluwe right away. Really, all they needed was to see Locke punt one more time. Just like a year earlier when Minnesota replaced veteran kicker Ryan Longwell with rookie Blair Walsh, Priefer wanted to see how the coveted draft pick handled his first exposure with an NFL team during the team's annual rookie minicamp. With cold weather forcing the team inside for rookie minicamp, Priefer took Locke to the Metrodome to practice. "It went really well," Locke said last week after practicing with Priefer, before adding that the two went through, "kind of just the basics; directional both ways, inside the 20s, backed up. We kind of went through everything, did a couple punts." And just like with Longwell and Walsh last year, the Vikings released Kluwe this week following the rookie minicamp. As it probably was the moment he was drafted, the punting job is Locke's should he not falter this summer. The team was seemingly just waiting to see how he handled an NFL environment. "We just want to make sure that he handles some of the situations that we're going to put him in," coach Leslie Frazier said last week when Locke went to the Metrodome. "We just want to put him in different situations and see how he can respondA similar process (to last year) although a little different position. But try to test him a little bit and see how he handles some different things." The Vikings clearly saw enough of Locke to feel comfortable in their decision. Now it's up to Locke to prove Minnesota made the right move. The Vikings and Priefer probably feel emboldened by the success of Walsh last year. Priefer identified something in Walsh, who had struggled his senior season at Georgia. With NFL coaching, Walsh set several team records and made the Pro Bowl as a rookie. Locke will try to match that success. While there were several rumors of the Vikings' growing uneasiness with Kluwe's outspoken nature and maybe making the move for off-field reasons, Kluwe even called his 2012 season "average." He had the third-highest gross punting average of his career with a 45.0-yard average, which only ranked 23rd in the NFL. Kluwe's career-high net average of 39.7 was 17th in the league. Minnesota hopes for better directional kicking with Locke, who also comes cheaper than the veteran Kluwe. The fact Locke is left-footed is an added bonus. "Left-footed punter has a different spin on the ball," Spielman said. "I know when we play teams that have left-footed punters, we always bring in a left-footed punter for a workout so our guys can get accustomed to that different spin. If he was a left-footed punter and wasn't very talented, then we wouldn't have drafted him. We're drafting him because of his talent." Locke, who grew up playing soccer, wasn't surprised the Vikings drafted him. He said he received the most pre-draft attention from Minnesota, Buffalo, Cleveland, Philadelphia, Baltimore and the New York Jets. But he's with the Vikings now with a job solely his after the anticipated release of Kluwe and he's ready to get to work with Priefer, who will try to mentor another young player into a big season. "I'm just trying to do what I do," Locke said. "I'm not trying to do anything extra. I've just got to keep doing what I've been doing to get to this point, and keep refining my technique." He added: "(Priefer's) great. We get to work every day. We don't waste any time. We come in and we work on everything, all the small points and the technique. Even (last week), we were going through holding, nitpicking on everything. I like him a lot." Follow Brian Hall on Twitter.
Original Story:
http://www.foxsportsnorth.com/nfl/min...
THE BACKYARD
BEST OF MAXIM
RELATED ARTICLES
The University of Minnesota has agreed to allow the Vikings use TCF Bank Stadium as they wait for their new stadium to be built.  The agreement must now be voted on by the University's Board of Regents on Friday. The Vikings are scheduled to play at TCF Bank Stadium for the 2014 and 2015 seasons.  I'm sure they can't wait to play a home game in late December in the out doors...
This is an article about unaffiliated NFL punter Chris Kluwe. He's not technically a member of the Minnesota Vikings any longer, but lick my short shaft, people, because this is now a Chris Kluwe blog whenever I want it to be, so shut your damn mouth. No one complains when we write a bunch of crap about Randy Moss even though he was a 49er, so what's your problem. Anyway...
EDEN PRAIRIE, Minn. On the surface, Shariff Floyd can appear menacing at 6-foot-3, 297 pounds. His ferocity on the football field led him to become a first-round draft pick by the Minnesota Vikings. But up close, Floyd wears an easy smile. He's soft spoken and articulate. "I'm always calm," Floyd said during his introductory press conference in Minnesota. &quot...
Since the Minnesota Vikings chose to cut veteran punter Chris Kluwe on Monday, a debate has raged over whether his release was performance-based or a result of his outspoken advocacy on a number of social issues — most notably marriage equality. Kluwe's days seemed to be numbered when the team used a fifth-round draft pick on UCLA punter Jeff Locke, but some, including Minnesota...
How shocked was I to wake up this morning and see photos of Brett Favre with a machine that wasn't a riding lawn mowe…
It's not often that one of the week's loudest and most frequently cited headlines involves the release of a punter. But when the Minnesota Vikings dropped Chris Kluwe earlier this week, it ensured that during this relatively news less post-draft time, that a special teamer would be in the headlines for awhile. Kluwe spent eight years in Minnesota, being best known alternatively...
Drew Bledsoe throws 70 passes against the Minnesota Vikings in 1994.  Why not? 
No doubt the opinionated ways of punter Chris Kluwe didn't help his employment status, but if the Vikings really did release him for "football reasons," what do the numbers and rankings say about his performance and his replacement? You might be surprised.
Minnesota Gov. Mark Dayton said he doesn't feel good about the Vikings releasing Chris Kluwe and wants honesty about why they made the decision.
Tonight, in a SILVERMAN: On Sports EXCLUSIVE, great friend to the show, Chris Kluwe discussing how he was put on waivers by the Minnesota Vikings. The bad-ass punter discussed, football, gay rights, Jason Collins, his rock music and love of video games. For the entire conversation, listen here! As always, Kluwe is candid and awesome! I also raise the question regarding how supportive...
Hyperice, the California-based portable ice compression device company now has a new partial owner.  Minnesota Vikings running back Adrian Peterson has joined Hyperice as an equity partner, adding to an impressive athlete roster including Steelers safety Troy Polamalu, LA Clippers forward Blake Griffin and U.S. Women's goalie, Hope Solo. "Adrian has always showed amazing...
Sports, politics and social issues. Those are three topics that are often digested separately, but sometimes they come bundled together. That's the scenario that formed when NBA player Jason Collins became the first active athlete in a major American sport to come out as gay. It's also the situation that was often created by Chris Kluwe, the Vikings' former punter. ...
All Sports News

Delivered to your inbox

You'll also receive Yardbarker's daily Top 10, featuring the best sports stories from around the web. Customize your newsletter to get articles on your favorite sports and teams. And the best part? It's free!
THE HOT 10: Who's Trending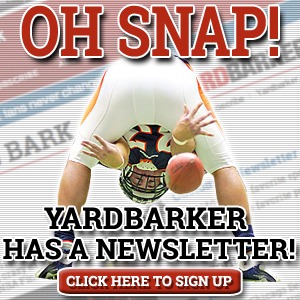 Latest Rumors
The Backyard

Today's Best Stuff

For Bloggers

Join the Yardbarker Network for more promotion, traffic, and money.

Company Info

Help

What is Yardbarker?

Yardbarker is the largest network of sports blogs and pro athlete blogs on the web. This site is the hub of the Yardbarker Network, where our editors and algorithms curate the best sports content from our network and beyond.