What do you get when you combine Mark Cuban, Bill Simmons, the MIT Sloan Sports Analytics Conference, a poorly-conceived gay joke and ESPN's editing practices? A controversy! We apologize for the quality of the preceding statement disguised as a joke, but it's still funnier than the one Cuban actually uttered during the conference's final panel, billed as a "Live B.S. Report: Cuban one-on-one with Simmons" and sponsored by Grantland. Cuban responded to some comments by Simmons about both he and his daughter liking the Kiss Cam with "That's because you and your boyfriend are always on it." (If you're completely unfamiliar with Simmons, well, you're probably not reading this site, but for the record, he's married to a woman.) Cuban quickly tried to backtrack with ""Or his girlfriend, this is gender-independent commentary," but as Yahoo!'s Dan Devine pointed out, it really isn't. However, Cuban has since offered a profound apology on his blog and has promised to do better in the future. While the NBA might do well to consider fining him to show consistency with how they handled homophobic comments by Joakim Noah and Kobe Bryant, or at least to have him lead the way on a new pro-tolerance public service announcement, this still counts as a reasonably mild controversy compared to some comments we've seen sports media figures make about homosexuality. In fact, the most interesting angle of it may be how ESPN conveniently edited the entire exchange out of their posted podcast, and how they told Devine that Simmons' podcasts are "routinely edited." From one angle, editing a podcast isn't necessarily unethical. Many of the podcasts out there are edited before publication, and sometimes that can be a positive; listeners only have so much time, so you don't want to bury them with stuff that didn't work. However, the issue is one of expectations; if listeners are promised a full, uncensored and unedited discussion and instead are getting a carefully worked-over conversation, that can be problematic. It also depends what the editing is for; just cutting uninteresting material is one thing, while avoiding controversial comments is something else entirely. If Simmons' podcasts are routinely edited, it makes the listener wonder what else has been cut out. (By the way, it's notable that Simmons is now being billed as "Grantland's Bill Simmons" in ESPN releases.) The main issue on the editing front is how you bill the podcast. It might be worth stating whether it's edited or unedited. For example, the conference's billing of this as "a live B.S. Report" is problematic, as the eventual posted product was anything but live and uncensored. "A taping of the B.S. Report" would have been more accurate.  Beyond that, though, it's worth asking if ESPN has a journalistic duty to report on these comments. They reported on the comments by Noah and Bryant and the NBA's fines in response; are problematic comments that could be seen as homophobic less worthy of coverage when they're made by a league owner instead of players? The rest of the media doesn't seem to think so, as this has popped up everywhere from The Dallas Morning News to NESN to CBS, Yahoo! and Deadspin. Cuban's comments may be stupid, but they're noteworthy based on the person involved, the league's history with similar comments and the public forum they were delivered in (an ESPN-sponsored conference, interestingly enough). Ignoring these comments when everyone else covers them is troubling, and going as far as to edit them out of a supposedly live, unscripted podcast is even more concerning. It makes you wonder what else they're leaving out of Simmons' various podcasts.  [Ball Don't Lie]
Original Story:
http://www.awfulannouncing.com/2012-a...
MORE FROM YARDBARKER
All Sports News

Delivered to your inbox

You'll also receive Yardbarker's daily Top 10, featuring the best sports stories from around the web. Customize your newsletter to get articles on your favorite sports and teams. And the best part? It's free!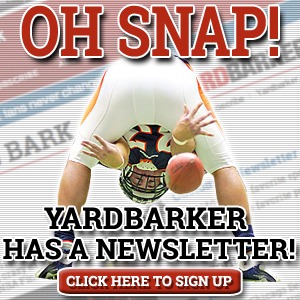 Latest Rumors
Best of Yardbarker

Today's Best Stuff

For Bloggers

Join the Yardbarker Network for more promotion, traffic, and money.

Company Info

Help

What is Yardbarker?

Yardbarker is the largest network of sports blogs and pro athlete blogs on the web. This site is the hub of the Yardbarker Network, where our editors and algorithms curate the best sports content from our network and beyond.