Found December 15, 2013 on The Awesome Boston:
A.B. Following a 6-2 loss to the Canucks on Saturday, Boston Bruins star forward and enforcer, Milan Lucic, a native of Vancouver, seems to have been punched 2… wait… 3 times during an altercation at one of his hometown nightclubs. Although the video doesn't show any punches being landed, it does show multiple witnesses backing up Lucic's story that he was attacked. Each person involved in the scrum, Lucic and the unidentified man, dropped the, "You don't know who you're [messing] with line," although I actually believe that John Doe here probably didn't know he was squaring up with one of the toughest guys in the NHL. At this point there haven't been any arrests or police reports made public but I doubt Lucic is the type to press charges over something he does for a living. Plus, when dealing with Canucks, he can always just kiss the ring like his teammate Brad Marchand.
Original Story:
http://theawesomeboston.com/milan-luc...
THE BACKYARD
BEST OF MAXIM
RELATED ARTICLES
Word of advice; don't get into a bar fight with Milan Lucic. Nobody knows how the altercation started, but it sounds like Lucic took a couple punches to the face. Three, to be exact.   Thankfully there was a police officer at the scene of the altercation, otherwise things could've gotten out of hand. "I'LL (BLEEP) KILL YOU!" – Milan Lucic     The post Milan Lucic...
via CTV British Columbia, A video has surfaced of Boston Bruins forward Milan Lucic apparently involved in a scuffle outside of a downtown Vancouver nightclub. In the video (warning: foul language), which was reportedly filmed Saturday, Lucic and another man exchange words in front of Vancouver police, who had arrived on scene. "You know who you're f**ing with mother...
Milan Lucic is the rarest of breeds in the NHL. Not only will the native of Vancouver score the goal that buries an opponent on the scoreboard, he is also quite capable of dropping his gloves and placing a pounding…Read more →The post Boston Bruins star Milan Lucic "attacked" in Vancouver appeared first on The Hockey Daily.
CSNNEComcast Sports Net New England Bruins reporter Joe Haggerty reported this earlier today.On Saturday night following the Bruins 6-2 defeat to the Vancouver Canucks, Milan Lucic was caught up in an altercation at a nightclub in downtown Vancouver.Below is a video taken from the scene. Be aware that it has some bad language.Courtesy of CSNNELucic addressed the media about the situation...
((HT: Sportsnet))After the Bruins 6-2 loss to Vancouver over the weekend, Boston forward Milan Lucic was "blowing off steam" in a local bar...It is, after all, his hometown...Then he got into a bit of a scuffle outside said bar...Here's video of a little bit of the altercation... CSNNE's Joe Haggerty talked to Lucic- who is done talking about his hometown in a positive...
On Sunday night a video made its way onto the Internet (see it here) showing Boston Bruins forward Milan Lucic in an altercation outside a nightclub in Vancouver on Saturday night. In the video Lucic is seen in an argument with another guy when the police arrive and Lucic protests that he was hit multiple times by the guy. The Bruins were of course in Vancouver to play the Canucks...
So when you get your ass kicked in Vancouver 6-2, what do you do? What do you do? Cry about it? Nah man. You go out barhopping.  Or so was Milan Luic's train of thought, apparently, which is fine unless and you possibly get into a fight (maybe?). Here's video of the aftermath of the altercation: Hooray, drunks! Wonder who Lucic was with? Did Iggy bust another...
After Boston's 6-2 loss to the Canucks Saturday night, Milan Lucic went to a night club to destress after a bad day at the office. **** went down, some bro-dude decided to prove himself  or something,  and there's video of the aftermath that surfaced on the Internet yesterday. After this morning's practice, the media had some questions for Lucic about what happened...
Video: Bruin enraged after being punched!
Image Courtesy: thespokedblog.com Apparently the Bruins didn't leave town immediately after being pummeled 6-2 by the Canucks on Saturday night. Perhaps the only thing more embarrassing than the Bruins performance on the ice was Milan Lucic's off the ice. But of course nobody could embarrass themselves more than Brad Marchand did.  I REALLY hate the Boston Bruins and I am not...
Image Courtesy: CTV If you weren't paying attention to Twitter or sports radio today, you're lucky. It was 2011 all over again with mud slinging all around. And why? The Canucks beat the Bruins 6-2 two nights ago (it feels good to write that), so you would think we could move on to more exciting things than which fan base is more classless and other arguments that are 2+ years...
I don't know that I am prepared for 3 more months of winter. This is the problem with being an impossibly bad college football team. The A's would like a new ballpark, and this looks pretty good. A pretty disgusting story from Vancouver, where a Boston Bruins player was assaulted at a bar. Milan Lucic, the player in question, is actually FROM Vancouver. SCOREBOARD NCAAB North...
Bruins News

Delivered to your inbox

You'll also receive Yardbarker's daily Top 10, featuring the best sports stories from around the web. Customize your newsletter to get articles on your favorite sports and teams. And the best part? It's free!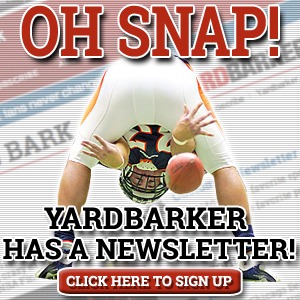 Latest Rumors
Best of Yardbarker

Today's Best Stuff

For Bloggers

Join the Yardbarker Network for more promotion, traffic, and money.

Company Info

Help

What is Yardbarker?

Yardbarker is the largest network of sports blogs and pro athlete blogs on the web. This site is the hub of the Yardbarker Network, where our editors and algorithms curate the best sports content from our network and beyond.