Found November 03, 2012 on Goon's World:
Seal of the University of North Dakota (Photo credit: Wikipedia) Grand Forks, ND – Earlier this week, Ben Rosen tweeted upon arriving in Grand Forks, "just landed in North Dakota… nothing out here but 4 points."  That's not going to happen because UND took game one from the Terriers 4-2. After the game Rocco Grimaldi was asked about the tweet in question. "I don't know, I guess they can say what they want, Grimaldi said.  "Obviously, it's a little added motivation, I know I retweeted it because it's something that I look at – we all saw it – we want four points – so obviously I wouldn't want any of our guys on our team saying that. That's what social media does, you can say things you want and get blasted for it and I know how that goes, it's not that big of deal and he can say what he wants I guess that's fine."   It had been a long time since the University of North Dakota had last played BU in Grand Forks. How long you ask? The last time the two teams played a series at the "old" Ralph Englestad Arena in Grand Forks; Chris Drury was a member of the Boston University Terriers (December 26th & 27th, 1996).  UND would go on to win 6-4 and tie 2-2 against the Terriers in an exciting two game series.  The two teams would play again during the final game of the 1997 NCAA Frozen Four where UND would again win 6-4.   Since the 1996-1997 season UND has a 3-2-1 record against the Terriers. Make that 4-2-1 after UND's win tonight.   Over the fifteen year period, UND and BU played to some great games along the way and tonight was no different, as the game was a hard fought contest from start to finish. Boston University came out of the gate pretty hard and took the play to UND and got a lot of chances early. The Terriers took an early lead on goal by Danny O'Reagan at the 16:52 mark of the first period. UND junior goalie Clarke Saunders would keep UND in the game as BU was pressing and he made some big saves when UND needed him to early in the game. After coughing up an early lead, sophomore walk-on forward Connor Gaarder would go on a tear as he started the scoring for UND early in the second period at the 01:11 mark. But Gaarder wasn't done – he scored two more goals – one more in the second period and then added the game winning goal in the third period after BU freshman Ahti OIksanen (Kirkhonummi, Finland) had tied game in the second period on the power play with a goal while UND was killing a five minute power play.  That was all the scoring that the Terriers would get as the UND forward kept the Terriers pinned in their own end. If you had over looked or are unfamiliar with Connor Gaarder, he is a walk-on player that committed to UND after J.T. Miller de-committed from the University of North Dakota during the 2011 summer. Last season, Gaarder played in 33 games for UND and scored  (4g-6a—10pts). This season, Gaarder is off to a great start and is second on the team in points with (3g-2a—5pts). During the postgame press conference, Connor Gaarder came out holding onto a Vancouver Canucks hat that was thrown on the ice by one of the 11, 589 fans after the scored his third goal of the game. "I got my pick of one hat, so I got that here and I will see if I like any others," Gaarder said. "I got this for Knighter [Corbin Knight], I probably give that to Knighter… he is a big Canucks fan." This was Connor Gaarder's take on getting a hat trick in tonight's game. "It felt good," Gaarder said. "BU is a great team, nice to get the win tonight, it was a big battle and were looking forward to tomorrow night and we're going to have to match the intensity." UND head coach Dave Hakstol was impressed with his walk-on's effort tonight. "He's a good hockey player," Hakstol said.  "He goes to those hard areas – he's not the only one that played a good hockey game tonight – but obviously he was a key player – that's the type of player he is, he's just a hockey player – he's a gritty kid that goes to those greasy areas. Coming off of probably not his best game Saturday night he had a good week of practice and he carried it over to a good game tonight." UND also dodged a bullet when they had to kill a five minute major penalty that lead to BU's power play goal. Head coach Dave Hakstol said that he was pleased that they only gave up one goal on the five minute major to Captain Andrew MacWilliam. BU head coach Jack Parker thought that his team took too many penalties and it wore them down. "Really exciting game obviously," Parker said. "There was a lot of great chances. I thought the penalties wore us down as the game progressed. We got the five minute major on the power play and I got the feeling some of the calls might go the other way for them once they gave us a five minute major. I thought we just had to kill too many penalties the game winning goal was on a five on three; they had other really good chances though too. I thought as the game progress we got a little tired, it seemed to me a couple of time we killed penalties on them, just as the penalty was over we got our fifth on the ice or sixth skater on the ice and we never got out of the zone for another thirty seconds or forty seconds we really struggled with that so we made a couple of mistakes with the pucks that kept them alive and kept them alive and that kind of just wore us out. We didn't generate much offense the second half of the game."  The same two teams play tonight, but only one team has a chance at "4" points. 
Original Story:
http://feedproxy.google.com/~r/blogsp...
THE BACKYARD
BEST OF MAXIM
RELATED ARTICLES
Even coaches get injured sometimes, too. After a two-game absence with a bad back, Boston University hockey coach Jack Parker will return to his normal position behind the bench as the Terriers take on North Dakota on Friday. It will mark the first game outside of Hockey East for BU this season, and they have a tough task ahead of them taking on the No. 5 team in...
Just landed in North Dakota...nothing out here but 4 points #BUHockey twitter.com/BRosen8/status… — Ben Rosen (@BRosen8) November 1, 2012 The much anticipated series between the Boston University Terriers and the University of North Dakota is upon us. This "should be" the marquee matchup of the weekend so the college hockey world will have it's eyes focused on Grand...
Some say you can't go home again, but some locked-out NHLers are putting that to the test with nowhere else to be right now. A pair of former Boston University Terriers returned to Beantown this week to pay a visit to coach Jack Parker and his current squad. Ryan Whitney and Brandon Yip made the trip to BU on Thursday, and brought along Yale attendee Chris Higgins for a skate...
s/t to Stats On Crack... This weekend's series against Boston University had the feel of the NCAA playoffs. I have read some comments on how fans are disappointed that UND lost to the Terriers. I think many are because UND blew a 2-1 lead, but you have to give credit where credit is due. Late in the game, UND made two glaring mistakes in the defensive zone that lead to puck ending...
Grand Forks, ND – If there was a message to be taken away from tonight's game – it was the fact that hockey games are 60 minutes long – not 55 minutes. We had a good third period going, UND Head coach Dave Hakstol said. But it's not a 15 minutes period, it's a 20 minute period and that's what I will keep coming back to." At the 54:38 mark of the game...
s/t to the Boston Hockey blog which is the hockey blog for the Boston University Student News Paper, the Daily Free Press.This is what BU defenseman Alexx Privitera had to say about tonight's game and about an incident that happened in the penalty box of last night's game.
UND's Forward lines 7 Danny Kristo (A)–10 Corban Knight (A)–27 Carter Rowney (A) 21 Brendan O'Donnell– 16 Mark MacMillan–13 Connor Gaarder 9 Drake Caggiula–19 Rocco Grimaldi–17 Colten St. Clair 28 Steph Pattyn–29 Bryn Chyzyk–11 Derek Rodwell UND Defense Parings 4 Derek Forbort – 24 Jordan Schmaltz 2 Andrew MacWilliam ...
UND's Forward lines 7 Danny Kristo (A)–10 Corban Knight (A)–27 Carter Rowney (A) 21 Brendan O'Donnell– 16 Mark MacMillan–13 Connor Gaarder 9 Drake Caggiula–19 Rocco Grimaldi–17 Colten St. Clair 28 Steph Pattyn–29 Bryn Chyzyk–11 Derek Rodwell UND Defense Parings  4 Derek Forbort – 24 Jordan Schmaltz 2 Andrew MacWilliam...
Rangers News

Delivered to your inbox

You'll also receive Yardbarker's daily Top 10, featuring the best sports stories from around the web. Customize your newsletter to get articles on your favorite sports and teams. And the best part? It's free!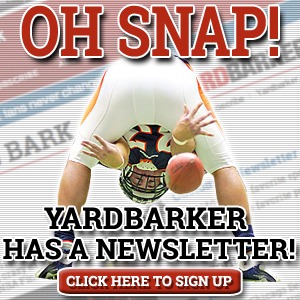 Latest Rumors
Best of Yardbarker

Today's Best Stuff

For Bloggers

Join the Yardbarker Network for more promotion, traffic, and money.

Company Info

Help

What is Yardbarker?

Yardbarker is the largest network of sports blogs and pro athlete blogs on the web. This site is the hub of the Yardbarker Network, where our editors and algorithms curate the best sports content from our network and beyond.