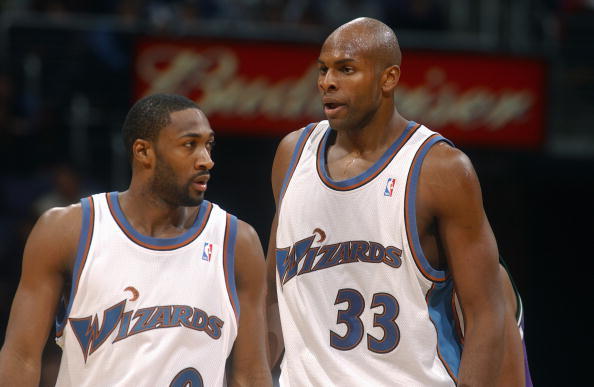 Washington Wizards Gilbert Arenas falls hard after committing a foul on the Miami Heat during the fourth quarter at the Verizon Center in Washington on November 4, 2009. The Heat defeated the Wizards 93-89. UPI/Alexis C. Glenn Photo via Newscom
Getty Images
MIAMI Gilbert Arenas is averaging a microscopic 4.3 points, but he seems happier than most guys who are putting up 20 a night. At Friday mornings shootaround at AmericanAirlines Arena, the guard was all smiles as his Memphis Grizzlies prepared to face the Miami Heat. And why not? What he calls the worst period of his life is over. I call them the dark years, Arenas says of the period between December 2009 and December 2011. Whats funny is I dont remember them. When people ask me about those years, I just dont remember. I guess I just subconsciously blanked them all out Im just trying to have fun now. That gloomy period started when it was came to light Arenas had drawn guns in the locker room with guard Javaris Crittenton when the two were with the Washington Wizards in December 2009. Arenas ended up being suspended for the remainder of the season. From there, I just tried to forget about life, said Arenas, 30, a three-time All-Star who is now just a role player. He says the d...
Read the rest of this story...
MORE FROM YARDBARKER
All Sports News

Delivered to your inbox

You'll also receive Yardbarker's daily Top 10, featuring the best sports stories from around the web. Customize your newsletter to get articles on your favorite sports and teams. And the best part? It's free!