Found December 30, 2012 on Fox Sports Wisconsin:
By JOAN NIESEN FOXSportsNorth.com MINNEAPOLIS When a quarterback talks about surges, most of the time he's talking about linebackers and linemen, about hulking monster-men out for his midsection and the ball. But on Sunday, when Aaron Rodgers talked about surges, he meant something very different. The surge on Sunday in Minneapolis stopped the Packers for a full quarter. It tripped up their offense and made Christian Ponder and the Vikings look like offensive masterminds. It generated a 10-0 Vikings lead after the first quarter, a 13-0 margin with just a few seconds gone from the second. And the surge was not a player, not 300 pounds, not looking for a sack or a fumble. The surge was in the stands, in Rodgers' ears, in the Packers' heads. It was the crowd, the rambunctious, imbibing, purple-clad crowd. "This is a tough place to play," Rodgers said. "They've got great fans who were loud and god into it. You have to sort of absorb the first surge from the crowd." The quarterback wasn't so much blaming the Vikings fans for his team's slow start as he was explaining it. I suppose that's how noise works to quarterbacks; instead of just shrugging and dealing with it and wishing he'd brought ear plugs (any rational fan's reaction), Rodgers had to play over it, or with it, or through it, or something. It was the kind of game where there were enough Packers fans present to generate a healthy buzz, so much so that when Green Bay did something, it was loud. But then the Vikings would score or intercept or run, and loud would be re-defined to an ear-splitting, aggravating, ringing in your ears eight hours later kind of drone. The atmosphere got to the Packers' offense, that was the gist of it all, and it took a full quarter to neutralize it, at least inside Rodgers' helmet. In the second quarter, the Packers scored 10 points, and then 14 in the third, all by executing the same offensive game plan it brought into the game and finally hitting their rhythm. "It wasn't a ton of adjustments," Rodgers said. "It was just you have to kind of absorb the surge when you're playing in a loud environment against a team that's talented on both sides of the ball." "We absorbed that surge. We were able to start getting some first downs and moving the ball a little better in the second quarter." The Packers have left the first quarter with a deficit and won twice this season, both against the Lions, but never with a 10-point deficit like Sunday's. Without that first quarter, it would have been an easy Packers win, and when Rodgers and company scored, they made it all look so simple. The quarterback had a completion percentage of 70 percent, up from his season average, and he finished with 365 yards, his best passing performance of the season. Rodgers was good, if only for those three quarters. "When you're playing playoff-type games and in the playoffs, you have to play a 60-minute game," Rodgers said. "Offensively we played about 45 minutes of really good football. We've got to make it a 60-minute game." The Packers' touchdowns were the stuff of pretty passes quick and long and dead-on and fast drives, not the pushing, pecking, almost frustrating series that characterized the Vikings' afternoon. But no matter how graceful Green Bay looked down the stretch, no matter how calm Rodgers was under pressure or how varied his offensive weapons appeared, that wasn't enough to dig his team far enough out of its hole or to ever claim a lead. There were moments, sure, in the third quarter, when it felt like Green Bay had a solid, healthy lead, but only until you looked at the scoreboard. There it was, the hole, lingering no matter the Packers' momentum or ease. Multiple Green Bay players described the Metrodome as a playoff atmosphere after the game, but that was the work of the Vikings. For the Packers, it was a division rivalry game, and one they wanted very much to win, but you can't manufacture what it feels like to know that if you lose, it's all over. You can't replicate that, even if you're the Packers, even if you want your bye week so very badly. And so now they know. Now they know that Ponder can apparently convert on third down, that Blair Walsh has the most intimidating of legs, that Adrian Peterson will slice and dice your defense into shreds. It's not that they didn't know it before, but Sunday reinforced it. There's so much familiarity here now, along with the lessons of this loss, and just as there will be fewer surprises next week, there will also be a looming sense that the Packers need to assert themselves early. "I think I speak for everyone when I say yes," B.J. Raji said when asked if he's looking forward to seeing Minnesota again next week. "It's tough to let a tough game like this go. It's going to bring up some bad feelings, but we've got to move on and learn from them." Those bad feelings in a nutshell are the first quarter from Sunday. They're a 10-0 deficit, Peterson's 86 rushing yards in those 15 minutes, the offense's inability to convert or sustain any kind of significant drive. They're the sense that the Packers were clawing back throughout, when clawing back can be like Sisyphus and his rock when Peterson is on the other side of the battle. Green Bay doesn't want to claw back next week, not in the playoffs, not against its biggest rivals. It learned that lesson the hard way. The Packers want their rematch to make it right, "in the backyard if we have to," according to Jermichael Finley. "We've got to come out and jump on them at the beginning," Finley said. "We can't let them hang around and get three there, six there. we've got to put our foot on their throat ASAP." And then Finley smiled and cocked his head, as if threatening abstract asphyxiation was just the sweetest thing. But that's what it'll take, it seems, if Sunday means anything. It'll take a solid stomp, a choke, a squeezing early to get the Packers a lead they can keep. Follow Joan Niesen on Twitter.
Original Story:
http://www.foxsportswisconsin.com/12/...
THE BACKYARD
BEST OF MAXIM
RELATED ARTICLES
The Green Bay Packers fell just short in their season finale against the division rival, the Minnesota Vikings.  Adrian Peterson also falls just short in his pursuit of the single season rushing yards record; he missed the record by nine yards in the Vikings 37-34 victory. The Vikings' win gives them a playoff birth and because the 49ers won their game, the Packers fall to the...
Going into the Wild Card Weekend of the NFL Playoffs we've done a Top 10 ranking for the QB, RB, WR, and TE positions. Obviously, the player pools are greatly reduced and that is reflected in the rankings. If you're still involved in any of the various playoff format fantasy leagues/challenges, then these are the [...]The post Aaron Rodgers tops the list for Wild Card Weekend...
While Aaron Rodgers was working his typical comeback magic, Christian Ponder stood tall with important passes at key times.
Dismissing an utterly brilliant performance in a 37-34 loss to the Minnesota Vikings on Sunday, legendary Green Bay Packers quarterback Aaron Rodgers was criticized by the asinine sister of two-time Pro Bowl wide receiver Greg Jennings, Valyncia. As a two-time … Continue reading →
Aaron Rodgers and the Green Bay Packers weren't satisfied with their NFC North title. They went all out for a better seed, hoping for a one-week break. Adrian Peterson didn't let them catch their breath. Minnesota's relentless runner will be coming right back at them next week. Peterson finished 9 yards short of breaking Eric Dickerson's single-season rushing record...
Green Bay Packer wide receiver Greg Jennings finished with 8 catches for 120 yards and 2 touchdowns as the Packers lost to the Minnesota Vikings on Sunday; however, that wasn't good enough for sister Valyncia. Jennings sister felt as though the 12 targets her brother had just wasn't enough and believed her brother was being [...]
Back and forth they went, Adrian Peterson and Aaron Rodgers going at each other with so much on the line. The emotional pendulum swung wildly in one of the most memorable games of this long and bitter rivalry. It was a game so good that it deserves a rematch. And that's just what it will get. Peterson rushed for 199 yards to become the seventh player to surpass 2,000 in a season...
In one of the most remarkable games imaginable, the Vikings beat the Packers 37-34 on a last-play field goal. Adrian Peterson rushed for 199 yards to outduel Aaron Rodgers, who threw for 365 yards and four touchdowns.
EDEN PRAIRIE, Minn. Regular-season NFL games don't get any bigger than Sunday's regular-season finale when the Minnesota Vikings host the Green Bay Packers. In the biggest game for Minnesota since the 2010 season-opener, the stakes are high with playoff positioning on the line for both teams. There's also the side story of Adrian Peterson's chase for the single...
The Packers wanted to be the NFC's No. 2 seed in the playoffs and earn a first-round bye. Instead, Green Bay's loss Sunday in Minnesota not only forces the Packers to play next weekend, it also set up a rematch with the Vikings. Handing out grades following the Packers' 37-34 loss to the Vikings: Passing Offense: A- It's difficult to find much blame in Green Bay...
Of the many changes and upgrades that the NFL has made to enhance its appeal in catering to the needs of its fans, the move to having all divisional matchups in Week 17 is among the shrewdest. The league, specifically commissioner Roger Goodell, have done just about everything right as it relates to the structure of the schedule, the matchups, and providing the most enticing and...
Green Bay Packers (11-4) at Minnesota Vikings (9-6) There are many reasons to like the Vikings here. They've played great football at home, going 6-1 with wins over San Francisco and Chicago, as opposed to 3-4 on the road. They played the Packers tight a few weeks back and that was in Green Bay. They're also playing very good football right now, winning 3 in a row since that...
All Sports News

Delivered to your inbox

You'll also receive Yardbarker's daily Top 10, featuring the best sports stories from around the web. Customize your newsletter to get articles on your favorite sports and teams. And the best part? It's free!
THE HOT 10: Who's Trending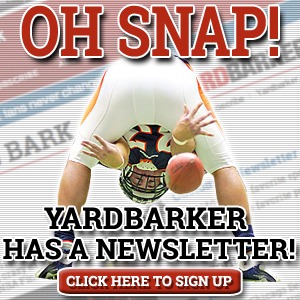 Latest Rumors
The Backyard

Today's Best Stuff

For Bloggers

Join the Yardbarker Network for more promotion, traffic, and money.

Company Info

Help

What is Yardbarker?

Yardbarker is the largest network of sports blogs and pro athlete blogs on the web. This site is the hub of the Yardbarker Network, where our editors and algorithms curate the best sports content from our network and beyond.