Found October 25, 2012 on Fox Sports:
PLAYERS:
Pablo Sandoval
,
Justin Verlander
,
Al Alburquerque
,
Babe Ruth
,
Albert Pujols
,
Gregor Blanco
,
Miguel Cabrera
,
Barry Zito
,
Jim Leyland
,
Bruce Bochy
,
Juan Uribe
,
Marco Scutaro
TEAMS:
San Francisco Giants
,
Texas Rangers
,
Detroit Tigers
,
Los Angeles Angels
,
Los Angeles Dodgers
Pablo Sandoval won a World Series ring in 2010, but not the way he wanted to. That was the year his weight ballooned while his playing time shrank. He appeared in only one game of that Fall Classic against the Texas Rangers -- and went 0-for-3. After Tuesday, he's no longer looking for his first World Series hit. An overweight afterthought in 2010, Sandoval needed only one night in 2012 to become a legend of fall. Such is the magic of October. In Game 1 on Tuesday night, Sandoval homered in his first at-bat ... and his second ... and his third. The first two came against the supposedly unbeatable Justin Verlander. The last of them -- off reliever Al Alburquerque -- moved him into some of the most exclusive company in baseball history. The list of men with three home runs in a World Series game is short -- and regal. "Well, let's see," mused Giants legend Will Clark, after his former team secured a surprising 8-3 victory over Detroit in the Series opener. "We've got Babe Ruth. We've got Reggie (Jackson). And we've got Pablo. So in other words, we've got the Babe, Mr. October and the Panda." Wait: Albert Pujols did it last year, too. "I don't even know what Albert's nickname is," Clark said. "I'm talking about nicknames . We've got good nicknames here." The renown of those to accomplish the feat speaks to the rarity of what occurred at AT&T Park, but also Sandoval's talent and determination. He possessed the ability to put together this kind of night in 2010, but he denied himself that opportunity because of the weight-related diminishment in his production. Two years later, considerably nimbler, he was prepared for the October moment that he feared would never come. "It means a lot," Sandoval said. "(In) 2010, I was part of the World Series. I didn't get a chance to play too much. I'm enjoying this World Series. I'm enjoying all my moments. You never know when it's going to happen again. You have to enjoy this moment. It means a lot for my family, my friends, my teammates. It's a part of your life you have to enjoy. It's not every day." Clark spoke admiringly of Sandoval's work to recover from the May surgery to remove a broken hamate bone from his left hand, along with his perseverance through the ongoing questions about his weight. (Sandoval is listed at 5-foot-11, 240 pounds.) "Nobody ever talks about, he's probably one of the best hand-eye coordinated hitters of this generation," Clark said. "Nobody's ever said a word about that. They just want to talk about his weight. Nobody said nothing about Kirby Puckett. Hit three homers, you lose 40 pounds -- it's amazing." For those in the Giants' clubhouse, there was nearly as much delight in Sandoval's achievement as there was the 1-0 Series lead. Outfielder Gregor Blanco, a fellow Venezuelan, smiled as he said the country's newspapers would be filled with debate over who was the best third baseman in this Series, Sandoval or Triple Crown winner Miguel Cabrera. Game 1 winner Barry Zito, who didn't pitch at all in the 2010 postseason, remarked how cool it was to sit beside Sandoval at the postgame news conference for the evening's stars. Even Tigers manager Jim Leyland described Sandoval's performance as "one of those unbelievable World Series nights they'll be talking about for years." "I'm happy for him," said Giants manager Bruce Bochy, the man who rightfully benched Sandoval for Juan Uribe two years ago. "I'm sure he looks back at that time, that experience he had, and I'm sure he wasn't too happy with how it went in 2010. He looks very determined to show -- not just us, everybody -- what a great talent he is." To the extent that such a thing is possible, Sandoval was building up to a night like this, amassing a .920 OPS with three home runs over 12 games in the National League playoffs. He homered in a gutty performance during Game 5 of the NLCS against St. Louis -- a win the Giants needed to avoid elimination -- despite playing in pain after fouling a ball off his right foot. And as odd as this may sound, Sandoval must have been happy to see the planet's best pitcher on the mound in Game 1. He stroked a three-run triple against Verlander in the first inning of the All-Star Game, one of the biggest reasons the NL earned home-field advantage in the World Series with an 8-0 win. So when Verlander challenged Sandoval with an 0-2 fastball in the first inning -- high, over the middle of the plate, 95 miles per hour -- perhaps we should have been less surprised to see a thunder clap that disappeared into the crowd beyond the center-field wall. What's the secret to hitting a man who began the night with a postseason ERA of 1.08? "I just go in there and don't (think) too much or try to do too much," Sandoval explained. "Get a pitch you can hit. Take advantage of the mistakes." Apparently, it's that easy. At least, Sandoval made it look that way -- again -- in the third. Verlander surrendered his second run of the night on a Marco Scutaro single and then missed with two changeups to Sandoval. Tigers pitching coach Jeff Jones emerged from the dugout in an attempt to settle Verlander. After the conference, Verlander decided to attack Sandoval with a down-and-away fastball, again at 95. Sandoval punched a line drive to the opposite way that kept carrying ... and carrying ... and carrying ... until left fielder Delmon Young stood at the wall and watched it soar over his head. "I knew it was gone off the bat," Young said later. "I just had to give the courtesy jog." The third homer was impressive for a different reason: Sandoval swung at the first pitch from Alburquerque and lost control of his bat. It flew to the backstop -- and broke. To many hitters, this would have been devastating. Sandoval had used the same bat through the postseason. It was in his hands when he hit the home runs off Verlander -- the Venezuelan version of "Wonderboy." Sandoval's reaction? A shrug. And another homer. "I don't get too much superstition," he said, smiling. "There's more bats in there to swing. It's not the bat. It's you. It's everything you've got inside you. If you have faith, you have to believe in yourself." Sandoval does now. He has proved to us all -- and most important himself -- just how good he can be. Of the 11 holdovers who played for San Francisco during the 2010 World Series, he might be the most motivated to win another title. So, what happened to the bat? Sandoval smiled. "The guy from Cooperstown take it." The Hall of Fame. That's where Ruth lives, where Reggie's plaque hangs. Pujols will be there one day, too. On this night, two years after his lonely October, Sandoval belonged with them.
Original Story:
http://msn.foxsports.com/mlb/story/pa...
THE BACKYARD
BEST OF MAXIM
RELATED ARTICLES
We keep preaching to you guys that the World Series might be boring TV when compared to NFL football games, but some of the best stories come from baseball maniacs. Take this chick, Dawn Price. She was all smiles yesterday even after being arrested for snagging one of Pablo Sandoval's home runs. Read this. Please. (She hid the ball down her pants.) Giants fan Dawn Price told CBS...
Pablo Sandoval started off the World Series quite hot. Sandoval homered his first two at-bats off Justin Verlander and then his third homerun came off Al Alburquerque.First homerun:Second homerun:GIFs via Bleacher Report
Pablo Sandoval got the Giants off to a quick World Series start, homering against Justin Verlander in the first and third innings as San Francisco took a 4-0 lead over the Detroit Tigers in Wednesday night's opener. Sandoval hit the first bases-loaded triple in All-Star game history off Verlander in July, and kept on going against the reigning AL MVP and Cy Young Award winner...
San Francisco's Pablo Sandoval became the fourth player to hit three home runs in a World Series game.
The San Francisco Giants cruise past the Detroit Tigers 6-3 behind the bat of Pablo Sandoval and his 3 homer night. In Postseason play, Sandoval has already halved his regular season total by accumulating 6 homeruns. He hit a total of 12 homeruns in 108 games during the regular season. Sandoval's three homerun game was the first at AT&T Park since 2000.  Sandoval's performance...
The San Francisco Giants beat the defending World Series champion St. Louis Cardinals 9-0 Monday night in Game 7 of the NL Championship series.Matt Cain pitched his second clincher as the Giants won their sixth elimination game of the post season. Marco Scutaro matched an LCS record with 14 hits in the series while Pablo Sandoval drove in a run for his fifth straight game.The Giants...
I tried to tell you guys this morning that great things besides baseball happen year after year at the World Series. This morning it was a chick putting Pablo Sandoval's 3rd home run ball down her pants before being arrested. Now comes this Fox guy, Paul Robins, taking a bird deuce to the side of the head and on his coat. It wasn't exactly a Doug Fister shot to the head, but...
Baseball has apparently been taken over, "conquered" if you will, by a master race of giant space pandas. And I, for one, welcome our new panda overlords. Frankly, I've been asking for it with all the fat jokes/Thai Cashew Chicken Breast references. I don't know what Justin Verlander did though.Pablo Sandoval hit home runs in each of his first three at bats against...
SAN FRANCISCO -- Babe Ruth, Reggie Jackson, Albert Pujols … and the Kung Fu Panda. Pablo Sandoval hit three home runs, tying a World Series record held by Ruth, Jackson and Pujols to lead the San Francisco Giants to an 8-3 victory over the Detroit Tigers in Game 1 on Wednesday night at AT&T Park. Sandoval homered in each of his first three at-bats, including two off Tigers...
Completely unbelievable.  It's not torture, and it's not surprise. It's just completely unbelievable. I warned you to expect the unexpected. The unexpected is now an understatement. What we all witnessed in Game 1 was the same thing we all witnessed in Game 7-- complete and utter domination of a team that was expected to take care of the Giants like a garden hose...
(Eds: With AP Photos.) By TIM DAHLBERG AP Sports Columnist The empty champagne bottle sitting in the clubhouse as players passed by on their way to the showers was the only remaining sign of the celebration of a few nights earlier, when the San Francisco Giants somehow found their way into the World Series. There would be no celebration on this night, because the Giants understand...
Yesterday's game was all sorts of crazy, and I think that's best illustrated by the fact that the following sentence is a perfectly valid, accurate arrangement of words: Barry Zito singled off Justin Verlander in the fourth inning to give the Giants a 1-0 lead in Game One of the World Series. Let's see here… Barry Zito started Game One of the World Series for the Giants...
All Sports News

Delivered to your inbox

You'll also receive Yardbarker's daily Top 10, featuring the best sports stories from around the web. Customize your newsletter to get articles on your favorite sports and teams. And the best part? It's free!
THE HOT 10: Who's Trending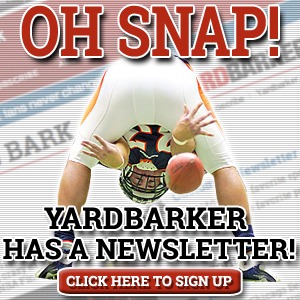 Latest Rumors
The Backyard

Today's Best Stuff

For Bloggers

Join the Yardbarker Network for more promotion, traffic, and money.

Company Info

Help

What is Yardbarker?

Yardbarker is the largest network of sports blogs and pro athlete blogs on the web. This site is the hub of the Yardbarker Network, where our editors and algorithms curate the best sports content from our network and beyond.