Found January 05, 2013 on Fox Sports Carolinas:
Carolina Panthers owner Jerry Richardson made the right decision Saturday morning when he chose to retain head coach Ron Rivera for another season. Rivera has plenty of unfinished business, and he deserves one more shot at achieving some of his goals. Two schools of thought regarding Rivera's future with the franchise have been bandied about in the Queen City, both eliciting strong feelings. The unbecoming numbers effortlessly roll off the tongues of the anti-Rivera brigade: In his two seasons at the helm, the Panthers are 2-12 in games decided by a touchdown or less after going 1-7 this season. Carolina held leads in the fourth quarter in 5 of 9 losses this season and 4 of 10 a year ago, meaning they have essentially blown 9 fourth-quarter leads under Rivera's watch. At 13-19 overall, the team has also failed to even sniff the playoffs. If not for the prolific numbers posted by sometimes-controversial quarterback Cam Newton, the Panthers would have been saddled in NFL obscurity these last two seasons. The pro-Rivera contingent surely recognizes those numbers, but they see a larger picture that suggests the franchise is wise to give this thing a try one more time. First, Rivera inherited a club that posted a 2-14 mark in 2010, and then without the benefit of a true offseason, had to cobble together a roster for last season. Ravaged by injuries, the Panthers got off to a 1-6 start and were 2-8 before winning four out of six to close at 6-10 with Newton making the Pro Bowl after setting numerous rookie records. Rivera was there for OTAs this last offseason, but again, Carolina suffered some key injuries early and the team played poorly, especially at crunch time, and got off to another 1-6 start. Sitting at 2-8 again, Carolina closed by winning five of six games this time, improving by a game from a year ago to finish 7-9. The new coach had excuses the first time around with the lockout affecting all new situations, but this past season he didn't. And that's where the detractors come back into play. They point to five losses that magnified Carolina's inability to win close games. In a 30-28 loss at Atlanta in September, Rivera chose to punt on fourth-and-1 from Atlanta's 45-yard-line instead of going for it. Going for it with 6-foot-6, 260-pound Newton under center made sense, and there was no reason to trust the defense at the time. Brad Nortman punted to the 1, and Atlanta quickly moved 59 yards on the first play and a few snaps later won on a field goal as the clock expired. In addition, there were home losses to Seattle (16-12), Dallas (19-14) and Tampa Bay (27-21 in overtime) as well as 23-22 at Chicago that were true head scratchers. But this is where Rivera gets some needed defense: Newton was 12-for-29 with a lost fumble against the Seahawks, 21-37 with an interception and lost fumble versus the Cowboys, and he was 20-39 with two interceptions in the loss to the Bears. The Panthers were awful in the red zone that day and had to settle for a bunch of field goals. If you'll recall, Newton was widely criticized for his play on the field and how he handled the struggles off of it, mainly in how he dealt with the media. But the light went on and Newton was a different player over the second half of the season. Newton fumbled 8 times and was intercepted 8 times in first seven games but had just 2 fumbles and 4 interceptions over the last nine games. You can crunch the rest of the numbers - rushing, sacks, yards and the only two things that really stand out are Newton taking care of the ball and points scored. The Panthers averaged 18.1 points per game over their first nine contests and 27.7 in the last seven. And with that going hand and hand, the residual effect revealed itself in the standings. Rivera deserves some of the credit for Newton's turn around, but he also should be patted on the back for keeping the team together for a second consecutive season. The players continued working hard and never gave up on his system and the philosophies of the staff. Whatever cat fights that took place mainly remained in the locker room, and nobody shot off about Rivera. In addition, the defense made considerable strides from his first season, even with so many injuries to the secondary, and it was obvious Rivera was improving in how he ran the club from clock management to simply being a CEO. Richardson said he wanted to see marked improvement the day he fired long-time general manager Marty Hurney on Oct. 22, and he got his wish. The Panthers went 6-4 afterward, which was enough to save Rivera's job for another season. Of course, no late-season rally will save him next year. It should be playoffs of bust, but at least the soon-to-be 51-year-old former Bears linebacker will get that chance.
Original Story:
http://www.foxsportscarolinas.com/01/...
THE BACKYARD
BEST OF MAXIM
RELATED ARTICLES
The Carolina Panthers announced Saturday that coach Ron Rivera will return for a third season. Rivera's status was unclear after the Panthers finished 7-9 in 2012. However, Rivera saved his job after the team won six of its final 10 games. Rivera has two years left on his four-year contract. Rivera was on thin ice after the Panthers lost five of their first six games to...
CHARLOTTE, N.C. -- A person familiar with the situation says Carolina Panthers owner Jerry Richardson has scheduled a meeting with Ron Rivera Saturday morning to discuss the coach's future with the team. The person spoke to The Associated Press Friday on condition of anonymity because the meeting has not been publically announced. It's uncertain if Richardson will inform...
The Panthers announced Saturday coach Ron Rivera will be back next season. Panthers spokesman Charlie Dayton says Rivera met with owner Jerry Richardson Saturday morning and was told he will be back for a third season. Dayton says ''He's going about normal preparations for next season.'' Rivera's status with the Panthers had been up in the air pending a...
Carolina Panthers coach Ron Rivera will sit down with team owner Jerry Richardson on Saturday to discuss the future. Richardson hasn't commented publicly on Rivera's status since October but has told Rivera that he wanted to see improvement in the team, The Charlotte Observer reported Friday. The Panthers finished with a 7-9 record and in second place in the NFC South...
CHARLOTTE, N.C. (AP) -- The Panthers announced Saturday coach Ron Rivera will be back next season. Panthers spokesman Charlie Dayton says Rivera met with owner Jerry Richardson Saturday morning and was told he will be back for a third season. Dayton says "He's going about normal preparations for next season." Rivera's status with the Panthers had been up in the...
Carolina Panthers head coach Ron Rivera survived Black Monday, and now according to NFL.com, he'll hang around for at least another season. Rivera and Panthers owner Jerry Richardson met this morning, and Rivera was informed then that he would return.  After a 3-9 start, Rivera's ability to gather the troops, win four straight and improve on the record from the year before probably...
Jason La Canfora of CBS Sports reports that the Panthers coaching situation is "pretty uneasy" at this point in time. Head coach Ron Rivera is set to meet with owner Jerry Richardson this weekend to discuss his future with the team. Pat Yasinskas of ESPN.com writes that Richardson is "clearly agonizing" over this decision and clearly likes Rivera. La Canfora adds that...
Carolina Panthers owner Jerry Richardson and head coach Ron Rivera reportedly met today for a little on-on-one, and the results were positive to say the least for Rivera. Looks like Richardson focused on the positive rather than the negative of a losing season, opting to let Rivera continue his work with QB Cam Newton and a talented at times bunch that he believes can get better...
It was unclear if Ron Rivera would return as the Carolina Panthers' head coach for the 2013 season, but the team made it clear yesterday that they will bring him back for a third year, as reported by Steve Reed of The Associated Press. Owner Jerry Richardson met with Ron Rivera this morning and told him he will be back. — Steve Reed (@SteveReedAP) January 5, 2013 Rivera...
The Carolina Panthers' owner Jerry Richardson and Head Coach Ron Rivera will meet on Saturday to discuss plans for the future, reports Gregg Rosenthal of nfl.com Joseph Person of the Charlotte Observer reports that the Carolina Panthers "have not lost ground to the seven teams that let their coaches go Monday." It is unclear whether Rivera's job is in jeopardy...
Fresh off Oregon's 35-17 victory against Kansas State in the Fiesta Bowl, Chip Kelly has been talking to a few NFL teams looking for a head coach. Chip met with the Buffalo Bills earlier this week and will talk with the Eagles today. Yet the Cleveland Browns look like the front runners for securing Kelly as the head coach to replace Pat Shurmur who was let go by the Browns as Kelly...
Panthers News

Delivered to your inbox

You'll also receive Yardbarker's daily Top 10, featuring the best sports stories from around the web. Customize your newsletter to get articles on your favorite sports and teams. And the best part? It's free!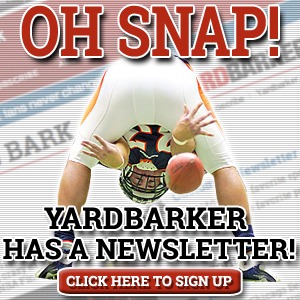 Latest Rumors
The Backyard

Today's Best Stuff

For Bloggers

Join the Yardbarker Network for more promotion, traffic, and money.

Company Info

Help

What is Yardbarker?

Yardbarker is the largest network of sports blogs and pro athlete blogs on the web. This site is the hub of the Yardbarker Network, where our editors and algorithms curate the best sports content from our network and beyond.