This week's Water Cooler features QCS writers Mike Bundt, John Snyder, Mike Straw, Ryan Talbot and Brandon Hess. Mike Bundt: What's up everybody! Not the best result for the Bills over the weekend but I think we can all agree that we saw some progress out of the team. With the game in Ryan Fitzpatrick's hands, Buffalo just couldn't finish the game off. Should Bills fans be disappointed with the Bills inability to close out Sunday's contest? John Snyder: Very. And not so much about the result, rather the inability for anyone other than a rookie from North Carolina to take any blame for another disappointing finish.  They should have won the game, plain and simple, and they gave it away. Ryan Talbot: Very disappointed. The team had to overcome poor officiating and they once again came so close. However, in true Bills fashion, they fell short once again. At some point the Bills need to turn the corner and win these games. Mike Bundt: Obviously, Bills fans should be disappointed with the loss but with their schedule easing up the next few weeks, are the Bills capable of making a run? Sure the playoffs seem out of the question but an 8-8 record still seems possible with a very relaxed schedule down the stretch. Brandon Hess: I'm a big believer in the "you are what your record says you are" mentality, so to me they are a last place team in the AFC East. Also the schedule isn't as easy as many had thought before the season started.  The AFC West isn't a doormat anymore, and games against Indianapolis and Miami will be much more difficult than anyone would have expected after seeing the improved play of both clubs.  Buffalo will be lucky to finish 7-9. Ryan Talbot: I'm not confident in saying the Bills make a run. Miami was awful against Tennessee, but they have looked a lot better than that this season. The Colts offense is very good so they'll definitely give the Bills a game. Seattle and St. Louis will be dog fights too. The only game I feel somewhat confident about is the Jacksonville game. If they lose that game, I don't know how I'll react… Mike Bundt: Moving on to this week's matchup vs. the Miami Dolphins. You never want to see a player get hurt, especially a guy like Fred Jackson whom everyone likes. But with that being the case, how excited are all of you to see what CJ Spiller is capable of doing while getting the brunt of the carries? John Snyder: If he gets the full load, he will show everyone on national TV, primetime, what a star he is and will be in this league. Brandon Hess: The Bills will miss Fred Jackson, but CJ Spiller has already shown that he is more than capable of handling the load of the feature back.  The more puzzling question is why they haven't utilized Spiller more even when Jackson has been healthy.  CJ averaged 7.8 yards per carry in New England yet he only rushed the ball 9 times.  With a turnover prone quarterback you would think Jackson and Spiller would have carried the ball at least 30-35 times on Sunday, not 25. Mike Bundt: This week, the Bills finally get a break as they go up against a team that isn't named the Patriots or Texans. Do you see the Bills getting back in the win column against the Dolphins? John Snyder: The primetime home game makes me want to say yes, but something tells me the Bills will find a way to give it away in another game they will be in position to win Ryan Talbot: Yes. I think the Bills offense does a good job and the defense makes Tannehill look like a rookie. I almost hope the defense tanks all season so there is no chance of Wannstedt returning. Knowing Buffalo's luck, the team will shut down their final seven opponents and we'll be stuck with Wanny for a few more seasons. Mike Bundt: For the Bills to win Thursday night, they will need to __________________. Ryan Talbot: Create turnovers on defense and give C.J. Spiller 20+ carries. John Snyder: 1. Win time of possession  2. Spiller needs 30 touches  3. Limit the run game for Bush/Thomas Brandon Hess: The Bills will need to shut down what will be an angry Reggie Bush coming off a benching against Tennessee, and avoid turning the ball over against an opportunistic Miami defense.  If Buffalo can make the Dolphins one-dimensional on offense and put the game in Tannehill's hands they should be able to end their 3 game skid. Mike Bundt: Well, that does it for another edition of the Buffalo Water Cooler. Hopefully the Bills get back on track Thursday night and squish the fish. Till next time, remember to keep checking out queencitysports.net for all your latest Buffalo sports news. The post QCS Buffalo Water Cooler: Bills Look To Squish The Fish appeared first on Queen City Sports.
Original Story:
http://www.queencitysports.net/qcs-bu...
MORE FROM YARDBARKER
All Sports News

Delivered to your inbox

You'll also receive Yardbarker's daily Top 10, featuring the best sports stories from around the web. Customize your newsletter to get articles on your favorite sports and teams. And the best part? It's free!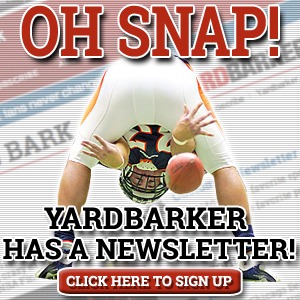 Latest Rumors
Best of Yardbarker

Today's Best Stuff

For Bloggers

Join the Yardbarker Network for more promotion, traffic, and money.

Company Info

Help

What is Yardbarker?

Yardbarker is the largest network of sports blogs and pro athlete blogs on the web. This site is the hub of the Yardbarker Network, where our editors and algorithms curate the best sports content from our network and beyond.