Found December 18, 2012 on Fox Sports Midwest:
PLAYERS:
Steve Spagnuolo
,
Adrian Peterson
,
Jeff Fisher
,
Brian Quick
,
Steven Jackson
TEAMS:
Minnesota Vikings
,
Seattle Seahawks
,
Washington Redskins
,
St. Louis Rams
,
Arizona Cardinals
,
Tampa Bay Buccaneers
,
Green Bay Packers
,
New England Patriots
ST. LOUIS -- This is a reality of the new normal. During the Steve Spagnuolo era, a trip-over-your-shoelaces effort like the one seen in the Minnesota Vikings' rout Sunday may have been excused. It may have been brushed aside as another stink bomb within a foul chapter worth forgetting. But this St. Louis Rams season has been about trying to take an aerosol can to the past. It should include taller expectations. Pick from many undesirables in a 36-22 loss at the Edward Jones Dome that left the hosts thinking, "What's next?" The Rams, playing to keep hopes alive for their first playoff berth since the 2004 season, allowed 23 second-quarter points before digging a 30-7 halftime hole. A foe that entered 1-5 on the road rubbed mud on a navy-and-gold welcome mat, kicked down the front door and muzzled most of the 55,751 in attendance on what was supposed to be Fan Appreciation Day. Meanwhile, all-world Vikings running back Adrian Peterson ran for a season-high 212 yards, pushing a proud defense through a paper shredder. Many bloody noses. Not enough gauze. Simply, it was unacceptable. It was unacceptable, given the stakes (postseason visions now gone). It was unacceptable, given the opponent (dangerous but flawed away from Mall of America Field). It was unacceptable, given the way it was lost (over by halftime). Time to regroup. Time to refocus, before closing the first season under coach Jeff Fisher and general manager Les Snead with trips to the Tampa Bay Buccaneers and Seattle Seahawks. So, where to go from here? "Well, we've got two games left," Fisher said Monday, when asked by FOXSportsMidwest.com. "With success this week, if that happens, we have a chance to finish with a winning record. We have a chance to, if we're successful this week, be undefeated in the division, which is going to be a very, very difficult task, especially up there (in Seattle). So there are challenges. We talk improving. From day one, we've talked about improving." Improving's a start, because Sunday was a step back. Yes, the Rams come with a surgeon general's warning; they're the NFL's youngest team with a roster that included 17 rookies in Week 1. Before, no other Rams team in St. Louis had more than the 13 first-year players from 2003. Still, it's time to remove the training wheels from this Huffy. These Rams never looked too young when beating the Washington Redskins in Week 2 and the Seahawks in Week 4. These Rams never looked too young when tying the San Francisco 49ers in Week 10 and topping the NFC West leader in Week 13. These Rams are far from the steaming mess that went 2-14 last season. Or 3-13 in 2007. Or 1-15 in 2009. There's improved coaching and stronger talent on both sides of the ball. There's reason to believe. That's why more should be expected. That's why Sunday's slide should never become the norm. That's why attention to detail should be treated like gold coins: valued, polished, kept close. "We learned we have to play a little smarter. It's always little things," Rams wide receiver Brian Quick said Monday, managing a slight smile. "Those little things turn into big things, big problems, during the course of a close game when you start playing teams further down in the season. That's what we learned, because we have what it takes to be one of the greatest teams." Quick could prove right in time, but great teams must wade before they dive. This is where the Rams stand: Tiptoeing toward the pool's deep end with floaties around their arms. Finishing with a winning record for the first time since going 12-4 in 2003 would show maturity. So would closing with an unbeaten division mark; the Green Bay Packers, 5-0 in the NFC North, are the only other team in the conference with a similar chance. (The Rams are 4-0-1 in the NFC West.) The next two games will reveal much about the Rams' mental strength. With playoff hopes all but dashed, will they swing back with a second wind? Or will they be gassed? Will they replay Week 12 against the Arizona Cardinals? Or will they replicate Week 8 against the New England Patriots? "Now I have to show these guys how to finish strong," Rams running back Steven Jackson said Sunday, after passing 10,000 career rushing yards late in the third quarter. "These two games, we want to go out and win. They're going to be tough, because they're on the road. But you want to build something to go into the offseason." This season has been about building since Fisher's hire. Why stop? It has included a little of everything: Pain and progress, grimaces and growth. It's a new day with new demands. Any whiff that brings to mind the past should never be tolerated. You can follow Andrew Astleford on Twitter @aastleford or email him at aastleford@gmail.com.
Original Story:
http://www.foxsportsmidwest.com/12/18...
THE BACKYARD
BEST OF MAXIM
RELATED ARTICLES
We all remember Danny Amendola throwing a tirade (and his helmet) after breaking his collarbone earlier in the season. Now healthy, the Rams receiver has resumed launching projectiles. During Sunday's game against the Vikings, Amendola reeled in a touchdown reception and proceeded to do his best Rob Gronkowski impression, spiking the football. Unfortunately for one helpless...
St. Louis Rams receiver Danny Amendola spiked a football into a man's face, and appeared to break the man's glasses, after scoring a touchdown in the fourth quarter of Sunday's NFL game against the Minnesota Vikings. Amendola may want to plan his touchdown celebrations better in the future. Not only does he owe this man a new pair of glasses, but the Rams were down...
ST. LOUIS Another season will end for Steven Jackson and the Rams in two weeks. And for the eighth straight year, it wont include a trip to the playoffs. Ahead in the next few months will be a fascinating storyline to watch unfold as Jackson decides whether or not to opt out of his contract and become a free agent. The options are quite simple: Jackson could take the 7 million...
During yesterday's Rams – Vikings game, St. Louis wide receiver Danny Amendola scored a touchdown and spiked the ball in the back of the end zone while celebrating.  Unfortunately the ball hit an older gentleman in the head and apparently broke his glasses. Hopefully the man learned that he will need  to move back from the end line next time.   Need NFL Tickets? var _CI...
The St. Louis Rams are expecting to be without offensive lineman Harvey Dahl for the remainder of the season after he suffered what's believed to be a torn biceps late in last weekend's contest against the Minnesota Vikings, reports Jim Thomas of the St. Louis Post-Dispatch. Right guard Harvey Dahl suffered what the Rams suspect is a torn biceps late in the game and almost...
Pow! Right in the kisser! Rams receiver Danny Amendola caught one of QB Sam Bradford's three touchdown passes in St. Louis' 36-22 home loss to the Vikings.  While Amendola's TD reception was somewhat a thing of beauty, his spikes need a bit of work, as his celebratory spike of the football bounces off the turf and nails a stadium usher right in the head. Judging by the poor...
As we have previously noted on this fair website, if you happen to be near an NFL sideline...you have to keep your wits about you. After a touchdown reception by St. Louis Rams wide receiver Danny Amendola, one Rams usher took his eyes away from the ball. Watch as Amendola's spike takes away his glasses in one fail swoop: (Courtesy of Mock Session)
First, we should address the fact the Adrian Peterson went HAM again vs. the Rams on Sunday. What a fuggin' beast this guy is… I am in awe of this dude. Here's the thing with the Amendola spike. I know he didn't mean to do it. I know Gronk spikes the crap out of the ball every weekend and it never hits anyone (or does it?), but there's just something that rubs me the wrong...
((HT: NFL on CBS/Awful Announcing)) AA gets the official heads-up on this one... The Rams were trying to come back in their game with Minnesota where: 1) Adrian Peterson was running like he had a plane to catch and, 2) Blair Walsh was getting the HQ a LOT of fantasy points But part of the game showed just how dangerous celebrations could be... Danny Amendola scored...
We have seen some weird things happen this year in the NFL. From controversial calls by the replacement refs (and regular refs) and the sprinklers going off during the Dolphins game. Now we have this. Danny Amendola celebrates a touchdown with a traditional spike, but it gets to close to comfort for an usher who gets nailed right in the face as the football bounces up off the ground...
The St. Louis Rams are looking at another season without a postseason appearance. Winners of three straight games before a 36-22 loss Sunday to Minnesota, the Rams had a chance of making the playoffs if they won their final three games. Now, the final two games serve mostly as a tuneup for next season. ''I don't think they're thinking about next year or the future...
Pickups of the WeekDanny Amendola, WR, Rams (50.4 percent owned in ESPN standard 10-man leagues)Week 15 stats: 6 rec, 58 yards, 1 TD, 12 TargetsAmendola is back receiving a high amount of targets from Sam Bradford and faces a league-worst Buccaneers pass defense that was just demolished by Drew Brees and Nick Foles. The Aqib Talib-less secondary is just as horrible as you think it...
All Sports News

Delivered to your inbox

You'll also receive Yardbarker's daily Top 10, featuring the best sports stories from around the web. Customize your newsletter to get articles on your favorite sports and teams. And the best part? It's free!
THE HOT 10: Who's Trending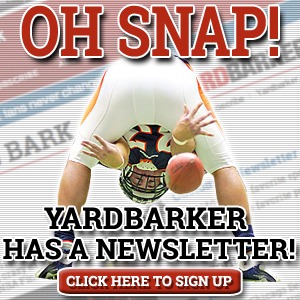 Latest Rumors
The Backyard

Today's Best Stuff

For Bloggers

Join the Yardbarker Network for more promotion, traffic, and money.

Company Info

Help

What is Yardbarker?

Yardbarker is the largest network of sports blogs and pro athlete blogs on the web. This site is the hub of the Yardbarker Network, where our editors and algorithms curate the best sports content from our network and beyond.