Found December 21, 2012 on Fox Sports North:
MINNEAPOLIS No one waited for Ricky Rubio.They scattered fast, the Minnesota Timberwolves, after Thursday's 99-93 upset of the Thunder, but Rubio remained in his signature long ice bath, doing whatever he does that last year made the media queue at his locker, clawing their way to the front of the scrum, deadlines seemingly irrelevant.A week ago, following his debut, Rubio talked first before he disappeared into the locker room. It was rare, but Saturday was a show. The Ricky Show. Since then, though, it's been one very blah game in Orlando, a night on the bench in Miami, and then, on Thursday, a night in which Rubio was very much irrelevant.So it's back to routine, except this time, there was no need to talk to him, not after he finished with three rebounds, three assists, a steal and two turnovers, with exactly zero points. No need to pick apart the game with Rubio, to hear his breathy replies, to even ask the point guard how he feels.It's fickle, on one hand, but it's also exactly what he needs.One game back, and Rubio was the hero, the spark, the missing piece, the stuff of legend come to life. But two out-of-shape legs and one knee so fresh from bum can't support that. Maybe for a game, but certainly not for a season. Two losses, one with him logging just four assists and two rebounds, the other with him on the bench, and it seemed like the pressure might be mounting. The Timberwolves were 1-2 since his return, their only win coming when he was playing like no one fresh off a torn ACL should ever be expected to play. Any conclusion drawn from that small sample size would have been that the Timberwolves needed Rubio to win, needed him at his best.Thursday proved otherwise.Rubio looked tired and rusty, hesitant to take his open shots. He looked frustrated at times, hardly the free-wheeling, easy player we saw on Saturday or even the tired one who cameoed in Monday's loss. He was cramped, not literally, but in a bigger sense."He's just trying too hard," coach Rick Adelman said after Thursday's game. "He's trying too hard, and this is a very quick team. They're trying to take things away from him. But that's to be expected of him. He has to understand, he has other guys. He doesn't have to do it all. Pick his spots."Rubio is still on his 16- to 18-minute limit, and there's been no word about it letting up. Same with his ban from back-to-back games (though the next such stretch isn't until Jan. 2), and Adelman gets the sense that when he's in the game, for those precious, precious minutes, he's trying to cram too much into too little time. He's trying to take nine minutes a half, the coach said, and compress a full game's worth of work into them. It worked Saturday, but nine assists in 18 minutes is hardly the most sustainable of efforts, and now that Rubio is back among the mere mortals, he'll need to learn how to best use whatever time he's given.Because we all know the show that is Ricky Rubio is best executed without restrictions, or is oblivious to them, when things like time and convention and a fragile knee are irrelevant. So with him to be trying too hard, forcing his game well, you know it isn't going to be quite right.For now, it's okay to ignore Rubio, to let him get his legs beneath him and his mind right. It's easier to do so when his teammates are putting on the theatrics of Thursday night, but even when they're not, even when they're slow and shaky and uncertain, it's not Rubio's fault, and his mere presence won't always be able to cure it.Going forward, the point guard is going to have plenty of external pressure. He's heard what his coach has said so many times before, how the team fell apart without him last season, how it never realized until he was gone how much he meant. He's heard Adelman say how much he rubs off on other players, how his work ethic and attitude are contagious. They're compliments of the highest order from one of the league's more taciturn coaches, all of which Rubio should take to heart, but of course they add to the expectations. So does hearing ad nauseam about Adrian Peterson, whose recovery from his ACL tear was as quick and uneventful as Rubio's and who thundered back into the NFL to the tune of 129 rushing yards per game and a very real MVP campaign; the two had the same surgeon, and Minnesota is already priming RR to be basketball's version of AP.Stop, though. Let the kid breathe. Let him have his invisible nights, and let him learn that he has a team behind him, one that can beat the best in the NBA, at least on one charmed night in December. Eventually, then, he'll become Ricky Rubio again, maybe not at Adrian Peterson's pace, but at whatever pace works best for him."I totally expected him to have problems," Adelman said. "It's just nice to have him on the court."Maybe Saturday was a tease, but it's hard to argue against the Rubio effect, and for a little while, at least, it may have to be enough. Follow Joan Niesen on Twitter.
Original Story:
http://www.foxsportsnorth.com/12/21/1...
THE BACKYARD
BEST OF MAXIM
RELATED ARTICLES
There's a good chance that Minnesota Timberwolves guard Malcolm Lee will require micro-fracture surgery, which would bring an end to his season, reports Jerry Zgoda of the Star Tribune.And there's a good chance Lee needs surgery -- possibly micro-fracture surgery, like Rashad McCants had many years ago -- and will be lost for the season.Minnesota will continue evaluating...
Just when Josh Howard appeared to be carving an important niche in the NBA for himself again after battling back from a torn ACL in his left knee, the 32-year-old forward is right back where he started. The Timberwolves waived him Thursday after an MRI revealed a torn ACL in Howard's right knee. He was injured Friday at New Orleans. The team initially hoped he would be able...
MINNEAPOLIS If you're still on an adrenaline hangover from Thursday night's Timberwolves upset of the Thunder, there's no need to stop thinking about Minnesota's best game thus far this season. Here's a closer look at the 99-93 win by the numbers:12 games: The win snapped the Thunder's 12-game winning streak and their 12-game winning streak over the Timberwolves...
For the first time here on That NBA Lottery Pick, we feature a clip or story about Minnesota Timberwolves import Alexey Shved.During the Timberwolves 99-93 victory tonight against the Oklahoma City Thunder, Shved found Kevin Love on a three-pointer with an over-the-head pass:
Ricky Rubio has finally made his long-awaited debut after sitting out for almost nine months because of a torn ACL. The Spanish point guard is sure to have an immediate impact for the Timberwolves.
The entire Minnesota Timberwolves organization, the emotion of their victory over the mighty Oklahoma City Thunder still coursing through their veins, ran up to Kevin Love, spread their arms and implored him: "How do you like us now?" OK, nobody did that. They would have been forgiven if they had, however. Ten days after arguably the best power forward in the NBA was quoted in...
Josh Howard has a torn ACL and will be waived by the Timberwolves.
The Minnesota Timberwolves ended the Thunder's 12 game winning streak last night when they beat them 99-93.  The wolves were lead by Kevin Love like usual with 28 points and 11 boards.  On the other side of the ball Kevin Durant lead the way with 33 points and two of them came in a very unusual way.  Check out the video below of Durant taking the ball to the hole and drawing...
MINNEAPOLIS -- The smallest player on the court helped fell a team of NBA giants Thursday night at Target Center. Guard J.J. Barea scored 14 fourth-quarter points -- including 12 straight Minnesota points at one juncture -- as the Timberwolves earned a 99-93 victory over the Oklahoma City Thunder. It was a stunning wire-to-wire victory for Minnesota, which never trailed while...
MINNEAPOLIS -- On the Minnesota Timberwolves' roster, guard J.J. Barea is listed at an even 6 feet. That is a significant exaggeration. And yet, the smallest player on the Target Center court Thursday night ended up standing the tallest, felling the streaking Oklahoma City Thunder in the process. Barea scored 14 of his 18 points in the fourth quarter, including 12 Minnesota...
"Pau Gasol has given the Lakers a lot and I don't feel he's getting enough in return, especially as far as confidence," Rubio said in a conference call earlier today. "But he's a pro. If he goes to another team, I think he would make a contender out of that team. Wherever he goes, he's going to be fighting for the title." via HoopsHype
Timberwolves News

Delivered to your inbox

You'll also receive Yardbarker's daily Top 10, featuring the best sports stories from around the web. Customize your newsletter to get articles on your favorite sports and teams. And the best part? It's free!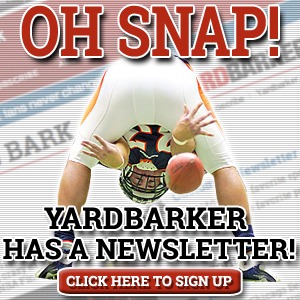 Latest Rumors
The Backyard

Today's Best Stuff

For Bloggers

Join the Yardbarker Network for more promotion, traffic, and money.

Company Info

Help

What is Yardbarker?

Yardbarker is the largest network of sports blogs and pro athlete blogs on the web. This site is the hub of the Yardbarker Network, where our editors and algorithms curate the best sports content from our network and beyond.