Found May 04, 2013 on Fox Sports South:
PLAYERS:
Jordan Schafer
,
Marlon Byrd
,
Ramiro Pena
,
Bobby Parnell
,
Michael Bourn
,
Andrelton Simmons
,
Mike Minor
,
BJ Upton
,
Evan Gattis
,
Chris Johnson
,
Justin Upton
,
Fredi Gonzalez
,
Brian McCann
TEAMS:
Atlanta Braves
,
New York Mets
,
Cleveland Indians
ATLANTA By the time Jordan Schafer made significant contact Friday night, he already knew the ball was sailing in the wrong direction. New York Mets center fielder, Marlon Byrd, had a beat on the potential sacrifice fly, one that was intended to score substitute third baseman Ramiro Pena from third to break a ninth-inning tie. In fact, it was hit right at Byrd. "If it's to his left or right there's probably a good chance the game's over," Schafer said. Instead, given the trajectory of the ball's flight, Byrd was able to position himself to take a running start toward home plate as the ball neared his glove, creating enough momentum to deter Pena from trying to score. And he did; when the throw came in, Pena stayed put. He was eventually stranded on-base with the game tied 5-5, and the Braves (17-12) would go on to lose 7-5 in extra innings their third-consecutive loss at Turner Field. "Wish I could have got that ball on the barrel a little more we'd have been home already," Schafer said after the 10-inning affair. "(Mets pitcher Bobby Parnell) got in on me a little bit. They threw me a little differently that at-bat than they did the rest of the game. They were mostly staying away, away. And then that at-bat they were trying to throw everything in, obviously so i wouldn't get extended and get a ball to the outfield." The just-miss game-winner would have been a fitting feather in the cap to Schafer's evening, the most patient night of his career. He drew a career-high four walks in his leadoff role, helping to set up Atlanta scoring plays in the fifth and seventh innings. It was just his fifth start in the No. 1 spot since the organization brought him back by claiming him off waivers in November. And with the franchise still searching for a suitable leadoff replacement for Michael Bourn, whom Schafer was swapped for at the 2011 trade deadline, it would be no small bit of irony that Schafer, of all players, would come full circle and earn the spot he was groomed for when Atlanta drafted him in 2005, even as a short-term solution. He didn't appreciate that storyline much Friday night, though. His team just lost for the 11th time in 16 games. He's still the team's fourth outfielder, despite his efforts. And his team's offense is still trying to find itself. "We just couldn't seem to finish it up there," he said. "We just kind of stalled there in the beginning and just ran out of time in getting guys on and scoring some runs. We had opportunities but we couldn't finish them." However, there's good news in that statement: The opportunities were there, and that has not always been the case. Pena reached third base three times Friday night twice being driven in by shortstop Andrelton Simmons, who provided some much-needed production in the 2-hole while pitcher Mike Minor scored from third and outfielder B.J. Upton scored from second. That's certainly an improvement. After all, the Braves have had 191 at-bats with runners in scoring position this season, third-worst in baseball. (Side note: it does not help that the Braves are batting just .230 with men on second andor third base.) Much of that improvement stems from the top, where Atlanta has been dreadful at times this season. In its six previous losses alone, the Nos. 1 and 2 hitters reached base just seven times in 54 plate appearances. Schafer's four-walk night looked like a postcard from another era. Though he's not known for exemplary plate discipline "I usually go up there and hack a little bit," he admitted with a laugh,"but I'm just starting to learn a little bit. Mature. I can't try to make stuff happen with pitches that are balls." Schafer's ability to get himself on the basepaths was a reminder on just how much the Braves have missed that aspect of their offense through 29 games. For perspective, here are the offensive production rankings league-wide (in terms of OPS) for the Braves' top four lineup spots: No. 1: 26th No. 2: 30th No. 3: 2nd No. 4: 13th So even with cleanup man Freddie Freeman missing 13 games with an oblique injury Evan Gattis and Chris Johnson filled in adequately in the No. 4 spot the heart of the Braves order produced at an above average-to-elite level. Justin Upton's first 29 games, of course, need no introduction. But there's a reason runs have come at a premium for the Braves. The power numbers are near the top of the league, but they still rank 17th in runs scored thanks in large part to the lack of production at the top. Braves manager Fredi Gonzalez has tried everything up there, too, or so it seems. He's run out five different leadoff hitters. He's tried eight different No. 2 hitters, many of which have received a look during Heyward's recovery from an appendectomy not that he was producing at his normal levels anyways (.121.261.259, two home runs, 12 strikeouts). In total: 23 batting lineups in 29 games. There comes a time when experimentation gets exhausting and consistency becomes a welcome idea, though Gonzalez was far from tipping his cap as to his next move following the loss. "(Schafer) did a nice job. He got on-base every single time, he just couldn't hit that last fly ball deep enough for him to win the ballgame," said the third-year manager, who was more focused on the lead his bullpen relinquished than on his leadoff hitters. "I liked our at-bats today." Heyward, one the most valuable all-around players in baseball last season, will return to his No. 2 spot when he's healthy. The expectations in the organization, by and large, are that he will rediscover his 2012 form. Heyward will also take his place alongside the Brothers Upton in the outfield upon his return, so it's safe to assume Schafer's playing time will eventually diminish for an N.L. team lacking the fallback of a designated hitter. A career .223 hitter may not be the popular choice B.J. Upton is the speedy new free agent with a 75 million contract and Simmons is the up-and-coming star who won a batting title in the minors but it's tough to argue against the team giving Schafer an extended look after watching him patiently frustrate Mets pitchers. What does Schafer make of the situation? Not much, it seems. He's just trying to stick around on a 25-man roster demanding a shakeup when Heyward and catcher Brian McCann return. So he plays. And plays. Waits to get Gonzalez's call, and plays some more. At the very least now, he's in the running to be table-setter for the Braves until Heyward returns to the outfield, and he's showing marked improvement. That's more than anyone was prepared to say about him just a few months ago, back when Schafer was simply the talented, but self-destructive young player whom the team traded for its former leadoff man. The cards have been reshuffled and re-dealt, but Jordan Schafer is still here, and still relevant, in Atlanta. "Me getting on-base, no matter how it is, that's gonna help us win. That's my only focus and objective."
Original Story:
http://www.foxsportssouth.com/mlb/atl...
THE BACKYARD
BEST OF MAXIM
RELATED ARTICLES
Former Atlanta Brave player Chipper Jones spent Sunday at Talladega Superspeedway serving as the grand marshal for the Aaron's 499. Jones made his rounds though the media center and was thrilled to be on hand for the race which his baseball career had prevented him from attending. Jones described himself as a NASCAR enthusiast when he spoke earlier in the day. "I was in the...
Late last week I was at my parents' house and my dad was watching a rerun of NCIS/Law & Order/one of his usual Dad Shows, I don't remember. "Deddy, you're watching the wrong channel," I joked. "The Braves are on." "I thought we didn't get Braves games anymore because we have Dish?" Well, no. It seems there are some misunderstandings...
ATLANTA Following Tuesday's Braves game against the Nationals, there were plenty of questions concerning future opinions, especially those of how baseball voters would view the career of Tim Hudson. The 37-year-old veteran had just won his 200th game in memorable fashion: pitching seven innings of one-run ball to go along with his third career home run. But how should his career...
Fredi Gonzalez has the Braves in first place in the NL East Yesterday's article entitled, "Braves Could Have Decisions to Make," detailed the struggles of Dan Uggla and B.J. Upton, and talked about options Braves manager Fredi Gonzalez may at some point consider. The real question I'm going to talk about today, is when if it all would it be appropriate for Gonzalez to bench...
Braves manager Fredi Gonzalez says six-time All-Star catcher Brian McCann is ready to come off the disabled list on Monday. McCann had surgery to repair a torn labrum in his right shoulder last October. He was expected to complete his rehab assignment with Triple-A Gwinnett on Sunday and accompany the team to Cincinnati. Rookie catcher Evan Gattis has hit .250 with seven homers...
The Atlanta Braves will welcome back Brian McCann on Monday when they open up a series in Cincinnati. McCann, a six-time All-Star, had surgery to repair a torn labrum in his right shoulder last October. "If he feels good he'll come back down here and fly out with us to Cincinnati," Gonzalez said Sunday. "I don't see any reason why we can't set that in stone, but we have...
Atlanta Braves third baseman Juan Francisco exited last night's game against the New York Mets due to an ankle injury. The injury has been diagnosed as a mild ankle sprain, and the Braves are considering Francisco as day-to-day, according to David O'Brien of The Atlanta Journal-Constitution. #Braves Francisco has mild ankle sprain, listed as day-to-day — David O'...
What better way to celebrate the Braves' "Bark in the Park" than by dressing up a dog as a hot dog and then, yes, feeding it a hot dog?
Too much rest led to too many walks for Jonathon Niese. With his start pushed back by an off day Thursday and a rainout Saturday, Niese was wild on Sunday as he matched his career high with six walks and gave up seven runs in the New York Mets' 9-4 loss to the Atlanta Braves. Niese, who had been scheduled to pitch Saturday, was making his first start since April 28 -- exactly...
The Atlanta Braves defeated the New York Mets 9-4 on Sunday. It was also bring your dog to the game day so naturally someone dressed their dog as a hot dog and then fed it a hot dog. Back to baseball; the Braves will welcome back six-time All-Star catcher Brian McCann when they travel to Cincinnati to open a series on Monday.
The Atlanta Braves have had trouble recapturing the magic from their best start in 19 years but should get a big boost in the opener to a lengthy road trip. Brian McCann is expected to make his season debut Monday night against the Cincinnati Reds, who have dominated the Braves lately and own the best home record in the majors. Atlanta (18-12) heads into its 10-game trek after...
The Atlanta Braves' all-or-nothing offense has provided closer to nothing of late, though that hasn't been case when the New York Mets have visited Turner Field. The NL East-leading Braves will try to get back on track and beat the Mets for the eighth time in nine home games in the opener of a three-game series on Friday night. After getting shut out with only two hits...
All Sports News

Delivered to your inbox

You'll also receive Yardbarker's daily Top 10, featuring the best sports stories from around the web. Customize your newsletter to get articles on your favorite sports and teams. And the best part? It's free!
THE HOT 10: Who's Trending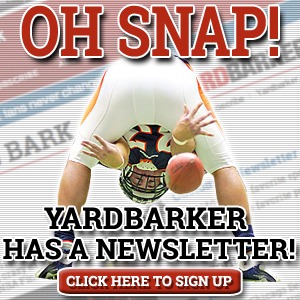 Latest Rumors
The Backyard

Today's Best Stuff

For Bloggers

Join the Yardbarker Network for more promotion, traffic, and money.

Company Info

Help

What is Yardbarker?

Yardbarker is the largest network of sports blogs and pro athlete blogs on the web. This site is the hub of the Yardbarker Network, where our editors and algorithms curate the best sports content from our network and beyond.