Sports & Politics Intersect: American controversies follow athletes to Olympics
Front Five: The top stories that shaped both sports & politics this week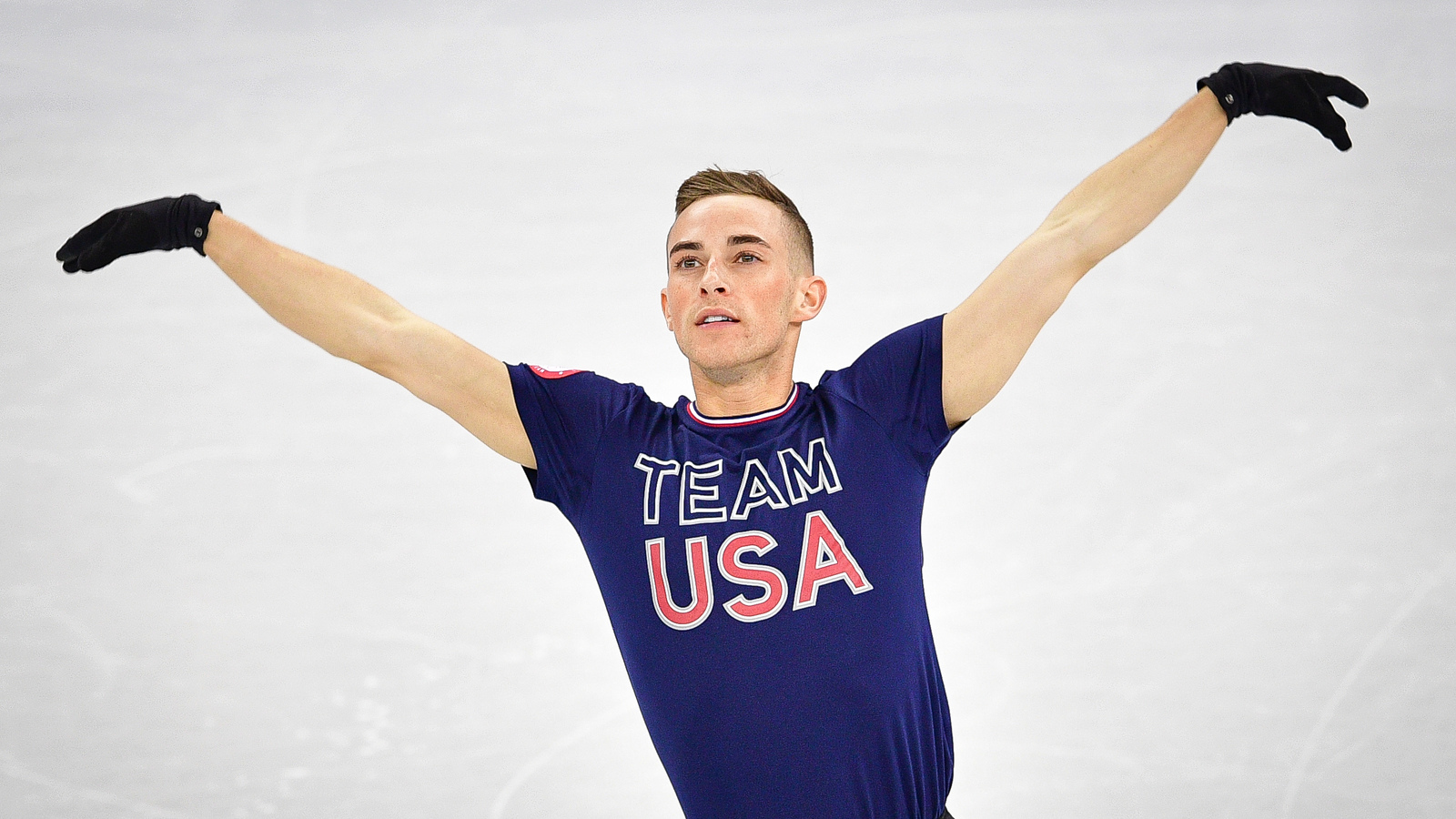 MLADEN ANTONOV/AFP/Getty Images
"[Adam Rippon] I want you to know we are FOR YOU. Don't let fake news distract you. I am proud of you and ALL OF OUR GREAT athletes and my only hope for you and all of #TeamUSA is to bring home the gold. Go get 'em!" - Vice President Mike Pence to Adam Rippon on Twitter
The saga between Adam Rippon and Vice President Mike Pence continues as Rippon, who said he would not want to meet with Pence, did just that – declined the offer to speak with his vice president. Rippon originally earned headlines for his comments about Pence's political history on LGBT issues. 
Following the publication of the previously linked USA Today story, VP Communications Director Jarrod Agen said that Pence's team did not reach out to Rippon for a conversation, but Pence did send a tweet directly to Rippon saying that he supported the figure skater and all of the U.S. athletes participating in the games. Gus Kenworthy, another openly gay athlete participating in South Korea, took a shot at Pence in an Instagram post that featured himself and Rippon. 
This probably won't be the last controversy over who attends the Olympics on the administration's behalf, as President Donald Trump's daughter, Ivanka, will join the U.S. delegation for the closing ceremonies. Ivanka talked about the importance of women playing sports in a Facebook post after it was announced this week that she would be joining the delegation. 
In a mini-controversy, speedskater Shani Davis was a tad bit upset about the way that the U.S. decided who would carry the flag during the opening ceremonies. Luger Erin Hamlin earned the right to carry the flag after the two were deadlocked in a 4-4 tie after votes came in. A coin was flipped and Hamlin was chosen. 
Davis said the coin toss was dishonorable, but also said that he can wait until 2022 for the opportunity.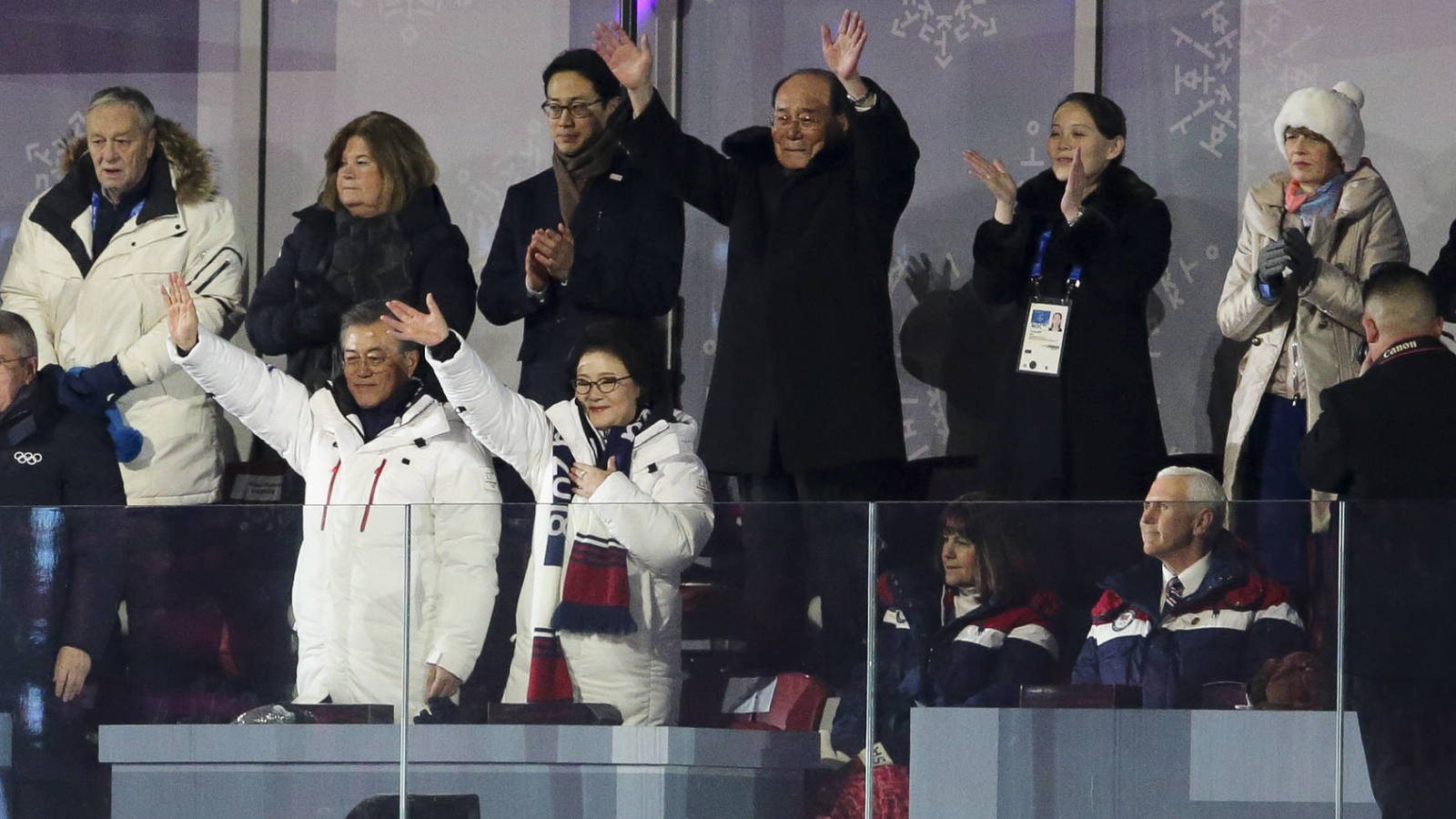 Jean Catuffe/Getty Images
"The North Korean response is exactly as unhelpful and belligerent as you would expect." - Robert E. Kelly on North Korea's military parade
On the Thursday before the Opening Ceremony for the 2018 Winter Olympic Games, North Korean Leader Kim Jong-un held a parade of military that Korean political expert Robert E. Kelly says is "an obvious act of intimidation." 
Despite North and South Korea marching under a unified flag at the Olympics, many believe that the two countries are far from mending their patchy past. This kind of tension isn't unusual for the Olympic Games, as it's an event that has become inherently political over the years. 
From an attempt to remove all nationalist symbols from the Olympics – flags and national anthems included – to athletes receiving death threats because of medals won due to doping suspensions, there has always been a hint of politics at the forefront of the Olympics.
This year, there isn't just the tension between North and South Korea, but the increasing tension between North Korea and the United States. Vice President Mike Pence is using the games to score political points. While in South Korea, Pence has said that he "plans to levy the toughest sanctions yet on the North over its nuclear and missile programs." Pence has gone out of his way to avoid the North Korean delegation, both in the viewing box and at the dinner hosted by South Korea's President Moon Jae-in. Pence has received criticism for not standing when the unified Korean team was presented. 
The Russian Olympic Committee is suspended because of doping scandals (yes, plural), meaning that an "Olympic Athletes from Russia" delegation had to walk during the opening ceremonies without their country's flag. 
This is far from the end of the political posturing that will come out of the Olympic games, but know that it's far from unusual.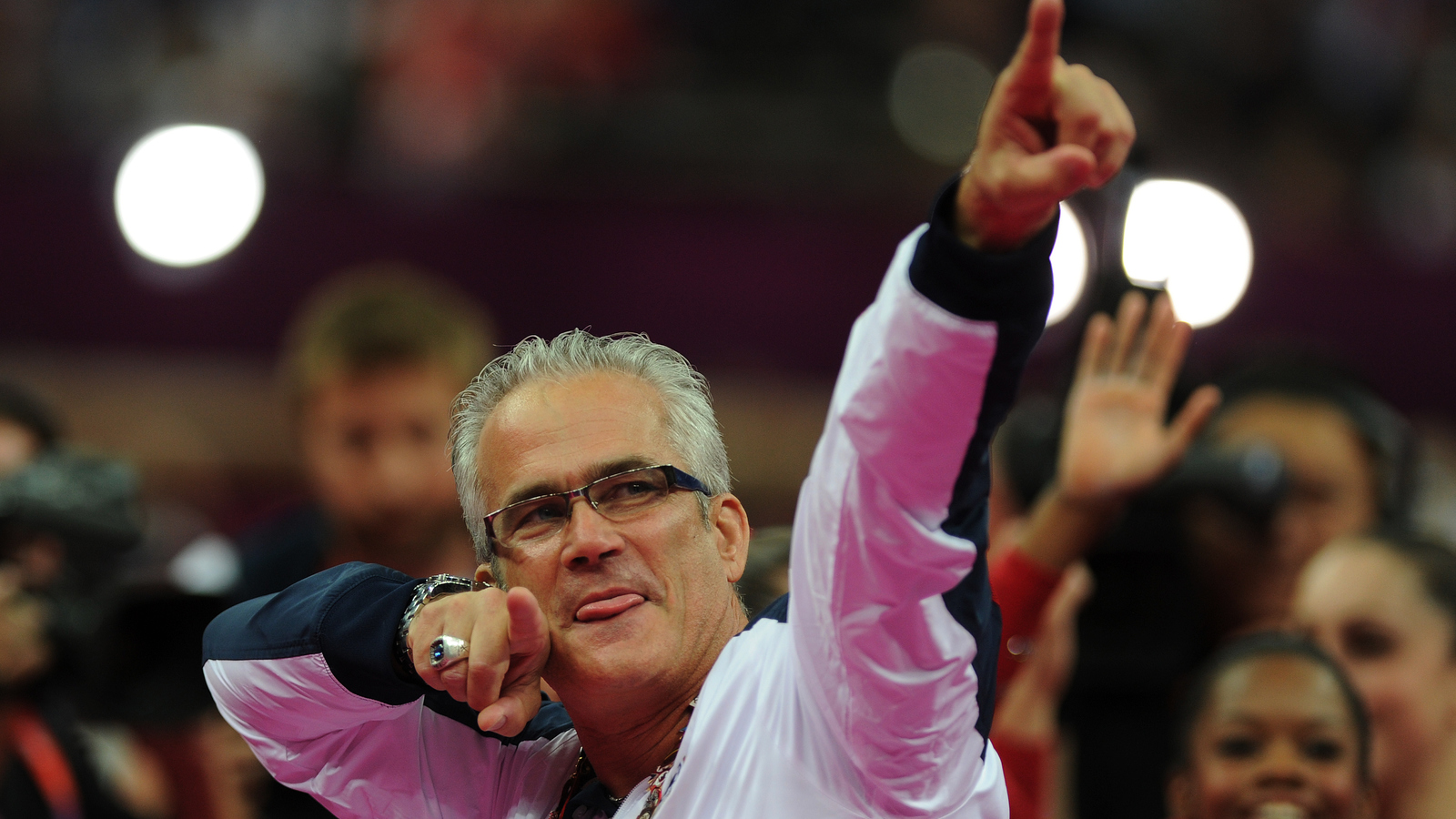 Ben Radford/Corbis via Getty Images
"We would talk about it amongst ourselves. And one of my teammates described in graphic detail what Nassar had done to her the night before. And John Geddert was in the car with us and he just didn't say anything." - Aly Raisman, Olympic gymnast.
It's been nearly two weeks since disgraced USA Gymnastics team doctor Larry Nassar was sentenced to up to 175 years in prison for child molestation, but the aftermath of the case is nowhere near over. 
For starters, Michigan State University interim president John Engler issued a statement last week acknowledging the complicity of the school and promised to make drastic changes, though no specifics were actually given. MSU police also said on Wednesday that more than 60 new complaints against Larry Nassar were logged in the three weeks since his sentencing hearing began in mid-January. But even if MSU hadn't promised to do an internal investigation, one would have been done for them. It was revealed on Wednesday that Congress was launching an investigation into MSU, USA Gymnastics, the U.S. Olympic Committee, and Twistars, the Michigan-based gym owned by former U.S. coach John Geddert.
Geddert has also become a person of interest. The Eaton County Sheriff's Office confirmed that they were conducting a criminal investigation into Geddert. The former coach, who was suspended by USA Gymnastics before announcing his retirement, has been mentioned by name by several of Nassar's victims.
"He was abusive," Lindsey Lemke said in her victim's statement.  "He deserves to be in jail with Larry."
And then there's USA Gymnastics. The organization has been dropped by just about every sponsor and is in shambles – obviously secondary and insignificant when compared to the more than 200 victims Nassar molested. It's unclear how they'll recover from this, if at all, but in the meantime USAG has set up a fund to provide assistance to Nassar's victims. The specifics of that plan have yet to be fully revealed, however.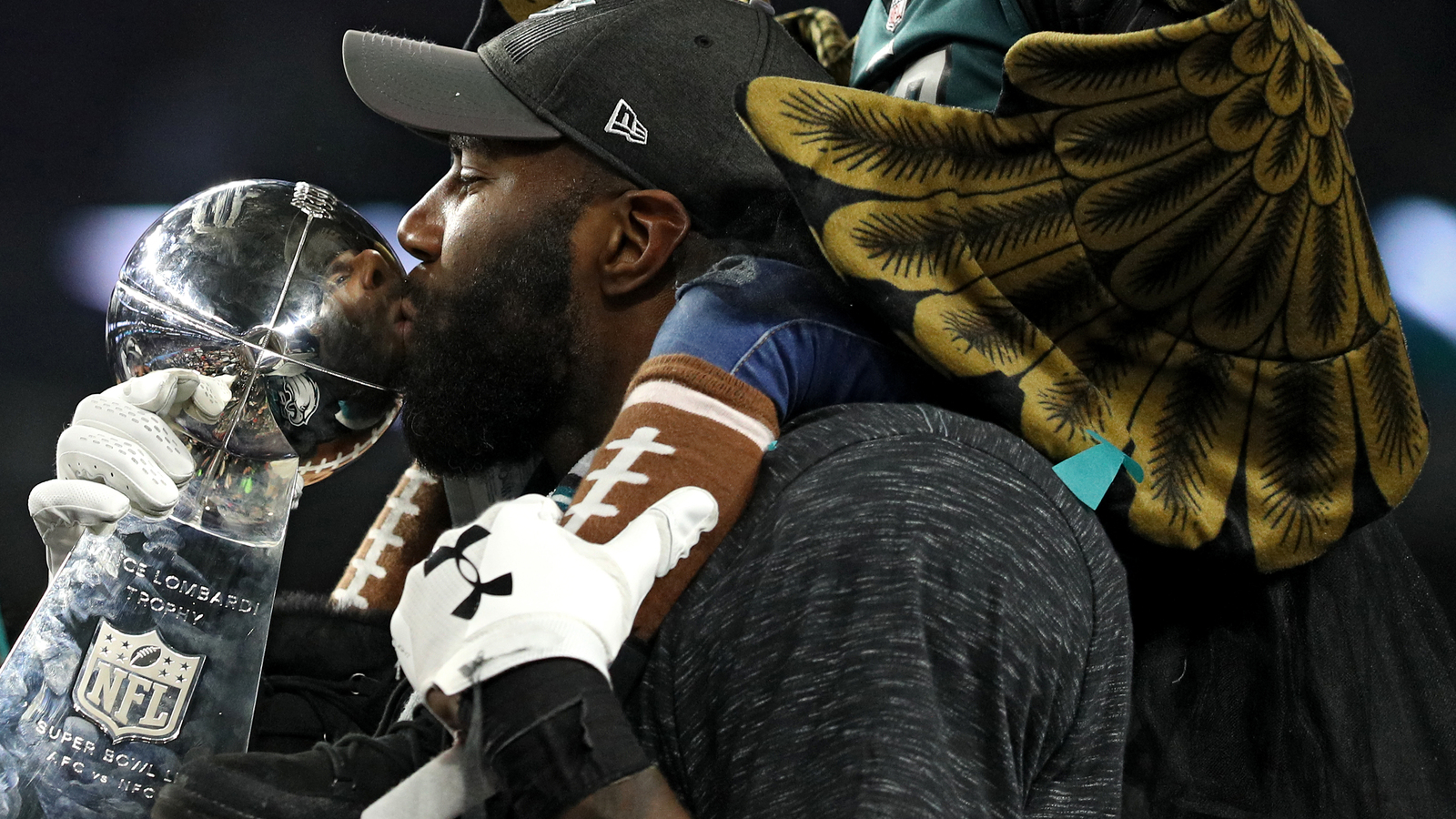 Patrick Smith/Getty Images
"So disgraceful that a person illegally in our country killed @Colts linebacker Edwin Jackson. This is just one of many such preventable tragedies. We must get the Dems to get tough on the Border, and with illegal immigration, FAST!" - Donald Trump on Twitter 
Much to the likely chagrin of Donald Trump, the Philadelphia Eagles won Super Bowl LII, defeating the New England Patriots, a team owned, coached and quarterbacked by three of his friends. Regardless, Trump congratulated the winning team via Twitter in the most non-polarizing way possible.
By the looks of it, that will be the only felicitation the president will give to the Eagles considering that three players – Malcolm Jenkins, Chris Long and Torrey Smith – have already said they were planning on skipping the traditional post-championship White House visit. All three players participated in the league-wide protests against police brutality and social inequality, an action Trump periodically politicized and used in his feud with the National Football League. Trump has said nothing about the players skipping the White House, which is surprising given how he lashed out against Stephen Curry and the Golden State Warriors for doing the same. 
On Tuesday, Trump tweeted about the NFL again, though this time it was to use the death of Colts linebacker Edwin Jackson – who was killed by an undocumented drunk driver who had previously been deported twice – as an excuse to push his anti-immigrant views and to wrongfully suggest that Jackson's death and other crimes could have been prevented by stringent immigration laws. Study after study has repeatedly shown that immigrants commit fewer crimes than non-immigrants. It was a cheap political move, one that was denounced by the families of Edwin Jackson and Jeff Monroe, Jackson's Uber driver who was also killed.
"Two real good people's lives were taken by a drunken driver. No matter if he was illegal or not, he was a drunken driver," James Lambert, the brother of Monroe's girlfriend, told the press. 
"It is no longer about the two gentlemen who lost their lives, their family and my family. It is about politicians now. That should never happen on an incident like this."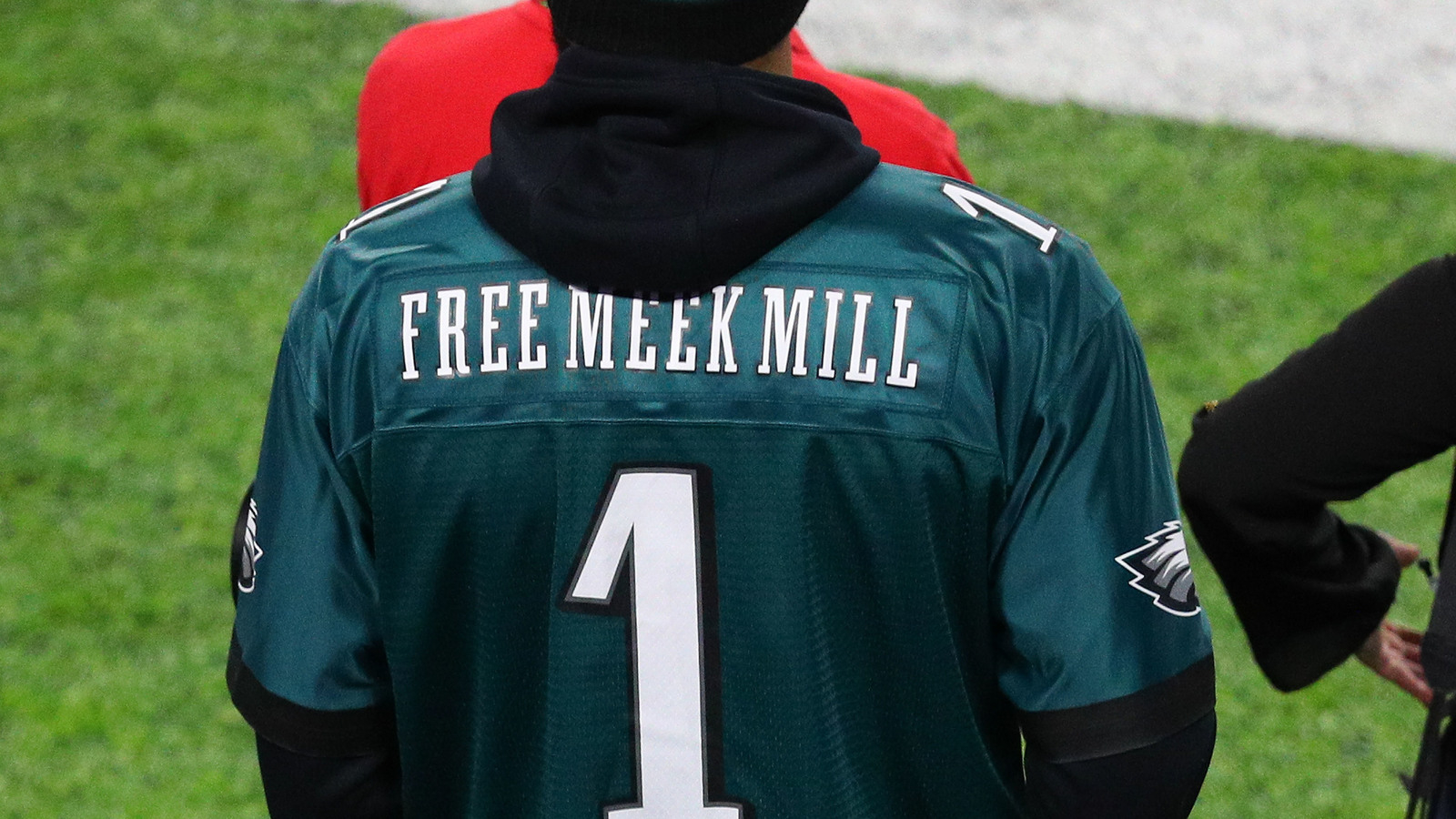 Rich Graessle/Icon Sportswire via Getty Images
"Last night, I felt especially proud to be from the great city of Philadelphia. All the heart that the Eagles showed in winning the Super Bowl has given the best fans in the world real hope and inspiration and I'm truly humbled." - Meek Mill
Before the Philadelphia Eagles defeated the New England Patriots on their way to their first ever Super Bowl championship, the team came out to the field to Meek Mill's "Dreams and Nightmares." After pulling off the 41-33 upset, the Eagles celebrated in their locker room by blasting the same song. 
It was a fitting pick – a song about overcoming the odds performed by a Philadelphia rapper. Moreover, the song selection further reminded (or, for those who were unaware, informed) people that Meek Mill is currently in jail for violating his probation for something he pled guilty to more than a decade ago, and that his incarceration is an unjust one – something just about everyone, from Jay Z to Philadelphia 76ers co-owner Michael Rubin and Minnesota Timberwolves star Karl-Anthony Towns, can agree on.
The Eagles' nod to Meek Mill did not go unnoticed. For starters, "Dreams and Nightmares" saw a surge in interest; it was streamed 1.4 million times the day after the Super Bowl and Genius is reporting that they saw a spike in traffic for the song's lyric page. But more importantly, Meek Mill himself humbly acknowledged the gesture, according to reporter John Clark. 
"I wish my current situation was different, and that I could be with my brothers on that team, and the other Eagles fans, in celebrating this once-in-a-lifetime experience," Meek Mill told Clark.
 "But I have faith that truth and justice will win out in the end."
Of Note: 
For the record books: This week in sports politics history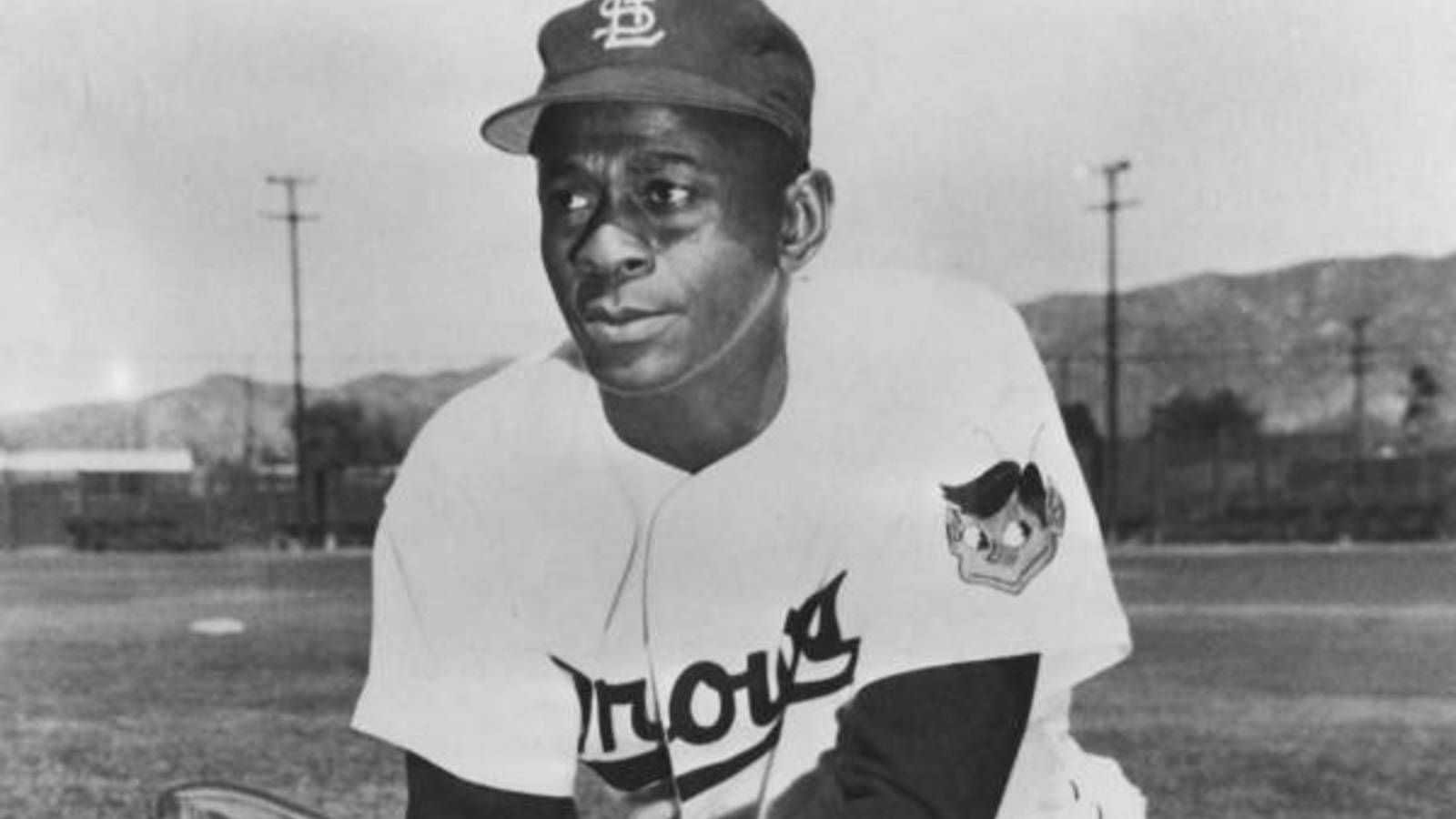 Bettman/Getty Images 
"I was surprised. I hadn't known that's how he felt. But I was so happy that he did." - Monte Irvin on Ted Williams' Hall of Fame speech. 
Nearly 50 years ago, Major League Baseball announced that it would add a Negro League wing in its storied Hall of Fame, and since that inaugural summer, legends like Satchel Paige, Jackie Robinson, Willie Mays and Hank Aaron were inducted. 
While the Negro Leagues are as much a part of where today's baseball is as the MLB, it took an unlikely speech from one of the game's icons to get the ball moving. 
During his Hall of Fame speech in 1966, Ted Williams said, "I hope someday Satchel Paige and Josh Gibson will be voted into the Hall of Fame as symbols of the great Negro players who are not here only because they weren't given the chance."
Five years later on Feb. 9, 1971, Paige became the first player out of the Negro Leagues nominated for the MLB Hall of Fame. The Negro Leagues, more than anything else, show the resiliency of athletes of color to prove that they belonged on the field with anyone in the country, a sentiment that was wrapped up quite nicely in a 2017 piece from baseball scribe Matt Whitener. 
"The defiant and triumphant existence of the Negro Leagues stood as a stark reminder of the fact that while the presence of the African-American ballplayer may attempt to be marginalized, it would refuse to be silenced. To the contrary, the Leagues served as a microphone to amplify their presence and play to an unavoidable level. And in a contemporary sense, it serves as a reminder of many of the challenges that athletes are facing today in having their voices heard in accordance with the stage they are on."
Since Page's induction, 21 more players have been inducted into the MLB Hall of Fame. Also, in Kansas City, Mo., you can visit the Negro Leagues Baseball Museum, a celebration of the men who created a league of their own for the love of the game. 
All Sports News

Delivered to your inbox

You'll also receive Yardbarker's daily Top 10, featuring the best sports stories from around the web. Customize your newsletter to get articles on your favorite sports and teams. And the best part? It's free!
PLAYERS:
Donald Trump
,
Stephen Curry
,
Karl-Anthony Towns
,
Aly Raisman
,
Ariana Kukors
,
Carlos Beltran
,
Ted Williams
,
Satchel Paige
,
Jackie Robinson
,
Willie Mays
,
Hank Aaron
TEAMS:
Golden State Warriors
,
Minnesota Timberwolves
,
Houston Astros
,
Los Angeles Rams
,
Philadelphia Eagles
,
Washington Redskins
,
Pittsburgh Pirates
,
New England Patriots
MORE FROM YARDBARKER
All Sports News

Delivered to your inbox

You'll also receive Yardbarker's daily Top 10, featuring the best sports stories from around the web. Customize your newsletter to get articles on your favorite sports and teams. And the best part? It's free!