Found March 07, 2013 on Fox Sports Southwest:
PLAYERS:
Serge Ibaka
,
Kevin Durant
,
Russell Westbrook
,
J.R. Smith
,
Carmelo Anthony
,
Kevin Martin
,
Blake Griffin
,
Reggie Jackson
,
Derek Fisher
TEAMS:
Oklahoma City Thunder
,
New York Knicks
,
Los Angeles Clippers
,
Miami Heat
,
Golden State Warriors
Now, this is a nice, little run the Thunder have going. Make it three in a row and six out of seven wins for Oklahoma City, and after getting its best road win of the year in Los Angeles against the Clippers on Sunday, the Thunder figured it out again on the road in New York. But it's the second game in a row where the Thunder have played exceptional defense when it counted most. While Oklahoma City led from beginning to end Tuesday night at home against the Lakers, the Thunder held Los Angeles scoreless for the final 6:14 after the Lakers cut the lead to five points. And Thursday in New York, in a decidedly different kind of game (nine lead changes in the fourth quarter), the Knicks had one field goal in the final 3 minutes and didn't score at all in the last 1:58. Sunday against the Clippers after falling behind with 1:30 to play, OKC forced the Clippers into one-of-six shooting the rest of the way, including getting a block from Serge Ibaka. Certainly the Thunder are going to win because of their offense. Kevin Durant and Russell Westbrook are as good as any duo in the league, but the recent defensive run has been pretty good, too. Westbrook was great in the last 2 minutes. He forced a turnover and played exceptional defense on J.R. Smith's last shot. Carmelo Anthony didn't play for the Knicks on Thursday which limits New York, but Smith had 36 points, yet the Knicks shot just 40.7 percent and were outrebounded. The Thunder held New York to just 13 points in the fourth quarter and only 38 in the second half. Oklahoma City may not catch San Antonio for the top spot in the Western Conference, but the last week has shown the Thunder can play some pretty good defense on the road. That, and having Durant and Westbrook is a nice combination. Who's Hot: Heading into Thursday's game against the Knicks, Russell Westbrook was averaging 34.7 points per game in three March outings. He's also shooting 53 percent and getting 7.3 rebounds. No one on the Thunder team is playing as well as Westbrook is. In the first quarter, Westbrook was five-of-nine shooting. He was 3-of-13 the rest of the game and seemed to be limited after rolling his right ankle. Westbrook finished with xx points, but the biggest play was on defense. He forced J.R. Smith into a tightly contested jumper on a potential game-winner. Who's not: Hide your eyes. Going into Thursday's game in New York, Kevin Martin was 7-for-29 in his last three games (24.1 percent). He's scored a total of 24 points in the three games. The good news is Martin hit his first 3-pointer against the Knicks and finished 16 points on four-of-six shooting, including three-of-five on 3-pointers. 3 Thoughts 1. Must have been Sweeps Week for the Thunder. What a schedule. In the past week, the Thunder have played the Clippers, Lakers, Knicks and have the Celtics on Sunday. As big as the NBA is, there's another level of excitement when the high-profile teams line up. And the schedule set up nicely this week for the Thunder. The NBA is relatively new in Oklahoma City. I admit it, I'm still not used to it and still a bit amazed to drive downtown, see Chesapeake Arena and think about the fact there are very few cities in the world that get this kind of professional basketball. Makes it even more fun when the big-name teams come through. 2. I'm still a little surprised Serge Ibaka didn't get suspended for his Sunday Special to Blake Griffin in Los Angles. Ibaka didn't get ejected because the play wasn't rule a Flagrant Foul 2, which is excessive contact by a player against another player as well as unsportsmanlike. Kind of seemed like it was, actually. Instead, refs called it a Flagrant Foul 1, which is unnecessary contact by a player against another player. Ibaka was likely not suspended because he hasn't had a history of causing any problems. 3. I'm on the Reggie Jackson bandwagon. There's plenty of room. He brings a Russell Westbrook-like aggressiveness and can create his own shot. Derek Fisher played admirably in a win Tuesday against the Lakers, scoring 10 points on three-of-four shooting in 18 minutes, but he can't do what Jackson can in terms of speed and shot-making. Now, Fisher is a steadying force, but give me a Jackson 3-pointer over a Fisher 3-pointer any time. Jackson was five-for-seven against the Lakers for 10 points and three-of-five for eight points against the Knicks, including a 3-pointer in the fourth quarter. Quotable "No, I don't think we're working on that. I've seen the Heat's. That was the funniest stuff I've seen in a while. Once they put it out, it's kind of tough to follow that act right there. That video's going to circulating here for a long time. I enjoyed it." - Kevin Durant to The Oklahoman on the Miami Heat's Harlem Shake video. Tweetable Kid Blake: Who are you? Future Blake: you from the future... Don't listen to anything else I've told you just start wearing a cup." - Blake Griffin (@blakegriffin 32) clearly referencing the shot he took from Serge Ibaka Sunday. Numbers Game 2: The number of turnovers the Thunder had, tying an NBA record, against the Lakers on Tuesday. 16: The number of turnovers the Thunder had the very next game in a win against the Knicks Thursday. 83.2: The Thunder's team free throw percentage this season, tops in the NBA. Golden State is next at 80 percent. 16: Points the Thunder scored in a row against the Knicks in the first quarter. Up next After a Friday game in Charlotte, the Celtics come to Oklahoma City for the only time this season for the rare noon tipoff on Sunday. The Thunder travel to San Antonio on Monday and then are home against Utah on Wednesday. Tower of Power After this streak by the Thunder, you'd have to think things are improving. The Thunder have beaten the Clippers, Lakers and Knicks in a row and will face a hot Celtic team on Sunday. If the Thunder win in Charlotte and against the Celtics, they will have won five in a row and eight of nine. Follow Andrew Gilman on Twitter @theandrewgilman
Original Story:
http://www.foxsportssouthwest.com/03/...
THE BACKYARD
BEST OF MAXIM
RELATED ARTICLES
Many different people have shared their opinions on Serge Ibaka's groin chop on Blake Griffin, including those who felt Ibaka unfairly avoided suspension. Kobe Bryant gave a typical Kobe response, and Dwight Howard joked about it, of course. But the person with the best reaction of all was Griffin, who was on the receiving end of the shot from Ibaka. Griffin sent the following...
Meet Heath Kufahl, an Oklahoma City Thunder fan who hit a half court shot last night that earned him $20,000.  Heath (not the candy bar) said he'll use the money to aid his wife's battle against cancer. Love a good feel good story. Check out our Home Page for more stories and follow us on Twitter and Facebook
Rarely does it get better than this. Between the third and fourth quarters of the Oklahoma City Thunder's 122-105 victory over the Los Angeles Lakers at Chesapeake Energy Arena on Tuesday night, Heath Kufahl a Thunder fan was chosen to take a half-court shot for $20,000. Kufahl, who is a volleyball and basketball coach in Del City Oklahoma, then proceeded to coolly sink the shot...
CHARLOTTE, N.C. (AP) -- Kevin Durant had 19 points and seven assists, and the Oklahoma City Thunder defeated the Charlotte Bobcats 116-94 on Friday night for their fourth straight victory. Derek Fisher and Thabo Sefolosha both had 13 points for the Thunder, who blew open a close game with 19-0 run to start the second quarter. Serge Ibaka scored 12 points, and Russell Westbrook and...
In the first quarter of Thursday night's Oklahoma City Thunder/New York Knicks game, Thunder forward Serge Ibaka took a shot from New York's Amare Stoudemire on the chin.As Stoudemire tried to back Ibaka down, Amare inadvertently whacked him in the face and sent the OKC big man down for a period of time:
Derek Fisher's actions over the past few years have left a bad taste in a lot of people's mouth. He has gained somewhat of an unfavorable reputation around the NBA as guy who gets up and deserts a team when it's convenient for him. The general public had sympathy for him when he left the Utah Jazz to care for his ailing daughter, but then he did it with the Houston Rockets...
The Oklahoma City Thunder knew their defensive intensity had to improve following their worst stretch of the season. Has it ever. The Thunder and Knicks each go for a sixth victory in seven games on Thursday night at Madison Square Garden, where New York could again be without Carmelo Anthony in this matchup of division leaders. Coach Scott Brooks knew his team had to "regroup...
The Oklahoma City Thunder's last game went down to the wire. There was far less drama the last time the Northwest Division leaders faced the Charlotte Bobcats. Oklahoma City goes for a fifth consecutive victory in this series on Friday night in Charlotte. Looking for a sixth victory in seven games since a season-worst 0-3 stretch, the Thunder (45-16) hung on to defeat the...
NEW YORK (AP) — Kevin Durant had 34 points, including the go-ahead free throws with 1:38 left, and the Oklahoma City Thunder pulled out a 95-94 victory over the New York Knicks on Thursday night., http://juicedsportsblog.com/sports-news/news/thunder-hold-off-smith-knicks-as-anthony-sits-yahoo-sports
Russell Westbrook had 37 points and 10 rebounds, Kevin Durant scored 26 and the Oklahoma City Thunder held off a second-half charge Tuesday night to beat the improving Los Angeles Lakers, 122-105. The Thunder led from start to finish, but had their 18-point lead whittled down to five midway through the fourth quarter. Serge Ibaka, who dodged a suspension after delivering a low blow...
The Lakers faced off against the the Oklahoma City Thunder on Tuesday night. The Lakers gave it a good fight making it a close game in the fourth quarter. But a a three pointer from Serge Ibaka started a 12-0 run for the Thunder. Following the game, Kobe Bryant tweeted a message to Russell Westbrook who had a double-double in the match up, scoring 37 points and grabbing 10 rebounds...
All Sports News

Delivered to your inbox

You'll also receive Yardbarker's daily Top 10, featuring the best sports stories from around the web. Customize your newsletter to get articles on your favorite sports and teams. And the best part? It's free!
THE HOT 10: Who's Trending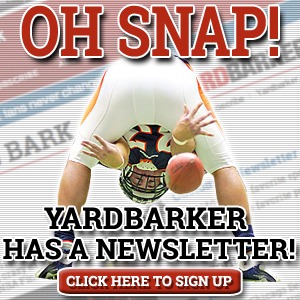 Latest Rumors
The Backyard

Today's Best Stuff

For Bloggers

Join the Yardbarker Network for more promotion, traffic, and money.

Company Info

Help

What is Yardbarker?

Yardbarker is the largest network of sports blogs and pro athlete blogs on the web. This site is the hub of the Yardbarker Network, where our editors and algorithms curate the best sports content from our network and beyond.